Always be prepared with under bed gun safes.
Most people get a gun safe to keep their firearms out of reach of children and unauthorized access. While you would want to lock your guns in an ultra-safe place, you don't want them to be inaccessible in times of need.
In events like an intrusion, you should be able to reach to your guns in time otherwise it beats the entire purpose of having firearms at your home. Underbed gun safes are a great tool to have in place to keep your guns secure and have easy access to them.
Knowing that your gun is just under your bed can give you peace of mind. Having your firearms around you can make you feel secure and at ease. The best under bed gun safes are the ones which give you easy and quick access to your guns while maintaining strict security standards.
Since the under bed gun safes are secretive gun safes you can store other valuables like jewelry, cash, important papers and electronic gadgets in them. Most of the under bed gun safes are big enough to accommodate your most precious material possessions.
---
What to look for when buying an Under Bed Gun Safe
1. Things You Will Be Storing
An under the bed gun safe can be used to store more than just guns. You can store other valuables like jewelry, cash, and electronic equipment in your under the bed gun safe. The size of the gun safe will depend on these factors.
If you own long guns and if you want to store other valuables in it, you will need a long gun safe. Depending on the things you will be storing, you need to check the security ratings and capabilities of the gun safe.
2. Height of the Bed
Since you will be putting the gun safe under your bed, you need to keep in mind the height of your bed. If your gun safe is taller than the empty area under your bed, you will have to look for other places to install it.
Most of the under the bed gun safes have a similar height. If you don't have appropriate space under your bed, you can opt for the substitutes for the under the bed gun safes like the bed bunker gun safes and the bed buddy gun holders.
3. Type of Lock
You should always choose a gun safe with a locking system you're comfortable using. Under bed gun safes come with different types of lock like the mechanical, electrical and biometric locks. The biometric locks can be fast but they might fail to operate when you need them the most.
While the mechanical locks can prove to be reliable, it might take way too much time for you to open the gun safe in cases of burglary. Weigh the pros and cons of all the locking systems and go with the one you're most comfortable with.
4. Portability
Some people like to buy an under bed gun safe which they can carry around with them when they're traveling. If this is the case you should buy a gun safe which is light in weight since carrying a heavy gun safe isn't easy and you might stop packing the gun safe with you to avoid the inconvenience.
You might also want to check the size of your car's trunk since it is the place where you will be storing the under bed gun safe. Having foam on the base of the gun safe will be a good idea in this case since it will save your guns from damage while it is in the car.
5. Material of the Gun Safe
The cost of the gun safe majorly depends on the material used in making the gun safe. You can choose between a metal or a plastic gun safe. Needless to say, the metal gun safe provides superior security as compared to the plastic safe.
The plastic gun safe should only be an option if you're trying to keep the firearms away from children. It is incredibly easy to break into a plastic gun safe with pry tools and they're so light that the burglars can just carry them away.
---
The Best Under Bed Gun Safes
SecureIt Tactical – Fast Box Model 47

SecureIt is one of the most innovate gun safe companies and has an exclusive line of component-based modular storage solutions which are portable and yet don't compromise on security. The Model 47 comes with boltable sides so the safe could be anchored to the bed or the floor.
The Fast Box Model 47 has enough room to store a rifle with handgun, ammo and additional gear. Model 47 has an electronic locking system which is quick and effective and has a key override for times when the electronic keypad fails.
The SecureIt Model 47 has a heavy-duty all welded steel construction with black textured powder coat finish. You can store a firearm up to 46.5″ in this gun safe. There is also a pad insert to cushion your weapons in the Model 47.
American Security DV652 Defense Vault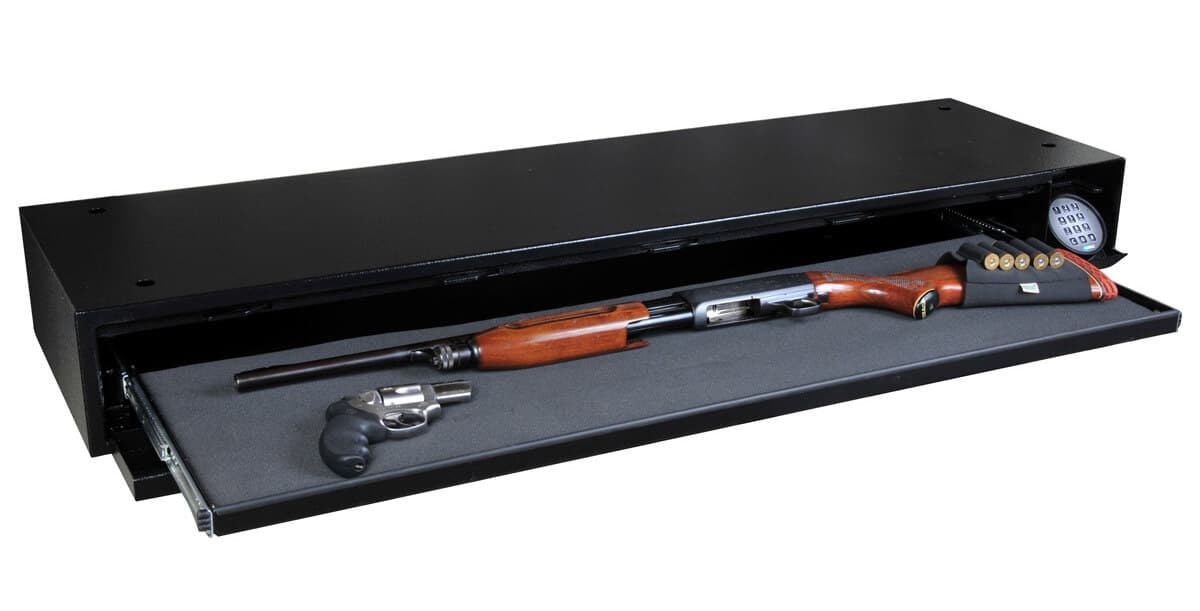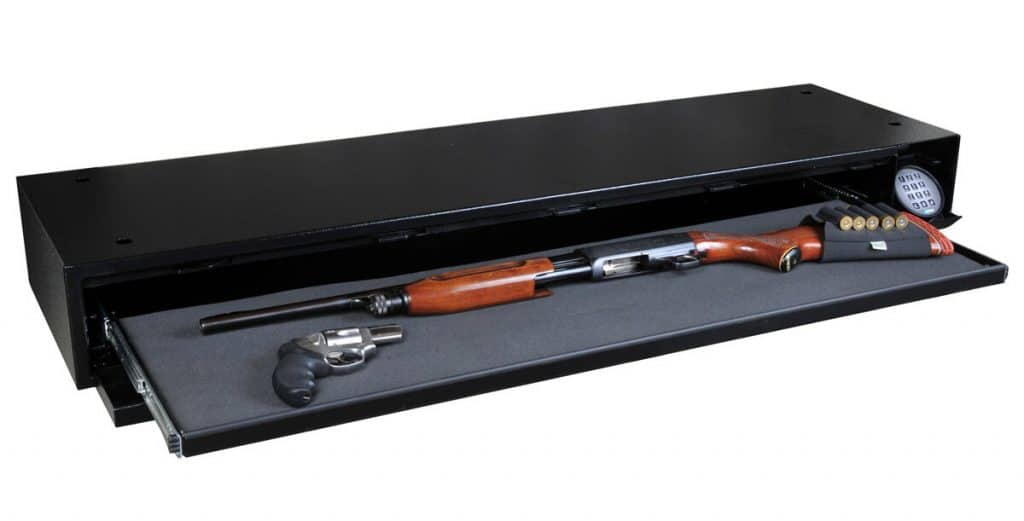 American Security is one of the biggest gun safe manufacturing companies in America. They use robots and automation techniques to manufacture their gun safes. DV652 Defense Vault has an electronic backlit keypad which is easy to use in the dark.
The defense vault also has a slide-out gun tray which makes it easier to access your gun safe so you don't have to go under the bed or pull out the entire gun safe. The slide-out tray is padded to save your guns from damage. The DV652 Defense Vault comes with pre-anchored holes so you can mount the safe to your bed or the floor.
Whether you currently have a safe or not, the American Security Defense Vault should seriously be considered for any gun owner. The high-security electronic lock on the DV652 is easy to use, and in a matter of seconds, the vault door is open and the weapon is in your hand.
MonsterVault Underbed Gun Safe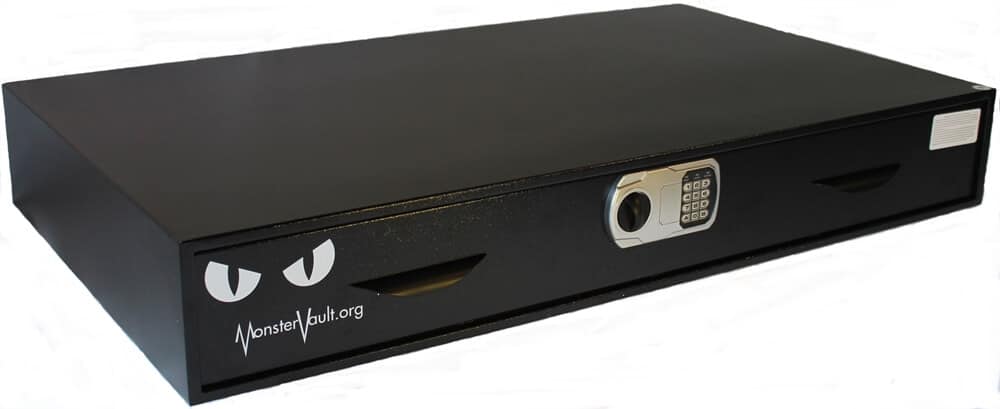 MonsterVault Underbed gun safe is probably one of the biggest gun safes present on the market. You could install your MonsterVault under your bed or in your full-size SUV or Truck. This gun safe comes with a seven-year consumer warranty.
The MonsterVault has a solid steel construction and has three cubic feet of storage. This gun safe comes with pre-drilled holes at its bottom so you can mount it to the floor or the bed. MonsterVault has a padded slide-out tray to save your guns from damage.
MonsterVault comes with a digital programmable combination lock. This vault has a black powder coating inside and out. This under bed gun safe has a capacity of 100 lbs in the drawer. You can store multiple guns, ammo, and handguns in this gun safe.
Hornady RAPiD Safe AR Gunlocker
The RAPiD Safe AR Gunlocker has a fully enclosed design which provides tamper-proof security. Its front-end spring loaded door makes it a perfect companion under a bed, in the back of an SUV or mounted in a closet.
Hornady RAPiD Safe AR Gunlocker comes with arguably the most number of security options which include RFID Wristband, RFID Key Fob, RFID Stickers, Keypad, Key (for power outages). It is an electrical gun safe and comes with a security cable for securing your gun safe.
The AR Gunlocker comes with foam inserts which can accommodate up to two tactical length rifles and/or shotguns. The RAPiD Safe Gunlocker comes with a 1500-lb rated cable for added security. The advanced unlocking techniques of this gun safe can push you to use this vault often.
Bed Bunker Gun Safes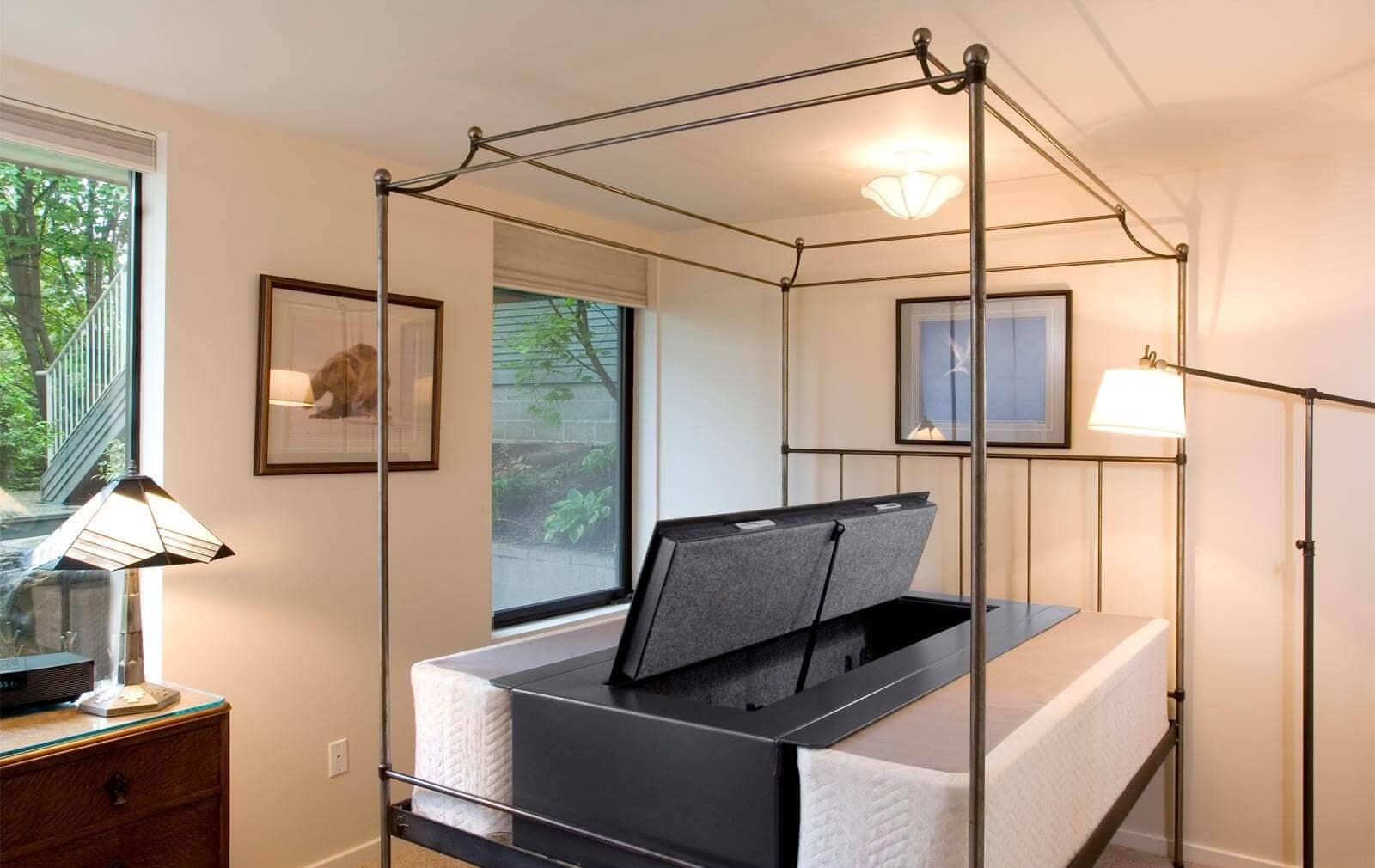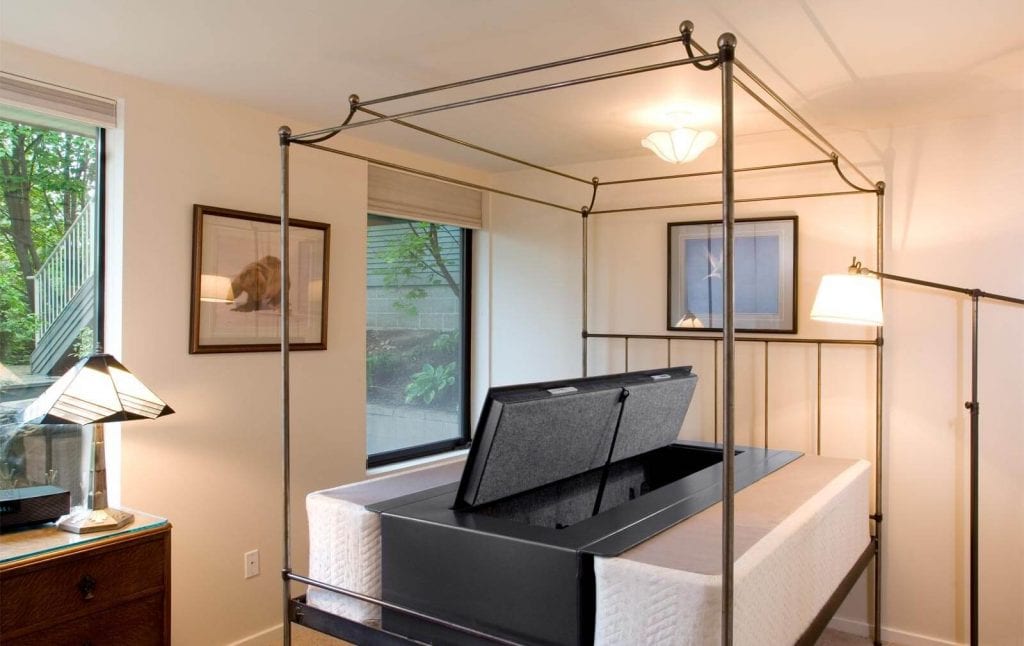 If you don't have space for an under the bed or other full sized gun safes, you can opt for bed bunker gun safes. The bed bunker gun safes keep your valuables out of plain view and secure by concealing them with mattress which lay right on top of the bed bunkers.
Bed bunkers add an extra layer of security to your guns since most burglars don't look under your mattress. Apart from the bed bunkers, you can also opt for couch bunkers if you need additional space to store your valuables.
BedBunker Twin Size Bed Bunker
The BedBunker Twin Size Bed Bunker eliminates the need to have extra space under your bed to store a gun safe. The BedBunker has a two-hour firewall which dramatically boosts the odds of your guns being saved from searing temperatures since it is just a few feet above the floor and it keeps your guns up to 500 degrees cooler.
A BedBunker also reduced floor stress by 78% as compared to a standing gun safe. A traditional upright safe with comparable internal size to a BedBunker, stands in about a 7.87 square foot area, weighing 1300 pounds. That works out to 165.18 pounds per square foot of floor stress. A queen-sized BedBunker requires 37.5 square feet, also weighing 1300 pounds. That works out to just 35 pounds per square foot — a 78% reduction in floor stress over the upright safe.
The BedBunker comes with an option of a key lock and a mechanical dial lock. You can also choose to convert your BedBunker into a King or a Queen sized bunker. This gun safe comes with pre-drilled bolts for anchoring the gun safe to the floor.
Conclusion
Underbed gun safes can be lifesavers in times of need. These safes are essential if you have children at home. For maximum safety, you should bolt your gun safe to the floor or the bed if you have a sturdy bed.
While there are many under bed gun safes on the market, the ones on the list are the best. You might end up using your gun safe more often than you think so we recommend you consider the things mentioned in this article before buying a firearm vault.
An under the bed gun safe should be installed in a place where you can have quick and easy access to it in times of need. Choose from a gun safe with your preferred locking system. If you're not good with remembering access codes or patterns, we suggest you go for a biometric lock.
We suggest that if you live in a neighborhood which has high chances of flood or fire breakouts, you should buy a gun safe which is fire and waterproof. If you have queries or doubts about buying an under the bed gun safe, drop them in the comments below and we will be happy to help.