Advanced Safety With Biometric Technology.
Why should you own a gun safe?
Citizens own a gun for so many reasons, hunting, target practice, personal safety or just as a collection piece. But, when this firearm can easily be accessed by a house member or intruders/thieves, life is at risk!
You'll be shocked to know that a whopping 1.7 million minors in America are living in houses with loaded and UNLOCKED guns. These totally unsafe firearms are easily accessible or can be accessed by young children even if parents think they can't be.
According to Smart Gun Laws, 73% of the children aged nine or under are well aware of where their parents have hidden the gun and 36% had handled those weapons. While parents reported their children are unaware of the location of the gun.
Moreover, 75% of the guns used by young generation involved in suicide attempts were completely unsafe. That being said; if you own a gun, having a gun safe is important not only for your gun but also for the safety of people around you.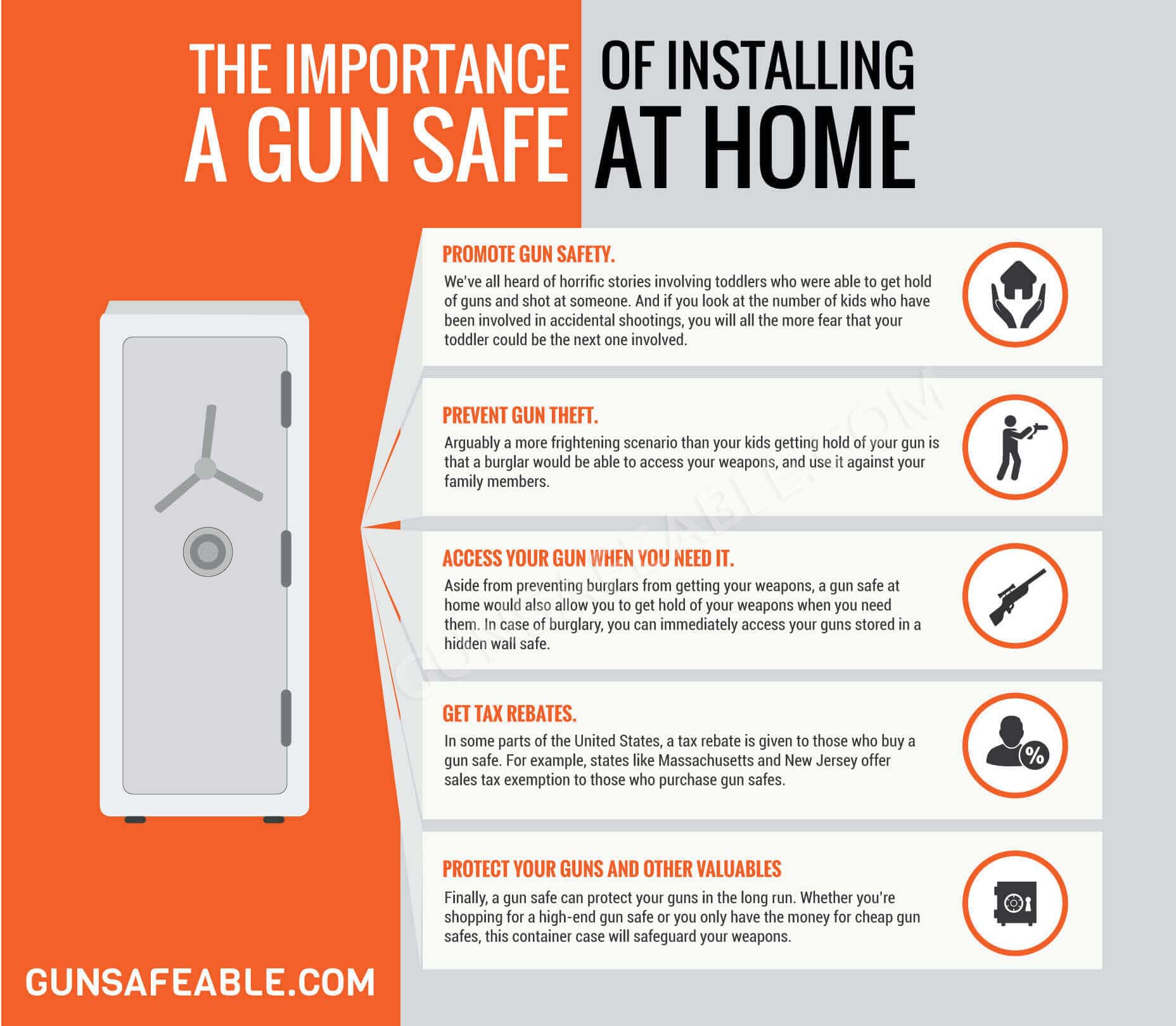 While those bulky metal boxes are still in demand but over the years, the best biometric gun safes have immensely improved the gun safety method.
We have handpicked the best biometric gun safes of 2017 based on user rating, performance, quality, durability and price and reviewed them in detail to save you time and money. This will be a long read, so grab a cup of coffee before you begin.
What are the Best Biometric Gun Safes?
Our detailed reviews will help you avoid buying the wrong biometric gun safes and invest in the ones that are guaranteed to last for years with top-notch performance.
What Is Biometrics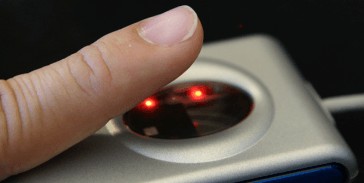 Biometrics is one of the most reliable, if not fool proof, technology in today's world. These are like fingerprint scanners, palm readers, and retinal trackers.
Since you'll be the one whose finger print will be scanned and saved, no other person would be able to access your gun. Moreover, these biometrics are 100% safe and can't be easily hacked into.
They tend to improve your life by ensuring more safety. Nowadays, there are a few people that think it's useless to invest in a biometric gun safe and is a complete waste of money.
However, they are now a symbol of better security and technological advancement. They are smart, user-friendly and ready at your service within a few seconds. Below is a table of the best biometric gun safes
The Best Biometric Gun Safes
SentrySafe Biometric Gun Safe (Best Seller)
SentrySafe is one of the best brands when it comes to choosing a biometric gun safe. It's strong and sturdy with enough space to easily hold a full sized semi-automatic handgun.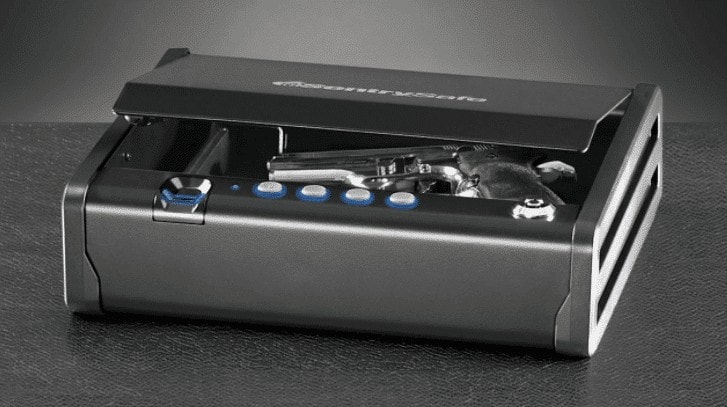 Advanced & Fast Fingerprint Scanner
SentrySafe has a biometric lock fingerprint scanner that offers advanced protection. This scanner ensures maximum safety so that no other individual can gain access to your weapon. This scanner is quite fast and takes only a second to unlock. It gives you a quiet entry thanks to the compression gas strut that makes it possible.
Lightweight
While the majority of the gun safes are bulky, they are quite heavier as well. But not your SentrySafe. It has a lightweight profile, weighing only 11.99 lbs that makes it easier for you to carry and store it.
Backup Key Included
This biometric safe lets you program up to four fingerprints along with a keypad in case of emergency. Since it runs on batteries, they can go dead later on. However, you can always use one of the backup keys that are included with your purchase to unlock it.
User-Friendly
Its system is not like those complicated fingerprint scanners that take you forever to setup. Simply place your finger on the scanner, wait for the green LED light to flash and then change the angle of your finger.
This green LED will flash three times once the finger has been fully scanned. Why it scans three times? So that you can unlock it quickly without having to place your finger in a particular position.
FAQs
Barska Quick Access Biometric Rifle Safe (Top Rated Rifle Safe)
It's hard to find a reliable biometric safe for rifles but Barska offers you one. It comes at an affordable price and is divided into upper and lower shelves inside. It's quite a large case and can easily hold up to 4 rifles and store up to 120 fingerprints.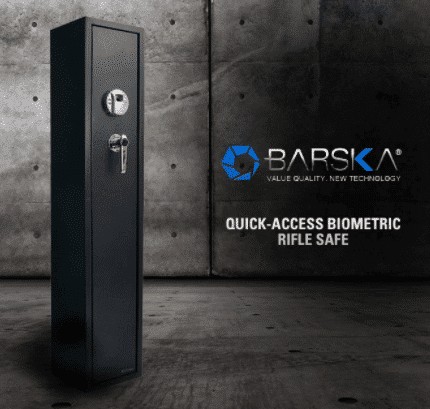 Large Storage Space
As mentioned earlier, Barska Rifle safe has a spacious interior that can hold up to 4 rifles and handguns as well. In fact, you can store multiple firearms at a time. Inside the safe, there is a small shelf that can be used to store ammo or loaded magazines.
Design & Biometric System
Your Barska Rifle Case is made of a 2mm steel material and locks via the 3-point deadlocking system. Its biometric fingerprint scanner can scan 120 prints at a time.
This fingerprint scanner takes only 4 seconds to scan and give you access to your firearms. Nearly all the biometric gun safes offered by Barska have the same scanner and computer system with fast recognition.
Beeps When Accessed
When you access the case, it makes a small beeping sound which can be turned off and opened silently as well so that the intruders are unaware of your actions.
Ease of Mounting
This safe comes with pre-drilled 4 mounting holes and a complete set of bolts for easily mounting the safe. This is to make sure that the thieves cannot easily carry it off. It weighs 65 pounds.
Batteries Included
This CA DOJ Approved biometric rifle case comes with 4-AA batteries but these aren't rechargeable.
Don't worry. Just in case the batteries go dead, you can always use one of its 2 backup keys to unlock the case. Extra batteries are also included in it.
Extra Accessories
Apart from batteries, 2 emergency keys, hardware for mounting and removable four section rifle safe barrel holders comes with your Barska Biometric Rifle Safe.
Overall Performance
As a whole, this armor safe is pretty easy to use. The fingerprint scanner works flawlessly and is user-friendly to setup. The safe is solid and sturdy and the fingerprint records remain stored even if the batteries go dead.
FAQs
Barska Biometric Safe With Fingerprint Lock (Compact & Safe)
The Barska Biometric Safe is a smart and compact gun safe with fingerprint recognition system. It's light in weight and has the capacity to store multiple weapons at a time.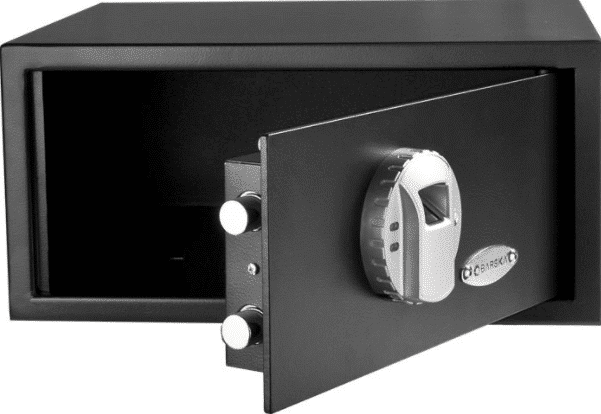 User-Friendly Fingerprint Scanner
Individuals who invest in a biometric gun safe have the biggest query of how easy is to setup the fingerprint scanner.
Barska makes it super easy and comfortable for you. You can easily and quickly program and set it up. Simply place your finger on the pad during the setup phase and wait for the signal once it is scanned.
It has the ability to store more than 30 unique finger prints at a time and hardly takes a couple of seconds to fully scan each fingerprint and takes even less time to give you access to your weapon.
100% Safe & Secure
Don't worry about any unauthorized access. No person can access this gun safe except the ones whose fingerprint is stored in its memory. Moreover, its heavy gauge steel construction that is affixed with solid-steel dead bolts fully secures your weapons and important documents. Even if smashed with a hammer or dropped from a height, it's completely unbreakable.
Large Storage Capacity
Its interior measures 16.25" x 12" x 7" and gives you a spacious place to store multiple guns, documents and other secret items you want to secure from intruders.
Lightweight Profile
While it is built out of a solid steel construction, it is still light in weight (25 lbs) to carry around or lift.
Construction & Design
This gun safe weighs only 31 pounds with smart ergonomics and a quality design. While it's a medium sized safe but has the capacity to store multiple guns at a time. Its interior is quite roomy.
The materials used in its construction are of premium quality and every corner of this biometric gun safe is crafted with precision and accuracy.
FAQs
Barska Top Opening Biometric Fingerprint Safe (With One Year Warranty)
The Barska Top opening gun safe with fingerprint scan is much like the previous models and has the ability to program more than thirty fingerprints at a time. It has locking bolts made of solid steel that is also motorized.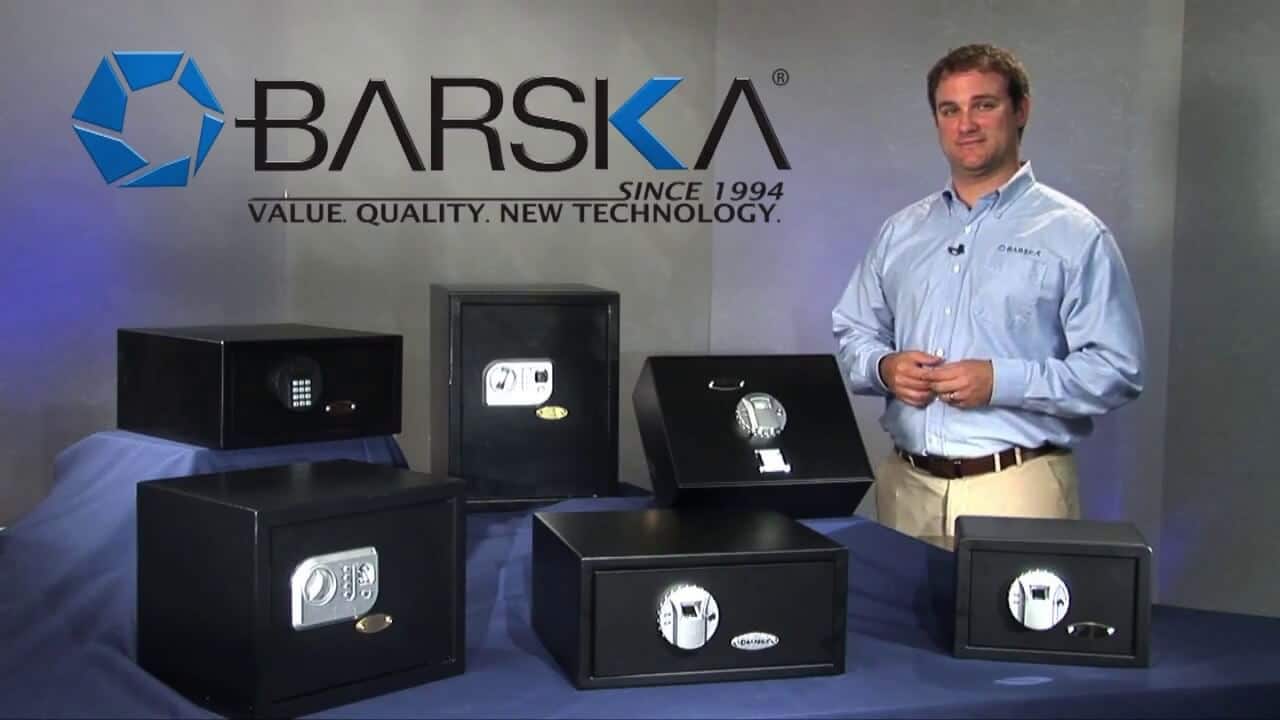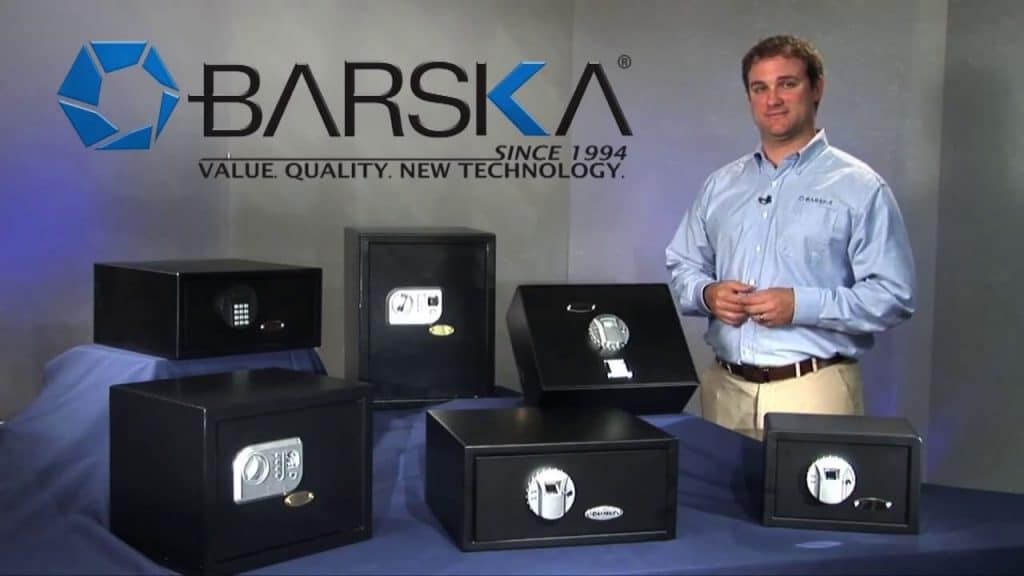 Top Opening Door
I'll begin with discussing its key features which are its top opening door. This allows you to store the safe in a drawer and still access your firearm because of its top opening door.
Just reach the fingerprint scanner to gain access, open the top door and grab your gun or other important items stored inside. Just make sure that you have stored it in a secure place.
Advanced Biometric Scanner
Its advanced biometric scanner can easily store up to 30 unique fingerprints in its memory. It's a reliable fingerprint scanner and pretty easy to setup. Simply place your finger on the scanner and wait for the audio signal to ensure that the finger has been successfully scanned.
We recommend storing more angles of your fingerprint so that you can open the safe in the very first attempt. On average, it takes less than 4 seconds for the Barska Top Opening Gun safe to scan and give you access.
Pre-Drilled Holes
While it is a top opening gun safe, it still has pre-drilled mounting holes to fit it into the floor, shelf or a counter top. It comes with screws and bolts (two solid steel locking bolts) for mounting it. Once properly mounted, no one will be able to remove the unit from its place. This adds an extra layer of security to your weapon.
Battery Powered
It operates on 4 AA batteries which can last up to 2 years depending on your use. This also allows you to carry it with you in the car and use it. It also comes with a Protective Floor Mat and Back-up Keys. The floor mat protects your valuables and guns from scratches.
Because you never know when the battery can go dead, two back up keys are included that gives you access to your weapon and other documents. Please never save the keys inside the gun safe, instead store them separately in a safe place.
Warranty
Finally, the Barska gun safe is backed by a one-year limited warranty and an outstanding support and service.
Viking Security Safe VS-25BL
Even though the Viking Security Safe VS-25BL is a smaller model, it still has enough space to store more than just your gun. It has a responsive fingerprint scanner along with a keypad that works as an alternative to access the safe.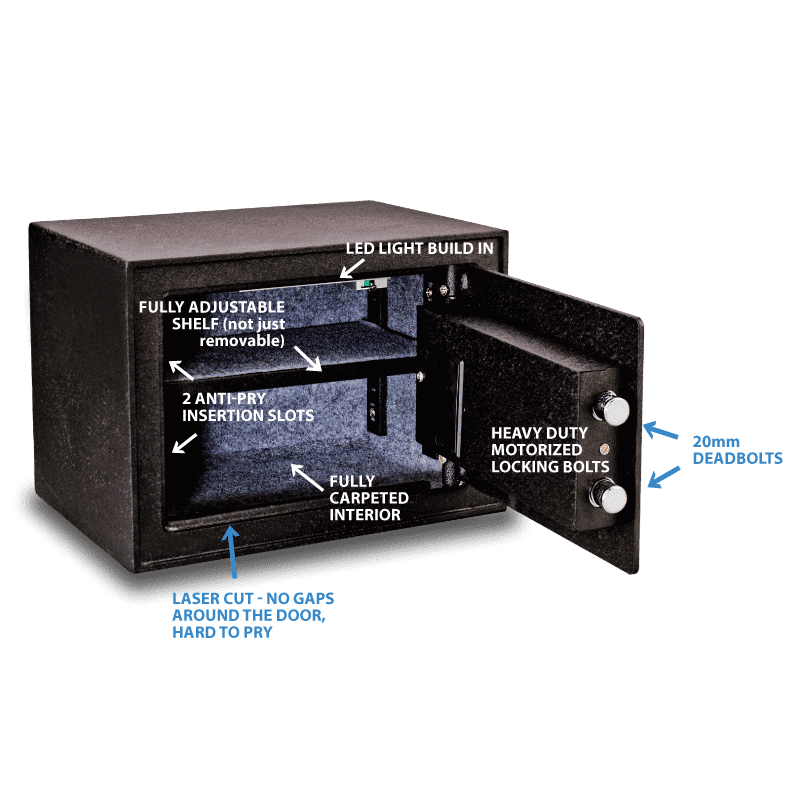 Biometric Fingerprint Scanner
The VS-25BL's fingerprint scanner is quite advanced and comes with a 500 DPI optical sensor that makes it super powerful.
This scanner is also able to store more than 32 fingerprints at a time and give you access to your weapon in less than a second which is the fastest compared to any other biometric gun safe.
Strong & Durable Steel Door
Unlike other gun safes that are usually built with a 2mm steel the Viking Security VS-25BL features a 5mm steel door with two anti-pry insertion slots and motorized deadbolt locking system that ensure maximum safety.
Digital Keypad
On the right side of the fingerprint scan, there is a digital keypad with LCD display where you can program a 4-8-digit code in its digital memory.
It acts as an alternative mode of accessing your gun and valuables. Needless-to-say that it offers the same level of security as a fingerprint scan.
Audible Settings
Its sound settings can be turned off or on. The gun safe gives a beeping sound whenever it is unlocked.
Unlock Warning
Just in case the gun safe is closed without being fully locked, a warning sound instantly rings that tells you to properly close its door. This is a great feature which isn't found in most of the gun safes in the market.
Non-Volatile Memory
The non-volatile memory retains the fingerprint scans and the digital codes even if the batteries are removed or they go dead. This saves a lot of time and ensures maximum security.
Design
Talking about the aesthetics, they are outstanding. Even though the keypad doesn't seem attractive buts its black and scratch resistant powder coating top gives it a nice and shiny touch. Avoid bumping it into the walls or the edges else the paint will chip off.
Overall, it has a nice and sleek design with a solid construction.
The GunBox 2.0 Biometric Handgun Safe
Let the modernism step into your house with The GunBox Biometric Hand Gun Safe which is a whole new revolution. It is a compact, stylish and probably one of the best biometric safes on the market at the moment.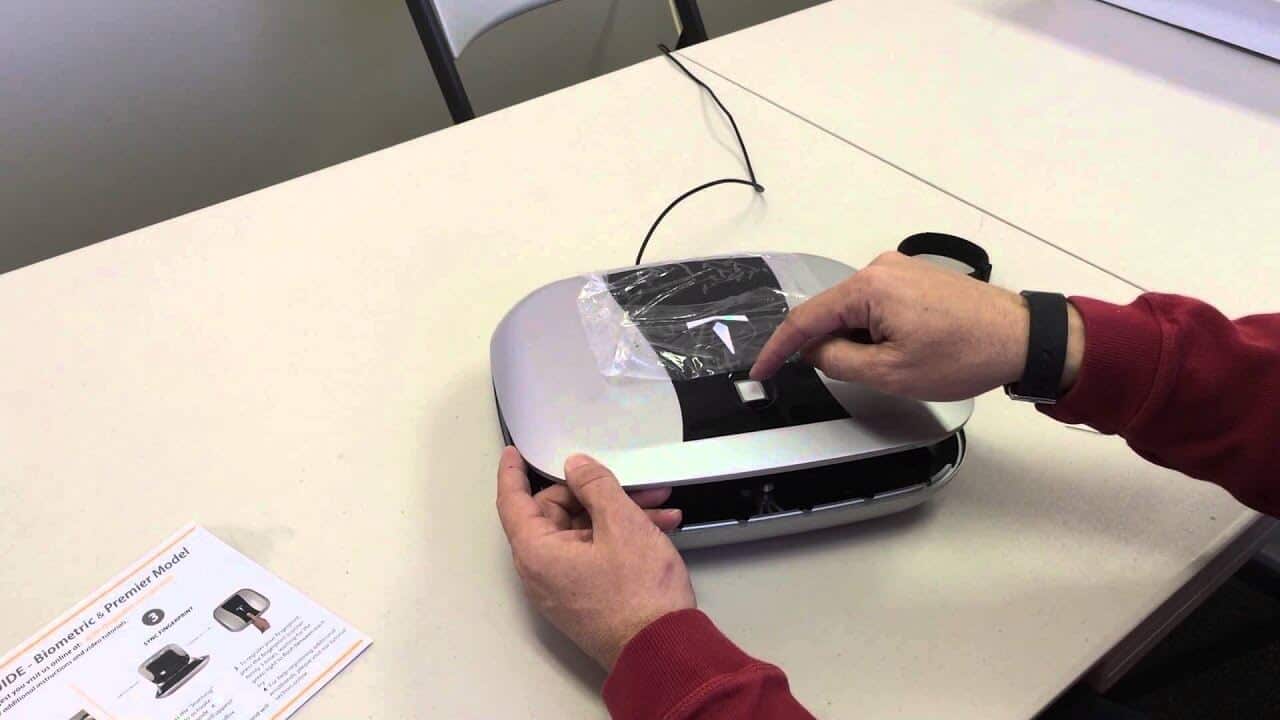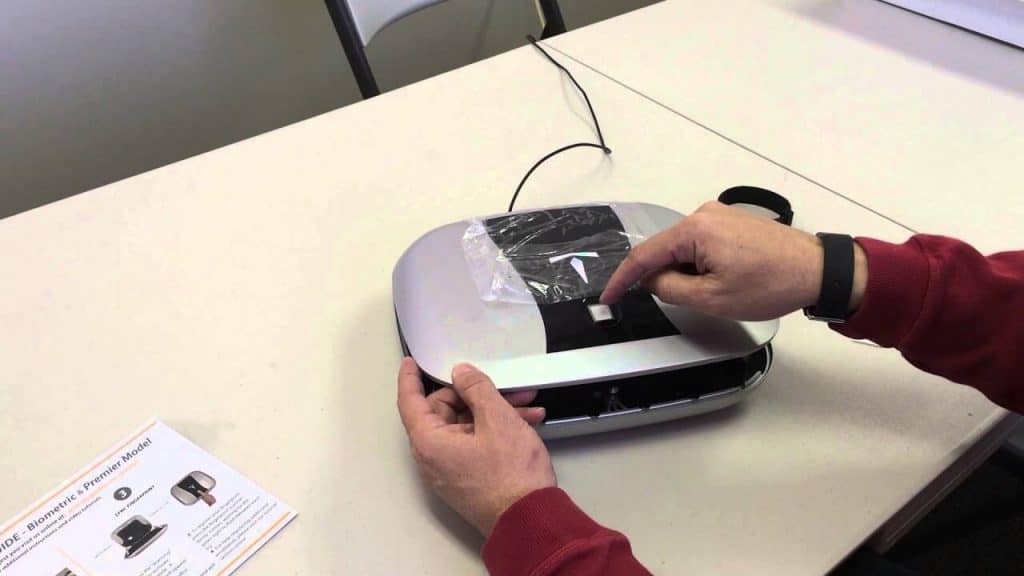 Sensitive RFID Scanner
Its RFID scanner is the core security feature. This scanner can recognize multiple sets of fingerprints at a time and can lock your firearm using a bracelet or even a ring as opening key. In simple, not only your fingerprint but also a bracelet or a ring can be used as a means of securing your firearm.
With multiple options to access and lock your valuables, they remain safe and secure.
Easy to Change Batteries
So far we have seen that biometric safes come with non-rechargeable batteries. Not with The GunBox. It has two USB ports that are used to charge the safe. The batteries are easy to change and can hold the charge for longer durations. Moreover, it comes with battery backup and makes sure that your gun safe doesn't turn off anytime.
Durable Construction
GunBox rave about its construction more than any other brand in the market. It's because of its aircraft strength aluminium shell that helps protect your firearm better than any other gun safe. This is actually a very strong material that can bear the toughest environments pretty easily.
FAA Approved Vault
Being FAA Approved you can carry your gun safe with your checked luggage. Also, it doesn't require you to take out the container during security checking, however; at places like the airport or being in a different country may require taking out of the box procedure. While it may seem flat from the top, it actually has a deep interior that gives you enough room to save more items than just your handgun.
Gunvault MicroVault XL MVB1000
Though the GunVault MicroVault is a compact sized case, it can still hold two pistols at a time along with ammo and other valuables. It comes with a backup key as well and operates with a 9V battery.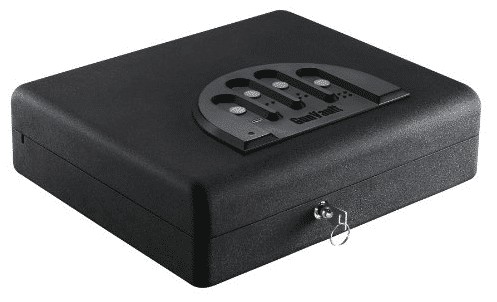 Advanced Fingerprint Scanner
The MVB1000 has an advanced fingerprint scanner that can store 120 unique fingerprint scans at a time. Its mechanism is quite different from other biometric gun safes. Instead of the touch-scan, it has the swiping biometric scanner. This makes the scanning a bit different and you may require some practice but is safer and performs well.
Elastic Pockets
Inside the gun safe, you'll find these elastic pockets that truly make it your best portable gun safe. These smartly designed pockets allow you to store small items like phones, wallets or even money without them being in contact with your weapon and ammo.
Simply store any valuable item in these elastic pockets and carry them on the go. Even if the road is bumpy, you won't have to worry about any scratch or wears since the elastic pockets firmly hold the items in place.
Storage Capacity
If not the biggest, you still have a decent storage capacity. You can store two handguns at a time…what else you need? Moreover, the elastic pockets allow you to keep your secret documents, ammo, and magazines. The size of the gun safe itself is quite compact and can easily fit into the corner of a trunk or under a seat. Since it has a top opening, you can even place it in a drawer and easily reach inside.
Batteries
I must mention its long lasting powerful batteries that hold the charge for a longer duration. They can last up to 1.5-2 years depending on your use. It's always a wise decision to have extra batteries. But don't worry, the fingerprint scans won't be wiped out if the existing ones go dead.
LockSafe Biometric Pistol Safe
LockSafe is one of the leading brands of biometric gun safes and if you are ready to pay a few extra bucks for quality, then it's the best product you'll shop today. With a mind-blowing 9-gauge steel construction, this gun safe is rock solid.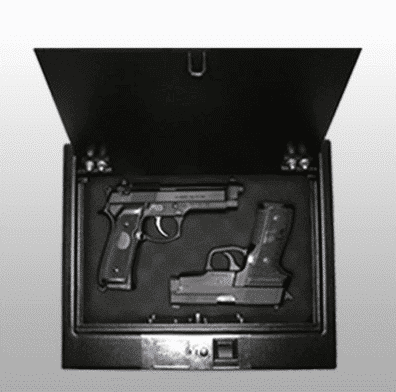 Design & Construction
While other features will be discussed, this biometric safe is popular for its unique design and a solid construction made out of 9-gauge steel. It's probably the toughest safe on our list. The thickness of steel used in its construction is twice the thickness of many other biometric pistol safes.
Talking about the design, there are four pilot holes located in the bottom panel. These are used to mount your safe to the floor or a flat surface. Heavy metal bolts and screws also come along with your purchase. Overall, it's a nice and sleek looking black box weighing 22 lbs with a shiny finish and user-friendly interface.
Fingerprint Scanner
Unlike most of the biometric safes that are pretty hard to setup or even understand, LockSafe saves you from all the fuss. Simply place your desired finger on the scanner and wait for the green LED to shine, indicating that the print has been successfully recorded. Furthermore, it stores 10 finger scans, so more than one person can have their fingerprints stored, but it's not necessary since security is the purpose.
Inside The Gun Safe
In its interior, you'll find a padded foam base that protects your firearms from scratch and wears. It measures a total of 14"L, 10.25" depth and 4.56" height and is enough to fit 2 handguns along with other items like ammo or magazines.
Ease of Mounting
As mentioned earlier, you'll find 4 pilot holes underneath the gun safe. These are pre-drilled into its design and lets you mount it on a flat surface or floor. Use the strong metal bolts, screws, and washers that come along with the gun safe.
Stack-On Biometric Personal Weapon Safe
Stack-On Biometric Weapon Safe is one of the best-rated safes in the market with an advanced fingerprint technology. It gives you a lightning fast access to your firearm in case of emergency and is reasonably priced.
Removable Steel Shelf
It has a removable steel shelf that gives you room to store your valuables. Just open the safe door, slide out of the steel shelf and that's it. You have a full box room to put in multiple weapons, ammo, and other items. However, it's better not to remove the steel shelf since it keeps things neat and in place.
Fully Padded
The steel shelf and bottom of this gun safe are foam padded that protects your weapon from unwanted damage and wear. Moreover, they protect your firearm from bumps, just in case you are carrying the gun safe with you.
Fingerprint Scan
Its advanced fingerprint scan system comes with the user-friendly setup. Just place the desired finger on the pad, wait for the scanner to properly store your print and lift off. On average, it takes 1 or 2 seconds at most to unlock the safe. A backup key is also included with your purchase in case of emergency or if the batteries go dead.
Design
Stack-On Biometric safe is made out of solid and sturdy steel with a pry resistant door. It has properly concealed hinges with 2 steel live action locking bolts.
This steel body is finished with a matte black powdered coating with a slick shine. Make sure you that the safe doesn't bump into the wall since the powder coating can easily chip off and spoil the look.
Viking Security Safe VS-50BLX Large Biometric Safe
Viking Security VS-50BLX is a large biometric safe that can be relied upon and comes with a user-friendly interface. Though we personally feel it is underpriced for the value it provides, one thing we can guarantee is it won't waste your money.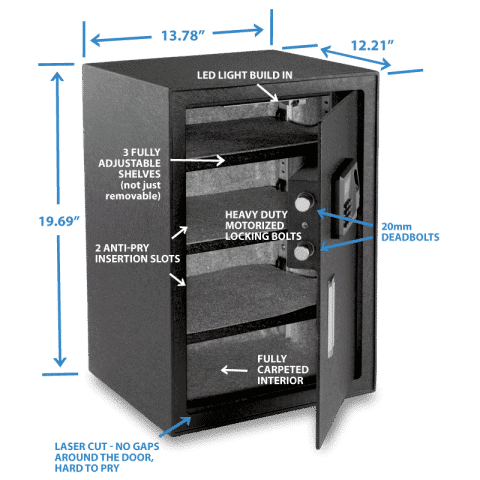 Easy to Use Digital Display
Though the digital display seems microscopic but has all the information you need to setup the fingerprint scanner. It's easily programmable with a beep sound that tells when the fingerprint has been successfully scanned.
It also gives a small beeping sound whenever the safe is unlocked. You can always turn off the audio with a single push of a button.
Multiple Methods To Access
With the biometric scanner is a digital keypad where you can enter a combination of 4-8 digits to access your safe. While some gun safe owners may not like multiple ways to access it but it's always good in case of an emergency. A backup key is also included that gives you access to your safe when the batteries are removed or they go dead.
Shelves Included
In its interior are adjustable shelves that are a great addition to this gun safe. They allow you to easily fit your weapons, ammo, magazine, documents and other items neatly and in place. You may want to store your handgun in the bottom and the mini shotgun on the top shelf. This is where it becomes handy.
Anchor
Viking Biometric Safe also includes a pre-built anchor that allows you to bolt the safe to a hard surface. Needless to say, the price of the anchor is included in the purchase and comes with bolts and screws to install the safe.
Viking Security Safe VS-35BLX
Viking security always goes a mile ahead in delivering quality and value to its customers and VS-35BLX is one of their best affordable and small biometric fingerprint safes you should definitely consider.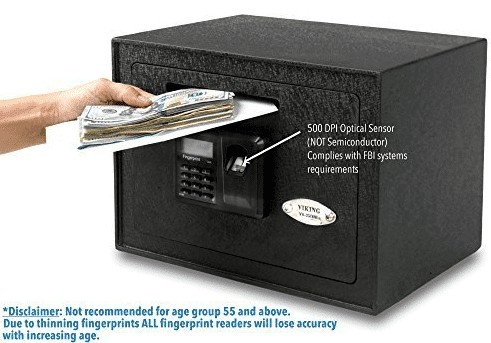 Biometric Scanner
With an advanced biometric scanner and 500 DPI optical sensor, VS-35BLX quickly stores the scan and gives you access to your weapon and other items in a matter of a few seconds.
It is capable of storing more than 32 unique fingerprints and grants you access in a second or less when the print is properly placed on the scanning pad. Make sure you get your finger scanned from different angles to gain access in the very first attempt.
5mm Steel Door
May not be the thickest but still, it is far better from many others in the market. Its 5mm steel door also includes two anti-pry insertion slots and motorized deadbolt locking system. Also, the door opens up like a charm. You won't have to actually lift or pull it.
Digital Keypad
As a backup method, a digital keypad with LCD display is also built-in with this biometric gun safe. Program it with 4-8 digit code and apply in the case of emergency or if needed. Like the fingerprint, the code combination is also saved in its digital memory which is non-volatile.
Unlock Warning
Just in case the safe door is not fully locked, you get a warning sound that triggers you to check the door again. Moreover, it also produces a sound whenever the safe is unlocked. This can be easily turned off if you want to.
GunVault Biometric Quick Access Gun Safe
This very affordable gun safe with a low false rate of rejection and ample of storage space is probably one of the best biometric gun safes on the market. It has an advanced recognition software and takes less than a second to grant you access.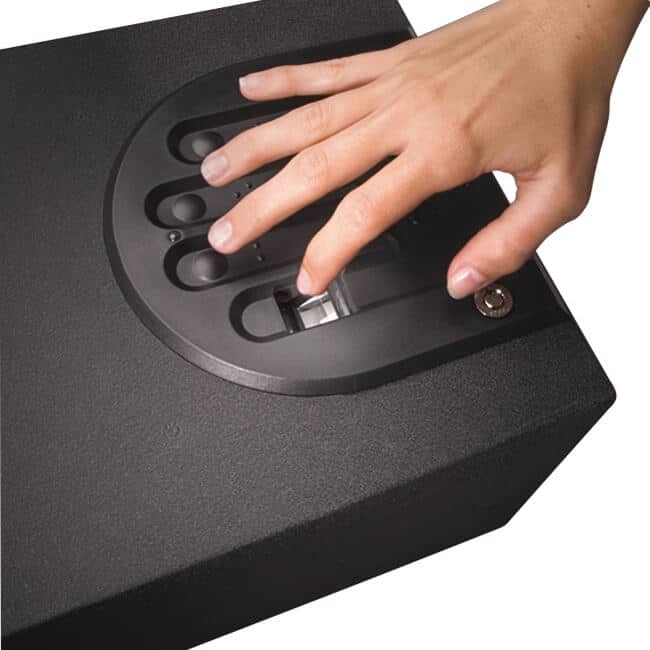 Advanced Fingerprint Scanner
It uses slide-through fingerprint scanning technique same as the MVB model. It's pretty simple and lets you unlock the gun safe with a swipe of the finger.
Because of the large digital memory, it can hold more than 120 unique fingerprints at a time and this memory is completely volatile.
User-friendly
Programming this biometric safe is pretty easy. When you place your finger for the print scan, a green LED light flashes with a beep and signals that the system is ready to store another print.
While it is easy, unauthorized users cannot add their fingerprint without your permission. Basically, its scanner requires 2 administrative fingerprint scans after the purchase. After that, nobody can add his fingerprint without administrator's permission. In simple, the administrator must first unlock the safe, only then a new scan can be recorded.
Sturdy, Lightweight & Compact
This biometric safe is made from a solid premium quality steel of 18 gauge. However, it is still light in weight and compact. It only weighs 8 lbs and measures 3.5" x 10.25" x 12" and can easily fit under the seat of your vehicle.
Storage Capacity
The Viking Security safe can hold a single pistol only. It also has pockets and elastic straps that can hold magazines, ammo, and paperwork.
Backup
YUP! Even though it is powered by a strong and long lasting 9V battery, a backup key is still included in the gun safe that gives you access in case of fingerprint damages or battery loss.
Stack-On PS-20-B Large Biometric Safe
Stack-On PS-20-B Large biometric safe is made for individuals who want a large storage space. It has two removable shelves inside that neatly hold your firearms and other items in place. This gun safe has a very robust fingerprint scanner and here are some its features that explain why you must own it.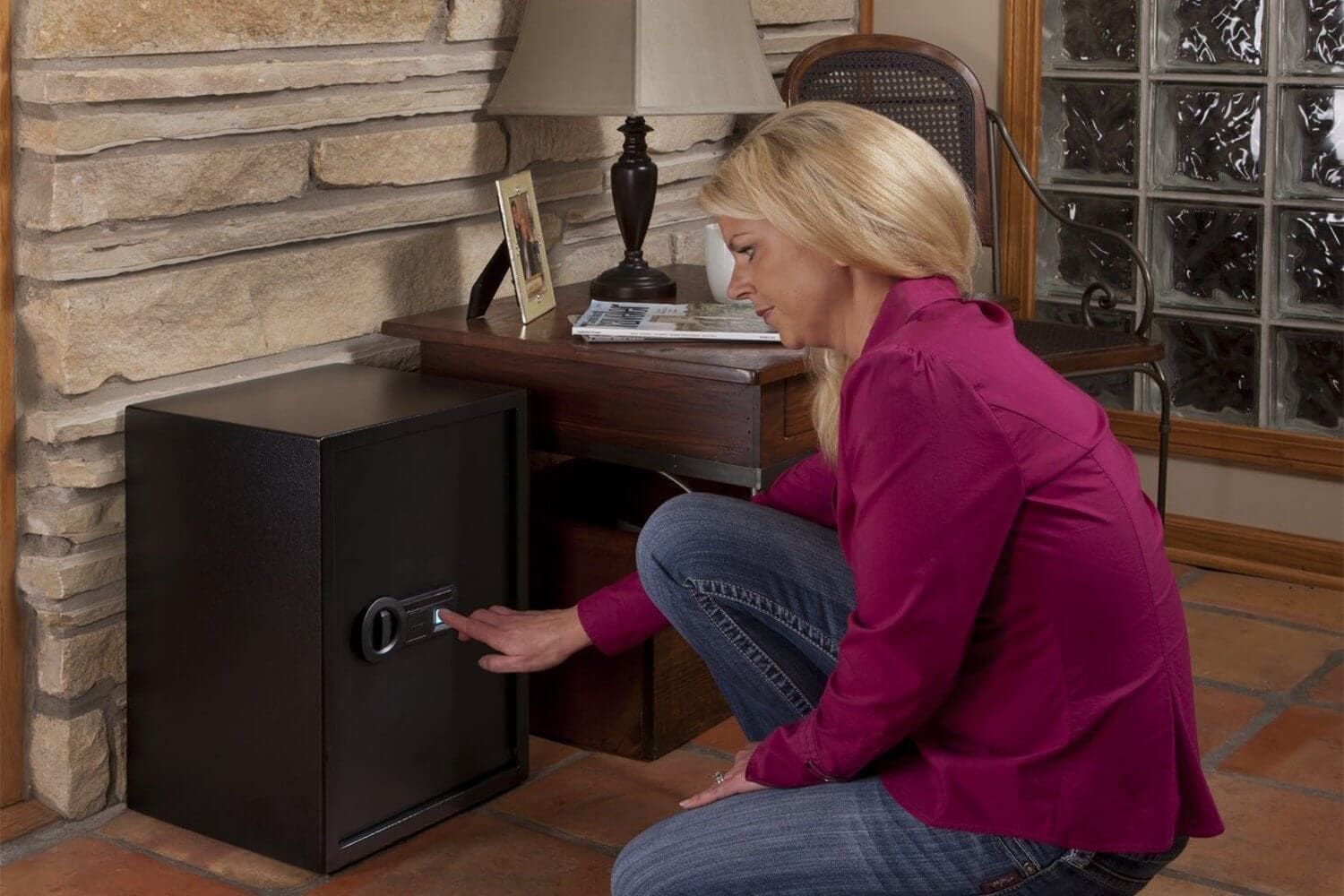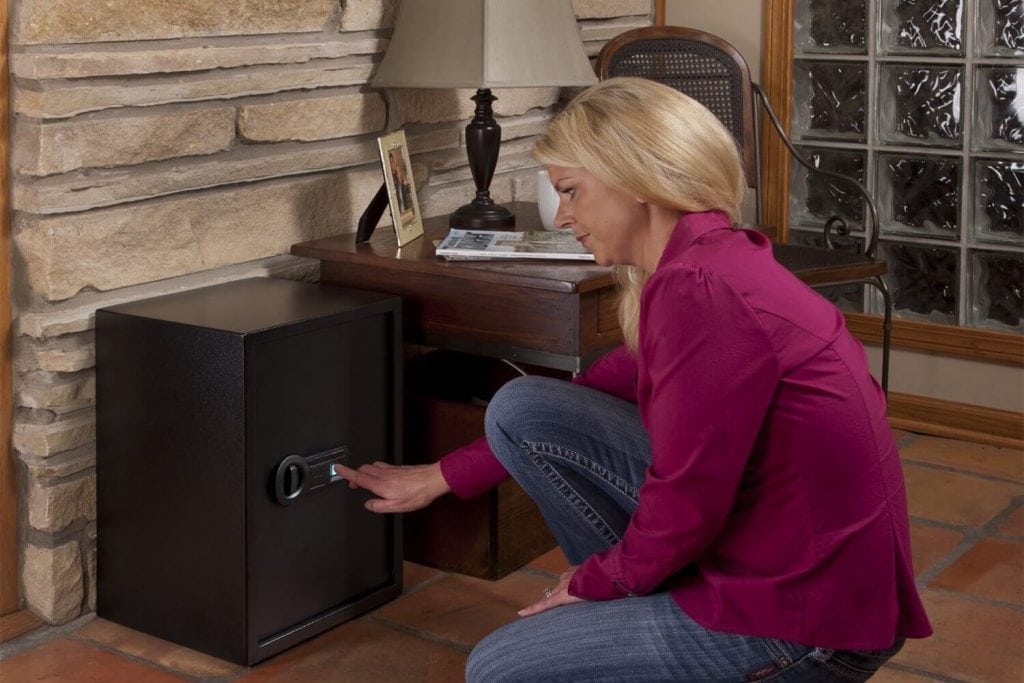 Extra Large
It's built with enough room and removable shelves to securely store your valuables in place. You can lock in your handguns, ammo, jewelry and much more items. While the safe may not be large enough for rifles, it still has the capacity to hold more than one handgun inside its large interior.
Biometric and Electronic Lock
The advanced biometric system accepts up to 20 fingerprints and gives a quick access inside the vault. It also has an electronic lock with a 3-8-digit combination and a backup key that acts as an emergency access when the batteries go dead.
Sound Programmable
The electronic keypad makes a sound when you push the button. Also, the safe gives a low battery beep. You can always shut down the keypad's button sounds. Read the step-by-step user manual that comes along.
Solid Construction
Because safety is the concern here, Stack-on PS-20-B is made of a thick steel sheet that is unbreakable. Moreover, it has a California-approved Firearm Safety Device that also meets all the requirements of Penal Code section 23655 and regulations.
Customizable
Since the shelves are removable, you can always customize your gun safe as per your needs. Both the shelves easily slide out. Also, there is a foam padding on the bottom and shelves that protects your firearms and other valuables from scratches.
SentrySafe Fire & Water Safe Extra Large Biometric Safe
Last but not the least is SentrySafe Extra Large Biometric Safe made for those who want to store more than one gun. It's large enough but still can't hold a rifle. A shotgun? Definitely!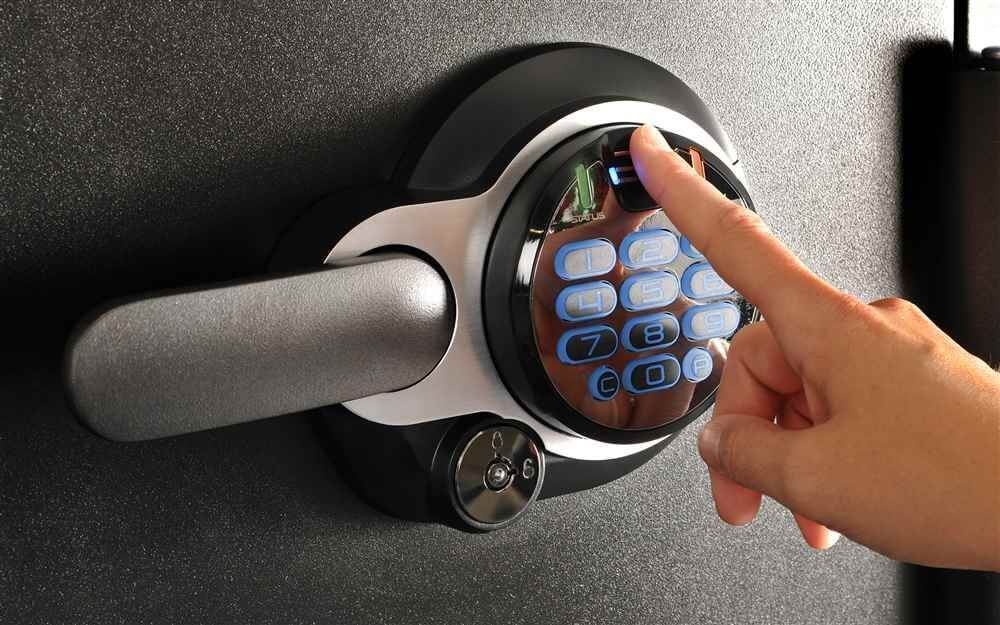 Advanced Fire Protection
This case has been made fire resistant and is UL classified for fire endurance. The safe is tested at 1700 degree Fahrenheit for 1 hour and was still able to protect documents, records, firearms and other valuables.
Water Resistant
YUP! It's also water resistant and successfully tested in 8+ inches of water for more than 24 hours. Just in case of flood or any calamity, your firearms will be fully safe and secure.
Biometric Scanner
Its advanced fingerprint scanner is brisk and comes with four live locking bolts and dual key backup system. Bolt down hardware also included that offers advanced protection and prevents unauthorized access.
Roomy!!!
YUP! That's her core feature. It is large enough as compared to many other biometric gun safes and is made to hoard in all your weapons and valuables. Its interior roughly measures 13.8" x 12.6" x 11.9".
Biometric Gun Safe Buying Guide
Here are a few important things you should definitely consider before investing.
Size
Selecting the right size of biometric safe is crucial. While you may want to buy a large one, even if you have a small handgun, it may not be a wise decision.
You should make a checklist of what other items you would be storing inside your safe. These may include: more weapons, ammo, magazines, important/secret documents, jewelry and cash.
We recommend going with a large enough biometric safe the first time but still depending on the personal needs and items to store, your decision can vary.
Durability
Next important factor to consider is the durability of your gun safe. It must be made out of solid steel construction with only a single piece and door that wraps the interior.
Normally, a 3mm-5mm steel thickness is considered strong. A strong safe is unbreakable and heavy.
Also, make sure your safe has pre-drilled mounting holes or anchors so you can affix them to a shelf or floor and avoid it being taken away by a thief.
Fingerprint Scan
This is the core feature of your biometric safe and it must be a good one. The first thing to determine is how long the scanner takes to grant you access.
On average, it must not take more than four seconds to unlock the door. Some of the advanced fingerprint scanner gun safes unlock in less than two seconds, which is excellent.
Moreover, you should check whether or not the scanner is able to store more than one fingerprint in its digital memory.
Most of the biometric safes listed in this article are able to scan more than 10+ scans and as much as 120. It's actually good because you can scan the same finger from different angles to decrease the rejection rate. Some of the modern fingerprint scanners use the swipe and unlock technology and are considered faster.
Low False Rejection Rate
Of course, you don't need a situation where you are in an emergency and the gun safe biometric scanner doesn't accept your fingerprint.
Once again, look for scanners that are able to scan and store multiple prints and grants access in the very first attempt.
Some vaults with outdated scanners may be error prone and even grant unauthorized access. Don't worry, all the biometric gun safes listed here have a very low to zero rejection rate.
Emergency Keypad
This is something apart from the biometric system and must be available. Usually, a keypad allows you to store a 4-8-digit combination and use it as a backup method of unlocking your valuables.
Not only a keypad, backup keys must also be included in a gun safe. Since the finger scanner and keypad operate on the AA batteries and you never know when they can go dead or become weak. Backup keys are always handy under such situations.
Batteries
All the biometric gun safes run with four or six AA batteries, except a few. You should consider a safe that has a longer battery life and can hold the charge for a prolonged duration.
Most of the biometric safes come with pre-installed batteries, however; you should always have backup batteries.
Price
A final thing to consider is the price of your biometric safe. The normal range is $150 to as much as $800.
Of course, the cheaper ones are small and the expensive ones are large with more features and functions. Depending on your personal requirements, invest in the perfect one. Because not always buying the expensive biometric safe would be a wise decision.
Potential Drawbacks
Does owning a biometric safe comes with any disadvantages?
Of course, everything that has pros also has some cons.
A lot of biometric gun safes being sold in the market nowadays have tough identification techniques and usually grant access based on the perfect angle of your finger.
Even if you have a cut or dirt, you may not be given access instantly. Perhaps, this might be the reason why most of the biometric systems allow scanning multiple prints to avoid these issues.
Moreover, when you have properly setup your biometric lock, you are still not sure if it is fully secured or not.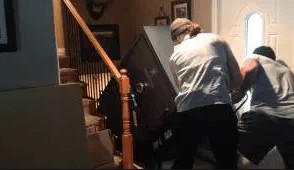 If we talk about the gun safes with mechanical dial lock or electrical combinations, and if someone tries to hack it, it can probably take years to find the right combinations.
But not with the biometric systems.
Firstly, there are several videos on YouTube that explain how to hack these biometric scanners. Your kid may try it as a challenge and even gain access if he or she was lucky.
While the modern day biometric systems are getting more secure but this is a big disadvantage, since a hacker or a smart kid can gain access.
Why You Should Choose A Fingerprint Gun Safe
You may ask yourself, why in the world I should own a fingerprint gun safe?
To be honest, it is a far better choice as compared to the conventional gun safes. It still offers better and reliable security and ensures that no unauthorized user, thieves or your children can access your weapon. The biometric system only recognizes the fingerprint that it has stored and at a particular angle.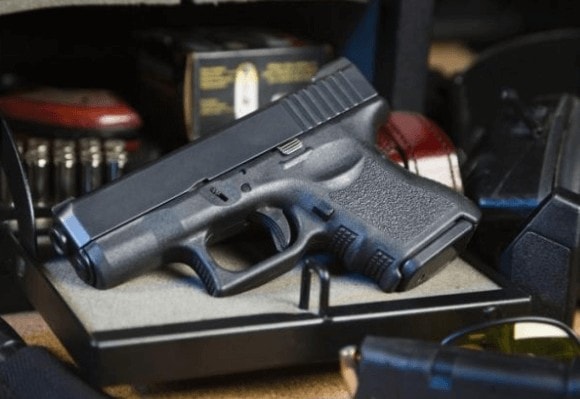 Anyone, whose print has not been programmed will never be able to gain access. Moreover, biometric system hardly takes a couple of seconds to unlock and is faster as compared to the mechanical or dial pad safe.
These gun safes are designed with a heavy gauge steel and are made tough. Most of the are also fire and water resistant with fool proof technology on the outside.
The best thing about owning a gun safe is that it has multiple ways of accessing the interior. If the fingerprint scanner goes dead, you can use the digital keypad. And even if that isn't working, the backup keys are always available to manually unlock the safe.
That being said; you can also store your important documents, cash, and valuables without worrying about fire or water.
Legal Issues To Consider
Finally, before you buy a biometric gun safe, you should consider a few legal issues that most of the states and municipalities have for gun storage.
You can be held criminally and civilly liable if an accidental discharge injures or kills someone.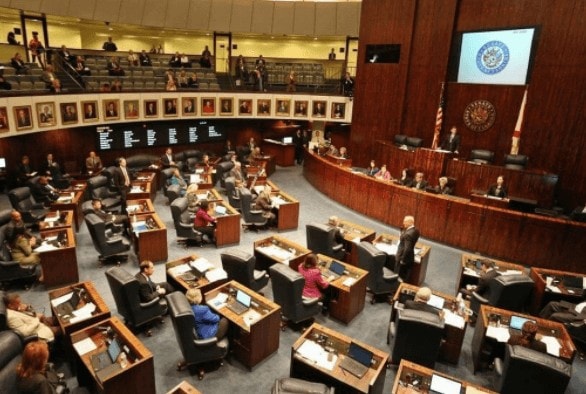 Since California is the leading state when it comes to gun safety, here are some of the legal requirements you should meet according to California Department of Justice website:
The safe must be able to contain firearms and provide a secure storage so no unauthorized person can access it.
The locking system used must consist of mechanical or electronic combination and must have at least 10,000 possible combinations with at least three numbers, letters or symbols.
The lock used in the gun safe must be properly secured by a case-hardened Rc 60+ drill-resistant steel plate.
The bolt work used in the construction of gun safe must have at least three steel locking bolts with ½ inch of thickness. This must intrude from the door of the safe and directly into the body of the safe. It can also be from the body of safe and into the door of the safe.
The door of the safe must be operated with a separate handle and secured by a lock.
The safe must be well-capable of repeated use. Its exterior walls must have a construction of min-12 gauge thick steel with a single wall or if multiple used, they must amount to the same.
The doors of the safe must be constructed with a minimum of two layers of 12-gauge steel or a single layer of 7-gauge steel compound construction.
Its door hinges must be properly protected in order to prevent the removal of the door by saw or any other tool. Also, the hinges must not be exposed to the outside, design or dead bars.
Must provide for secure storage of firearms.
We have reviewed all of the biometric gun safes here that meet all the requirements of California DOJ. However, you should always check in with the local authorities to ensure that your biometric safe is in compliance with all the state and local ordinances.
Top Brands Of Biometric Gun Safes
SentrySafe
SentrySafe is nonetheless one of the leading brands when it comes to the best biometric and conventional gun safes.

Their products are made of the finest quality and are built to last for a prolonged duration. Probably this is the brand with the most versatile protection to ever offer to its consumers.
GunVault
GunVault offers a safer way of living. They have over a 25 years of reliable history in manufacturing premium security products with the highest standards in the industry.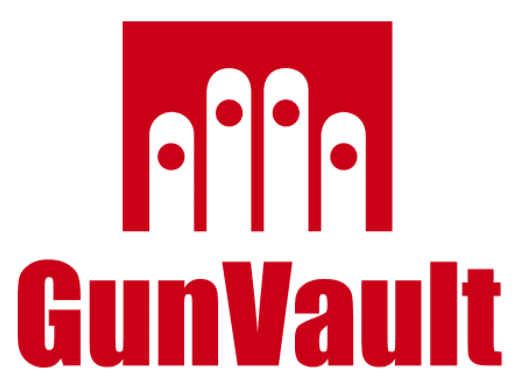 Their biometric safes offer value for the money invested and provide a safe and secure home security solution in case of emergency.
Barska
Not only gun safe but Barska is also the leading brand manufacturer of sport optics which include riflescopes, binoculars, biometric gun safes and other tactical, sniper and laser scopes.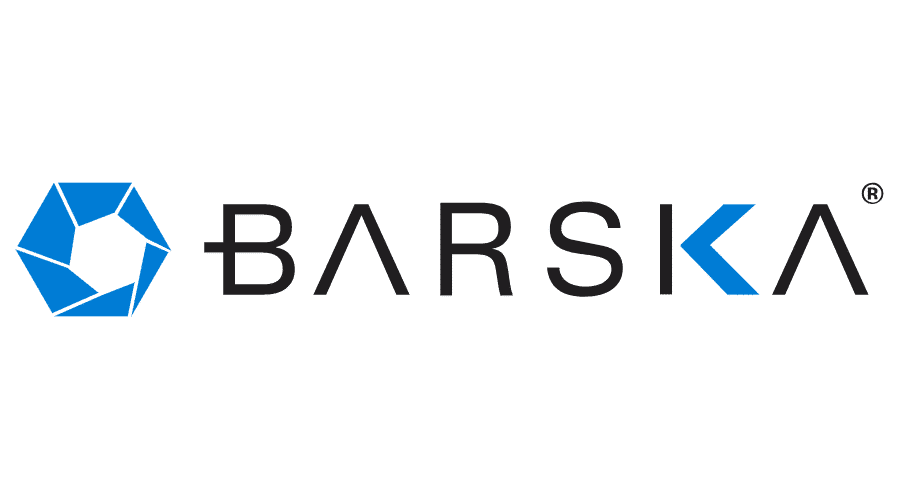 You can trust them blindly for their quality products, especially their gun safes.
Other Noteworthy brand(s)
Viking Security.
American Security.
ArmsSecurity.
Our Best Pick To Consider
Our top recommendation will be SentrySafe Biometric Gun Safe (Best Seller). They have the best security system with an advanced biometric scanner that unlocks within a second.
It offers the best value for the money invested and has a rock solid construction that is impossible to break.
This gun safe is fairly priced and is the perfect bargain for you. Needless to say, it is one of the best-selling biometric gun safe on the market.
Verdict
We have done our part in providing reliable information on the best biometric gun safe.
Now, it's your turn to choose the best one based on your personal needs and to add more protection not only to your firearm but also for the people around you.
Please feel free to ask any questions in the comment section. We'll be happy to help you.