If you own a handgun, you need one of these safes.
If you own a gun, it is your responsibility to keep it in a safe place when you're not using it. Being careless with your firearms can lead you into trouble. A handgun safe can secure your gun from a child in your house or an unauthorized access by a burglar or a robber.
If you don't have a gun safe, you might also run into chances of accidental shootings. Depending on your needs, there are various types of gun safes you can choose from. If you travel a lot, you might need a portable gun safe. On the other hand, if you keep your firearm at your home, you might be interested in a bed side or an anchored gun safe.
Government policies can also push you to buy a gun safe. Although the second amendment gives you the right to own a gun, the government in some states is trying to make it owning a gun safer by making it mandatory to buy a gun safe.
If you are a gun fanatic, you also need to consider the chances of fire or floods ruining your firearms. You need to keep this in mind while looking for firearms safe. The best handgun safes are the ones which give your beloved guns an all-round protection.
Types of Gun Safes
Different people have different preferences when it comes to safeguarding their valuables. You also need to consider convenience in use while looking for a handgun safe. There are three different kinds of gun safes you can choose from.
1. Mechanical Gun Safes
Mechanical gun safes are the old school safes. There is nothing fancy about them and they are supposed to do just one thing and we have to say, they are pretty good at it. You can rely on a mechanical gun safe to function in critical situations since there is no complex machinery involved.
2. Electronic Gun Safes
Electronic gun safes are one step ahead of the mechanical gun safes. The electronic gun safes either have a passcode enabled keypad or a pattern recognition lock you need to enter to open the locks on your safe.
3. Biometric Gun Safes
Biometric gun safes are the most advanced type of safes in the market today. There are no complex passwords or patterns to remember. You just need your fingers to unlock the gun safe. The biometric technology has been advancing and getting better with every passing day.
There are different kinds of gun safes under the aforementioned gun safes.
In-Wall/In-Cupboard Gun Safes
Car Gun Safes
Hidden Gun Safes
Underbed Gun Safes
Nightstand Gun Safes
While all these gun safes are self-explanatory, we will save you the trouble of exploring the gun safes under every category to choose the best handgun safe for yourself. This article has the best handgun safes present on the market.
Best Handgun Safes Money Can Buy
Mechanical Handgun Safes
Fort Knox – PB1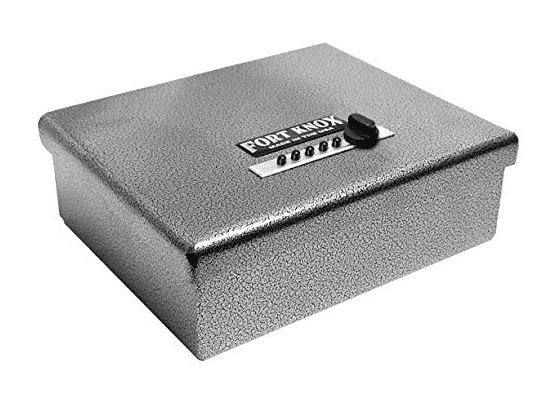 Fort Knox – PB1 is a classic. It is probably the most sold handgun safe out there. The Fort Knox PB1 is the size of a shoe box and has a rugged feel to it. This hand gun safe comes with a Simplex lock which is easy to use. This safe has five buttons on the top which you can use to set up a pattern to unlock the safe.
This Fort Knox gun safe opens at the top. This gun safe has enough space to store a couple of guns. You can store this gun safe in a bed side drawer, a vault or any place you can access it when you need it.
The PB1 comes with pre-drilled bolt holes so you can install it without having the need to drill through it. Fort Knox also concealed the hinges in the safe which adds to the security. This gun safe is made of 10-gauge steel and weighs 24lbs. Fort Knox also gives a life time warranty on this gun safe.
Fort Knox Controller Access Box – CAB Box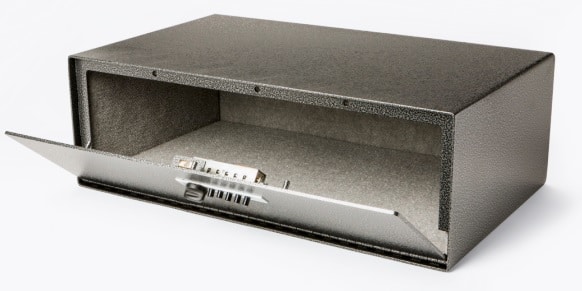 Fort Knox is a leader in handgun safes. The Controller Access Box is the perfect gun safe to keep under your bed or on in the trunk of your car. Its front opening design makes it convenient to store it in any place. Like its sibling PB1, this gun safe has a Simplex mechanical lock with 1,081 different possible combinations.
The CAB Box comes in three different sizes to meet your requirements. There is an incremental increase in the width and depths of the CAB 20, 24 and 28 while the height remains the same. This option is perfect for people who have multiple guns which vary in size.
Fort Knox offers a lifetime warranty on this safe. CAB Box has a 10-gauge body and a heavy duty 3/16″ plate door. This gun safe can go up to 60lbs depending on the size you choose. This gun safe has pre-drilled bolts and concealed hinges to add to your convenience and the security of your firearms.
Electronic Gun Safes
GunVault SV500 – SpeedVault Handgun Safe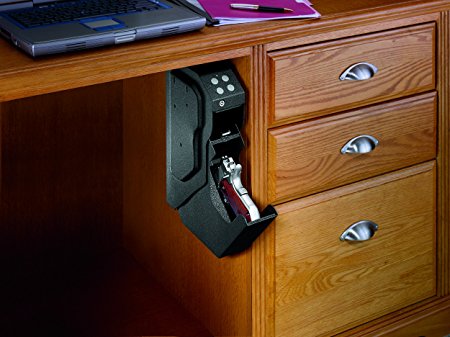 GunVault SV500 is the quickest unlocking handgun safe on this list. The SV500 has a high strength lock mechanism which is virtually impossible to pry open in cases of burglary. This gun safe is small in size and can hold only one pistol. The GunVault SV500 can be installed at your bed side, in your cupboard or under your desk.
This gun safe is the right fit for you if there are high burglary or robbery cases recorded in your neighborhood. Since this is an electrical lock, it runs the chance of running out of battery. In case this happens, the SV500 has an audio and LED low battery warning. GunVault also provides a key option to open the handgun safe if your batteries run out of juice.
The SV500 has a foam interior which protects your gun from damage and helps to prevent rattling. There is also a light inside the safe which turns on when you open the gun safe. The SV500 has an 18-gauge rock solid steel housing. GunVault provides a five-year full warranty on fire and burglary on this gun safe.
Browning PV900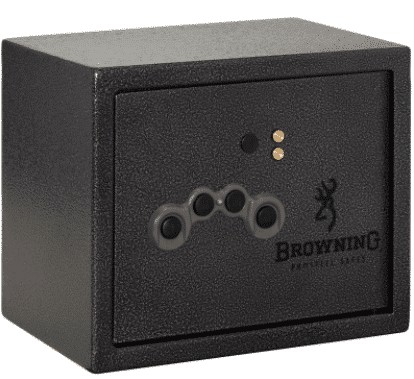 The Browning PV900 is the perfect electronic gun safe to keep your guns, cash and other valuables safe from unauthorized access. These feature-packed vaults have sturdy steel walls and include safe-like security measures for superior protection from break-in. The Browning PV900 is big enough to store multiple guns.
The PV900 is made from tough 14-gauge steel. This Browning handgun safe has an electronic lock with an option for access by using a key in cases of the battery dying. The PV900 has a pair of tough ½" diameter locking bolts secure the lid.
The Browning PV900 also has the provision for external electrical contact to power the electronic touchpad in case the battery dies or the key is lost. Browning has made sure you never lose access to your gun safe in any case. PV900 has LED lighting inside the gun safe to illuminate when you're accessing the vault in dark.
Biometric Gun Safes
GunVault GVB2000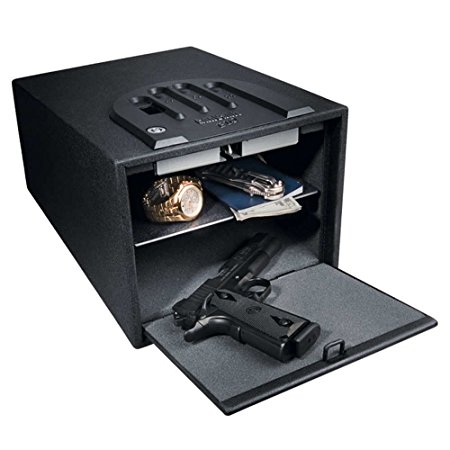 Biometric safes weren't considered to be effective and reliable safes up until now. The incremental progress in the biometric technology has improved the biometric locks enabled safes and put them on par with their mechanical and electric counterparts. GunVault GVB2000 is one the best biometric gun safes money can buy.
A high-performance algorithm is used to achieve speedy identification of enrolled fingerprints, and at the same time has a very low False Reject Rate (FRR) and highest acceptance rate to give you quick and secure access at all times. GunVault claims to have over 20 years of experience with biometrics making them one of the most reliable biometric gun safes on the market.
Apart from this, GVB2000 comes with two backup keys in case your biometric doesn't work or the battery dies on you. GVB2000 is big enough to store multiple guns. You can also store your other valuable like cash, important papers, jewelry, and passport in this gun safe. GunVault GVB2000 also comes with an audio and LED warning for low battery.
Like the Browning PV9000, this gun safe comes with a provision for external electrical connection in case your battery dies and if you lose your keys. The GVB9000 is equipped with interior foam to safeguard your guns and valuable from damage and rattling. GunVault GVB9000 comes with a 5-year warranty for fire and burglary.
Liberty HDX-250 Smart Vault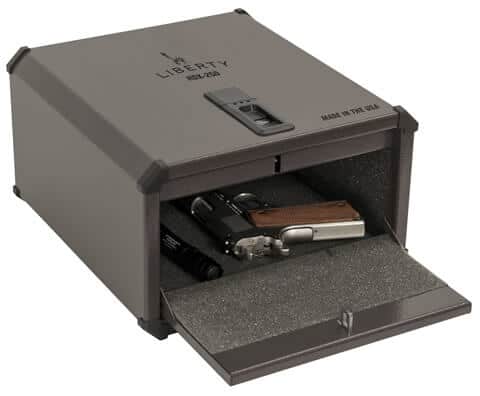 Liberty is one of the oldest gun safe manufacturers in the USA. They use robots in their manufacturing process which helps them keep the costs of their safes low and ensure quality in their safes. All the Liberty safes are proudly made in America and this company doesn't pass on the chance to advertise it.
The HDX – 250 Smart Vault has the fifth-generation biometric finger swipe technology. The HDX-250 is setting records with its speed. Entry using the Biometric swipe can be obtained in 1 SECOND when utilizing the AC adapter (included) and under 2 seconds (1.63 to be exact) with the 9v battery (included).
The Smart Vault can save up to 15 different fingerprints. One of the coolest features of the HDX-250 is, it has an auto-opening door, just swipe your finger and the door opens automatically. You just need to lift a finger, literally. Liberty has provided mounting holes in the bottom of the safe for direct mounting, an optional accessory mounting bracket is also available.
Liberty takes pry bar attacks seriously and uses 14-gauge steel door which has built-in anti-pry tabs and a reinforced latch system specially designed to resist pry attacks and other attempts to gain entry. Liberty provides a five-year replacement warranty on any defects.
Things To Consider Before Buying A Handgun Safe
1. Purpose
The most important factor while deciding which is the best handgun safe is your purpose behind buying one. If you want to carry the gun with you at all time, you need to go for a portable gun safe. If you want to bolt down the gun safe, you should go with a heavier vault.
2. Locking Mechanism
The locking mechanism is one of the most important things while choosing a gun safe. You should always go with a lock you're comfortable using. If you don't like biometric safes and aren't sure if they will work when you need them the most, you should opt for the mechanical or the electric safes.
3. Threats
If you live in an area where there are high chances of burglary, fire or floods, you should choose a gun safe accordingly. Keeping your firearms out of the reach of children is also a very important factor in choosing a gun safe.
4. Number of Guns
The gun safe you choose depends on the number of guns you own. If you have multiple guns or long guns, you will need a bigger gun safe like the Fort Knox CAB Box. If you have other valuables you want to store in the safe, you need to choose a vault which has enough space.
5. Place of Installation
A gun safe can need a good amount of space depending on your needs and the things you want to store in it. You need to choose a gun safe which can fit in your cupboards or make space for one. If you want to install gun safes on your bed side or under your bed, dimensions will play a crucial role in choosing the gun safe.
Conclusion
There are many companies and gun safes present in the market. We have listed a gun safe of every type in this article be it a car gun safe, under the bed gun safe or a cupboard gun safe. No matter what kind of a gun safe you need, you can find the best in its category in this article.
---
If you have any questions or doubts regarding buying a gun safe, leave them in the comments section down below. We will be happy to help find the right gun safe for you.