What are the Best Vehicle Gun Safes?
You've got the gun, you've got the permit, now all you need is a safe. Not just any safe, a gun safe designed to be kept inside your vehicle.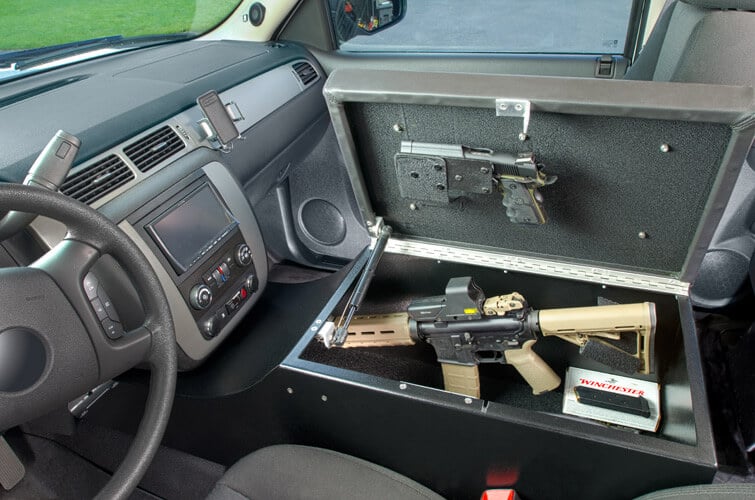 Some may wonder why have a gun safe inside your car at all when you could just walk around with your firearm unnoticed in its concealed state. Some buildings such as schools and banks don't allow firearms on the premises, and thus, you can't just freely stroll in and risk the chance of someone catching a glimpse of your concealed weapon and face the penalties thereof.
On the other hand, you also don't want to just leave your firearm 'unprotected' inside your car while you go out and run a few errands. The way I see it, you're running a risk either way.
It's either you get caught with your gun inside a gun-free zone, or you leave your firearm unprotected inside your car and risk it being stolen. But if you're a sensible gun owner, you won't just stash your gun in your car's glove compartment or under the driver's seat — you'll opt for a more concrete and safe solution.
Before we have a look at the various gun safes available for your car, let's run through a few reasons as to why you need a gun safe for your vehicle, in case you aren't convinced.
Top Car Gun Safes Snapshot
Why You Need a Gun Safe for Your Car
Prevent Theft and Other Consequences
As we mentioned above, leaving your gun inside your car under the seat or wherever is a foolish and unresponsible thing to do. If you consider the consequences of what could happen if your car was broken into or stolen and the perpetrators found your firearm and made use of it, you'd be in serious trouble.
Not only that but if you have a child, left them unsupervised in your car and they got a hold of your gun, the consequences could be even more severe than if a thief got his hands on it because you would be held liable for whatever may have happened if that child or juvenile discharged a round of the firearm in a harmful manner.
All this drama could be avoided if your gun is soundly stowed away in a car safe.
When Travelling Interstate
The law forbids a gun from being hidden underneath a car seat or in the glove compartment, and if you're traveling interstate and are caught by the cops hiding your firearm in any of these two spots, they would react in a not-so-welcoming manner.
Many states require that a firearm should be kept safe and in a place where it cannot be immediately accessed by its owner. Hence, the need for a car gun safe.
Eliminates the Possibility of Negligent Handling of the Firearm
This is a serious one and goes back to a child getting a hold of your gun if you were to stow it away underneath your seat or in your glove compartment. But this doesn't just go for children.
Believe it or not but adults can sometimes be pretty stupid too — there's always a curious George somewhere, and this curious George might or might not know anything about firearms, let alone the safe handling of a firearm.
This person could accidentally discharge the firearm which could result in serious injuries, even death of themselves or an innocent bystander.
Therefore, by having a gun safe in your car, you eliminate the possibility of this scenario entirely and wouldn't have to worry about any unnecessary damage or injury to any object or person.
What to Look for in a Vehicle Gun Safe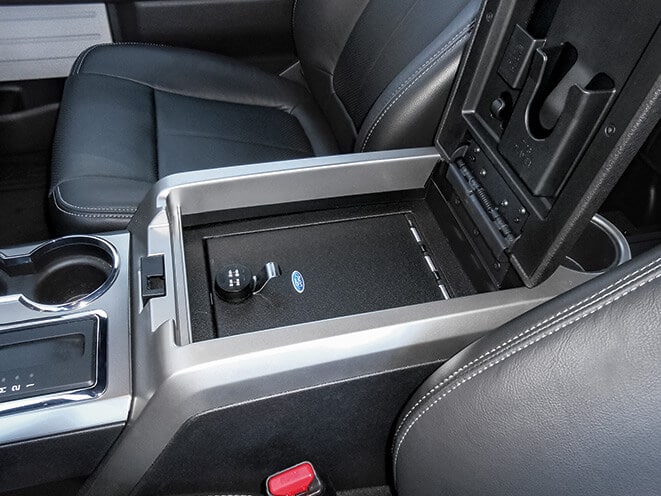 Finding exactly what you need in a vehicle gun safe is essential to choosing the right one for you. Here are a few things that you need to look at when deciding upon which safe you will be making use of for your vehicle and gun safety.
Size
I would say that this could be one of the most important aspects to take note of when choosing a gun safe for your car and your gun.
First of all, you have to bear in mind the size of the firearm that you want to stow away. If you have Walther P99 you wouldn't need a safe that could take up a lot of space in your car. On the other hand, if you wanted something for your .357 Magnum, then you'd have to get a larger safe than you would for your P99.
Bear in mind that the size of the gun will affect the size of the safe. Also, keep in mind that a larger safe will be less easily accessed than a smaller one which could be placed in a more convenient spot in case you need to get to your firearm in the event of an emergency.
Strength & Structural Integrity
The next thing to look at when shopping for a gun safe for your car is the strength and structural integrity of the safe.
If you opt for a low-end gun safe, odds are that it'll eventually crack open after multiple attempts of someone trying to take what's been stashed away on the inside.
So, your best bet would be to go for a safe made out of thick steel, preferably something like 16 GA or higher. You should also consider a safe that has a design that would make it mission impossible for thieves to break it open.
The Locking Mechanism
And finally, the last thing you should consider for your vehicle gun safe is the locking mechanism.
With technology constantly growing and expanding its capabilities, we become introduced with safety mechanisms that are more complex and difficult to break through.
However, more complex isn't always better. If you have a gun safe at home that is designed to keep your firearms locked away safely for extended periods of time, then having a safe with a complex security system isn't a bad idea.
On the other hand, when choosing a safe for your car, you should consider two things:
1) Are you taking your gun with you for security reasons?
2) Do you just want to keep your firearm safely stored away for a long trip on the road?
If you're carrying your gun with you for safety and security purposes, then choosing a vehicle safe with a mechanical locking mechanism would be best as it takes less time to unlock, open, and remove your firearm.
Mounting Options and Abilities
There are basically two options to look at when you're looking to mount your safe; cable-mounted and bolted.
Cable-mounted
Having a cable-mounted safe is easy to install as well as being removable when compared in contrast to the bolted option. Having a cable-mounted gun safe offers you more choice with regards to where you can mount your safe.
Bolted
Having your safe dead-bolted into a spot in your car is a much more secure option compared to the cable-mounted safe. By having a safe bolted securely will reduce the chances of your safe being pried and stolen. However, the downside of having a bolted gun safe in your car is that there are only so many spots where the safe can be mounted.
All in all, both options carry their yays and nays. The cable-mounted option gives you freedom of location and accessibility as where the bolted option provides more security.
And now it's time to have a look at the best vehicle gun safes that money can buy.
VAULTEK VT20i Biometric Handgun Safe Smart Pistol Safe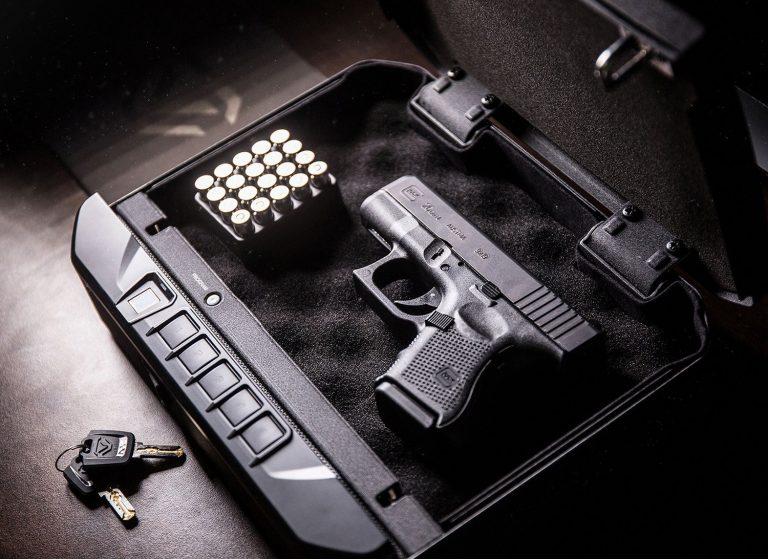 The Vaultek can fit under your car seat and meets TSA airline firearm guidelines. It is portable or it can be anchored using supplied mounting hardware and the 4-foot long steel cable. It has Anti-pry bars and a high-resolution biometric fingerprint scanner can store 20 different user IDs. You can remotely access it from your smartphone too. t has an interior LED light that lets you see inside when it is dark. The Vaultek is backlit and has rechargeable batteries
Dimensions: 11.5″ wide X 9.0″ deep X 2.75″ tall
Weight: 9.9 lbs
Steel Thickness: 16 gauge
Locking Mechanism: Biometric
Fort Knox PB1 Original Handgun Safe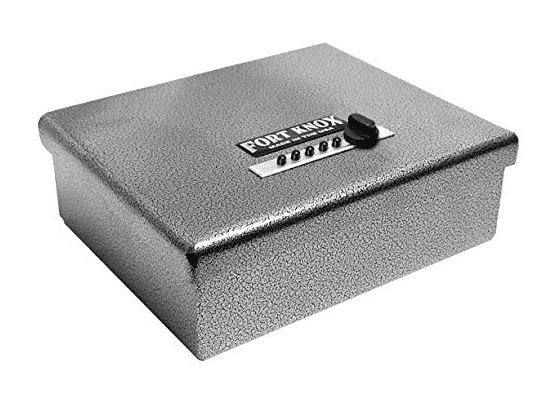 Dimensions: 4.25'' x 12.5'' x 10.375''
Weight: 22lbs
Steel Thickness: 10 gauge
Locking Mechanism: Mechanical combination lock
This big guy is undoubtedly one of the best on the current market where security and safe keeping concerns are a priority. It's a bit on the chunky side and is therefore recommended to be used a safe for keeping your firearms safely locked away if they're not going to be used as an immediate self-defense measure.
The lid of this safe is thicker than the body to ensure the ultimate safe keeping of your firearms or valuables. Along with a thick lid for added protection, this safe also has a 5-digit push-button mechanism which allows 1,081 unique lock combinations. We should also note that the locking mechanism is completely mechanical and contains no electrical parts.
The downside of the Fort Knox is that it has to be bolted down through its pre-drilled holes. If you drive a small car which has limited space in and around the cockpit, then you shouldn't opt for this fella if your goal is to keep your firearm ready for use. Instead, it would be better to mount it in the trunk of your vehicle and used for safe keeping instead.
On the other hand, if you drive a truck or SUV, then you could still get away by having this safe mounted close to you or underneath your seat.
ShotLock Handgun 200M Solo-Vault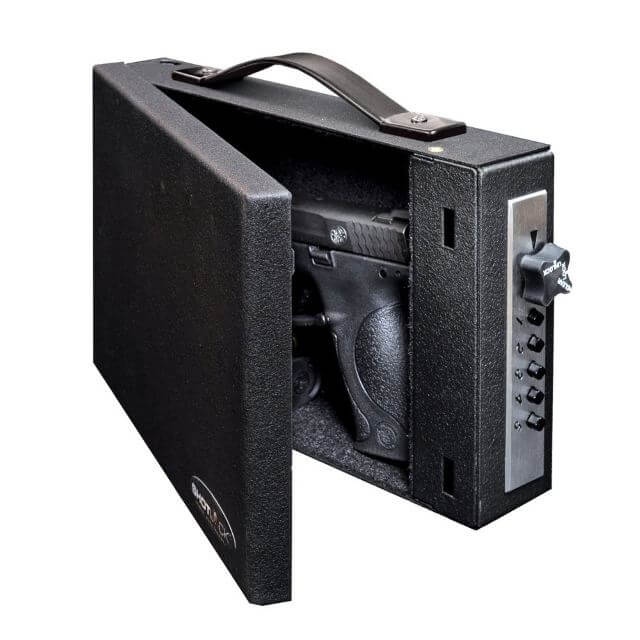 Dimensions: 11.375″ x 7.5″ x 2.375″
Weight: 7.6lbs
Steel Thickness: 14 gauge
Locking Mechanism: Mechanical or electrical combination lock
The ShotLock Solo-Vault offers a compact design combined with a strong frame that can withstand a solid beating or two. Along with an affordable price tag, this mobile gun safe is also quite resilient against theft.
The fact that it's a small design means that it can be stored in locations inside your car that will allow you to have quick and easy access to your firearm in case you ever need it in any given situation. The Solo-Vault can be secured through the use of a cord, unfortunately, the cord is not provided, so you'll have to use your own for it.
ShotLock Solo-Vault has two models; the 200M and the 200E. The 200M makes use of a mechanical lock while the 200M uses an electrical lock. For reliability's sake, we've listed the 200M as opposed to the 200E due to the fact that there have been multiple complaints about the electrical lock model.
However, if you do opt to go with the electrical model, try out the locking mechanism several times after you've purchased it just to make sure that everything is in order. Although it might not give you any trouble for the first few months, there's still the possibility of it acting down the line, so bear that in mind when deciding upon the model you wish to purchase.
Bulldog Case Car Safe w/ Key Lock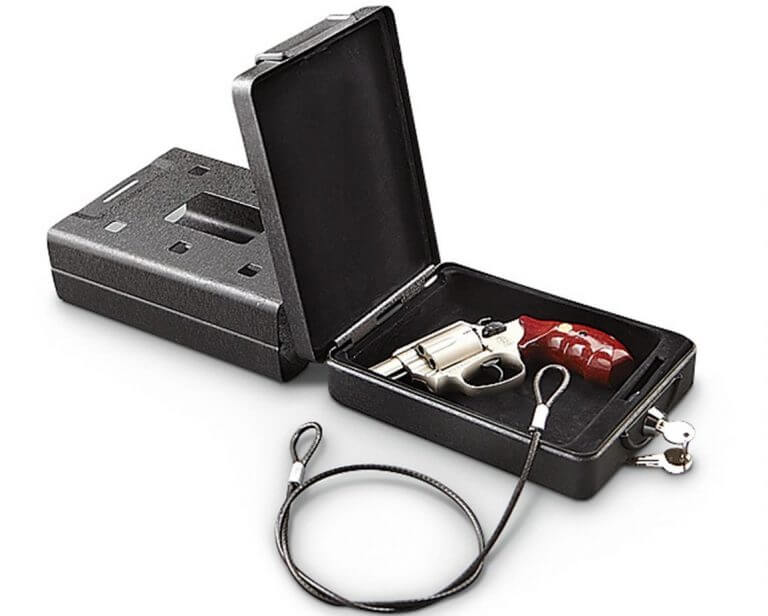 Dimensions: 8.7″ x 6″ x 2.5″
Weight: 4lbs
Steel Thickness: N/A
Locking Mechanism: Key lock
An extremely affordable option for those who are looking for a long-term gun safe solution for their vehicles.
The great thing about this gun safe is that it comes ready with a mounting bracket and a security cable. Its design is made so that it is near impossible to pry open due to the hinges being built on the inside of the safe.
The way this safe works is by having the bracket securely mounted in an easy-to-access location (or not) where you can slide the case in and out of the bracket. In terms of reaction and security, this safe is highly recommended as it is easy and quick to unlock by using a key lock instead of a combination lock.
One thing about this safe is that once it's been slid into the bracket and locked, it stays securely inside of the bracket and cannot be removed until it is unlocked with the key.
Even with its small and compact design, this safe will allow you to store a typical 9mm pistol (and some revolvers) and have some room left over for a spare mag. Although, you'll have a more difficult time storing a larger handgun into this safe.
GunVault NanoVault 200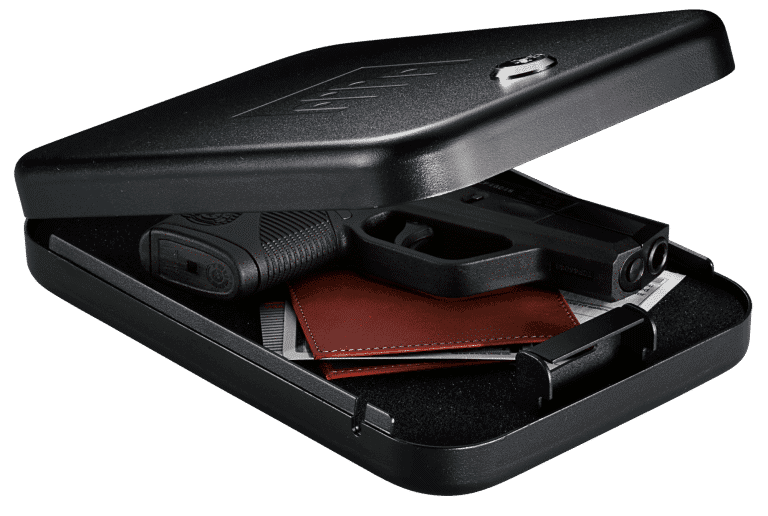 Dimensions: 1.5″ x 6.5″ x 9.5″
Weight: 3lbs
Steel Thickness: 18 gauge
Locking Mechanism: Key lock
Talk about a secure and compact design. The GunVault NanoVault 200 is the ideal compact and lightweight gun safe for your vehicle if you're looking for easy access to your firearm.
With such a small and neat design, this gun safe can be stored away in more areas of your vehicle than most other car gun safes can. This safe comes with a security cable, so that would mean that this safe can be mounted and secured to a specific area of your choice.
Another upside to this safe is that it has a key lock mechanism which allows for quicker access that a combination lock would. However, with an upside there comes a downside. Because this safe uses a key lock, that would mean that you need to keep your key readily at hand in case you need to access your firearm. This safe comes with two keys, so it's best to keep your spare key safely tucked away.
It has a frame that is constructed using 18 gauge steel and meets the requirements and guidelines of the TSA in case you ever want or need to take your firearm with you for a flight.
GunVault MV500-STD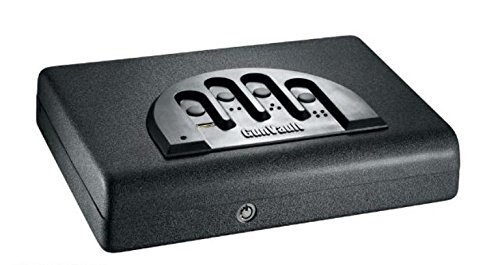 Dimensions: 11" x 8.5" x 2.2″
Weight: 4lbs
Steel Thickness: 20 gauge
Locking Mechanism: Keypad
Despite what the lid of this gun safe looks like, it's not a biometric vault. Instead, what looks like a biometric finger print scanner is actually a patented No-Eyes Keypad, according to the manufacturer.
The design of the keypad allows the owner to access each button without having to first wonder which button is which. This safe also has a sound feature that lets the owner know that he or she have successfully unlocked the safe. If you feel like going for something less noisy, the safe has a "stealth" mode. This simply means that you disable the audio feedback of the safe.
An upside of having an electronic lock on the safe is that after a number of invalid entries, the built-in computer will disable access to the safe.
The M500-STD boasts an amazing 12 million user codes that can be stored, although that might be a little excessive.
The inside of this safe is lined with foam which will protect your firearm from any damage if the safe is dropped. However, this safe is made from 20 gauge steel and wouldn't be the toughest choice on our list, but if your aim is to simply store your gun safely inside your vehicle, then this safe will suit you just fine.
Conclusion
It's never an easy task when deciding upon which gun safe to go with for your vehicle.
There are so many available on the market which boasts more or less the same specs but has different price tags and company names.
When choosing the best vehicle gun safe for your needs, the main thing to consider is what you'll be using the safe for. Are you going to use it to store your gun in for long road trips, during the hours that you spend at work, etc? Or do you need a safe to keep your firearm tucked away but readily accessible for when you need it in an emergency situation?
If you're going for maximum security storage, the Fort Knox would definitely be your best option. If quick and ready access is what you're looking for, then the ShotLock Handgun 200M Solo-Vault should be your go to safe.