Our best picks for you
Finding a gun safe that does everything you need it to do for a good price doesn't come around very often. If you're looking for a gun safe that has the highest UL ratings and storage space large enough to fit a family of four, then you're going to have to pay a little more than what you'd be willing to give up.
It's not as if all of us would need a safe like that. Some of us just require something that would simply keep our firearms away from thieves, survive a house fire, or just last long enough to be able to be passed down to your children's children.
So, if you're looking for the best gun safe under 1000 dollars, we've got you sorted. Here we've listed our top picks to help you make a decision if you're looking for a new gun safe that will house your collection of firearms as well as whatever else you keep in your safe.
Why Spending Less Than $1,000 Is Worth It
We get that anything costing upwards of $1,000 is no cheap item, nor is it easy giving out that kind of money. However, when you're investing in something that could possibly last you an entire lifetime as well as the lifetime of the inheritor of that thing, then spending close to $1,000 doesn't seem like a bad idea.
Although the investment may seem good at first, you need to consider other things too before making the purchase. In this case, the investment we're referring to is obviously a gun safe.
Before handing out that kind of money to buy a gun safe, you need to be sure about spending that kind of money on something that you might not even use on a frequent basis.
Even if you don't interact with your safe on a day to day basis, knowing that it'll keep your guns and other valuables safely tucked away will give you peace of mind. That peace of mind alone will be enough to persuade any gun owner to spend a big ole wad of cash on a gun safe.
The reason for this review is to show you that there are in fact top of the range gun safes that will do everything you require of it, and all for less than $1,000.
What to Know About A Safe Costing Less Than $1,000
Even though the price tag of the gun safe may not exceed $1,000, that doesn't mean that its quality will be worse off than a gun safe with a price tag that does. Sometimes the reason why some safes exceed the $1,000 price range is because of the accessories and not because of the quality of the materials that the safe is made out of.
However, many gun safes that do cost more than $1,000 are because of their UL ratings. These safes are made with thicker steel sheets, great locking systems, have amazing durability against brute force attacks, etc.
So, buying a gun safe under $1,000 doesn't mean that you're compromising on quality or the safekeeping of your guns. Maybe that's the best you can do, and if it is, then do it.
The Best Gun Safe Under $1,000 Dollars
Fort Knox Personal Pistol Safe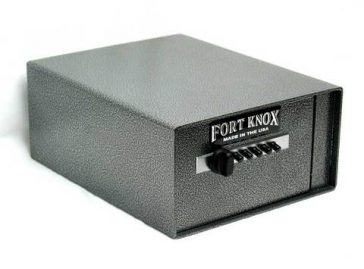 The Fort Knox Personal Pistol Safe is undoubtedly the best of its kind on the market. As it stands, there is no pistol safe/container that could equal the quality and toughness of the FK Personal Pistol Safe.
This safe is constructed with 10 gauge steel, making it tougher than many larger safes on the market. Fort Knox claim that it is the most secure box in the entire industry which they proudly back with a lifetime warranty.
It features a Simplex mechanical lock which allows for quick access in case you need to get to your handgun. There are also 4 pre-drilled bolt down holes, so it can be mounted securely wherever you see fit. Many people use this as a car safe, but it could also be used in your office, under your bed, etc.
This safe isn't included on this list for its capacity to store firearms. It's on this list because it's simply the best of its kind. If you're looking for some place to safely and securely keep your handguns, then the FK Personal Pistol Safe is your go-to guy.
Winchester Bandit 10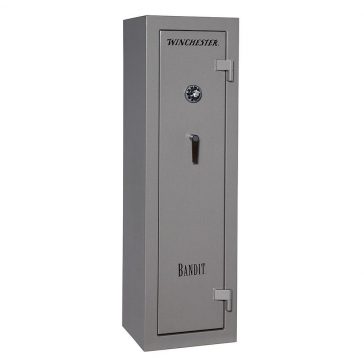 The first long safe in our review is the Winchester Bandit 10. This gun safe offers everything that you could possibly want and need in a top quality gun safe.
The Bandit 10 is able to withstand temperatures of 1,400 degrees Fahrenheit for 45 minutes in the event of a fire. The walls, ceiling, and door are all protected with UL rated fireboard. The door is lined with Palusol heat-expanding seal that expands more than six times its size when exposed to heat, keeping any heat and smoke out from the inside of the safe.
The body is made of 14 gauge steel that's been welded together with the use of robotic welds. The lock is a UL listed Sargent & Greenleaf mechanical lock, but it doesn't come with an override key. So if you somehow manage to forget your lock code, you'll be in trouble.
The locking bolts are 1-inch thick, with 4 dead locking bolts and 4 active bolts. The door is recessed and the door jambs are reinforced to keep all prying attacks at bay.
To make the safe more secure, it comes with 4 pre-drilled holes to anchor the gun safe down.
Stack-On TD-24-GP-E-S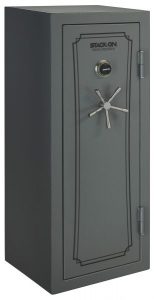 Stack-On is one of the best in the safe-making business. Their TD-24-GP-E-S is both fire and waterproof and comes with the options of a backlit electronic keypad or a mechanical 3-number combination lock.
The interior is lined with carpet to protect your guns from getting scratched or damaged in any way.
It's fireproof capabilities are able to withstand an external temperature of 1,400 degrees Fahrenheit for 75 minutes. That's more than enough time for the fire department to come and put the fire out. It also has a factory-installed electrical socket for those who prefer to have electrical dehumidifiers or to have some LED lights inside that safe for better lighting.
If you want to make most out of the storage capacity of this safe, you can remove some of the shelves and use that space to store more long guns. However, this would mean that the long guns can't have any accessories attached to them, otherwise they won't all fit.
This safe is also approved by the California DOJ as a Firearm Safety Device that meets the requirements of Penal Code section 23655.
Steelwater SW592818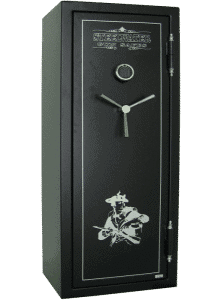 Steelwater is another safe manufacturing company that knows a thing or two about rolling top level quality products off their production line.
Like the previous two safes, this Steelwater gun safe has a good fire rating to go along with it; withstanding temperatures of 1,550 degrees Fahrenheit for 45 minutes. A single layer of 5/8″ fireboard is used in the walls, floor, ceiling, and door jambs. The door seal also expands to 8 times its size in order o keep out any smoke and heat.
It can store up to 16 long guns, but any accessories attached to them.
The steel construction is made out of 12 gauge steel which would provide a good amount of protection from any brute force attack. However, it won't do you much good against the right set of power tools. The chances of the safe being breached by use of power tools can be minimized if you surround the safe walls with concrete, as well as bolt it down, using the pre-drilled anchor holes.
The locking system makes use of a total of 10 1-inch locking bolts. Seven of those bolts are active, chrome plated bolts, and 3 inactive bolts that are on the hinge side. The lock system is gear-driven, adding strength against prying and drilling attacks.
There is also a drill-resistant hardplate that protects the digital lock, the re-locker, linkages, and gear drive.
On the inside, the safe has a pre-drilled hole at the back for those who want to install an electrical dehumidifier or LED lights inside of the safe.
Conclusion
When buying a gun safe, you need to, of course, consider your finances. Where you're going to put the safe? How often you're going to open and close the safe? How much are you going to store inside the safe, etc.
If you're going use your safe frequently (open and close it almost every day), then having an electronic keypad lock would perhaps be a better option as opposed to having a mechanical dial lock. The reason being that the keypad lock opens in under 10 seconds, where the dial lock opens in under 45 seconds.
In case of emergencies, having a keypad lock would also be better than having a dial lock. But if you have a handgun case/safe that you use purely for emergency situations, then by all mean, get the electronic keypad lock.
However, a mechanical dial would be the most reliable way to go.
Consider the number of firearms that you have and that you want to store in a safe. Intending on increasing your gun collection? Then planning ahead and going big from the get-go should be a thought that you need to entertain. There's no point in spending a good amount of money on a safe that will perfectly fit your number of guns, only to buy more in the future with no place to store them.
The safes we've listed in this review are the best of their kind for the price that you're paying. However, if you can afford to buy a true safe, then by all means, do it. Thatwould truly be an investment of a lifetime.
But you're here reading this because you're looking for the best safe that money can buy for under $1,000. We hope that this review shed some light on your decision. On a personal note, I would go with the Steelwater SW592818.