Things you should know before buying a Winchester Gun Safe.
Winchester Safes, also known as 'The American Legend' has been around since 1886 and is well known for manufacturing some of the best gun safes in the world.
Commonly, Winchester Gun Safes are owned by gun owners who are more concerned about the capacity of the safe. And I'm pretty sure that you are here because you have a collection of guns or you own rifle(s) and probably need a large gun safe to secure them.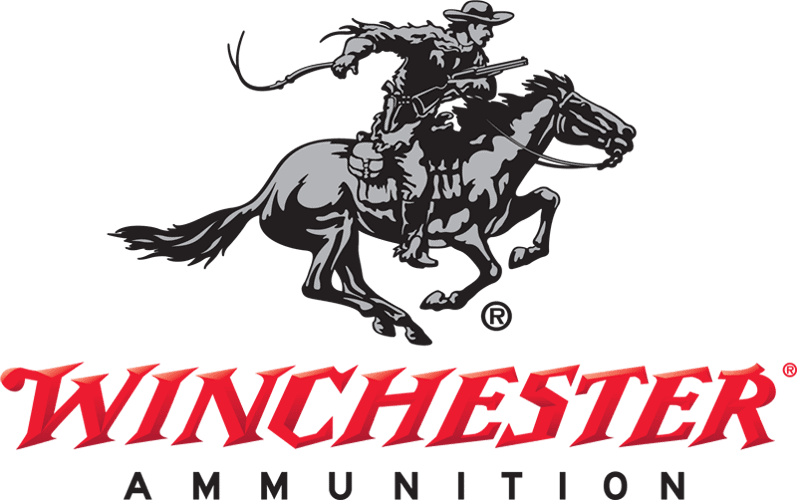 A few of Winchester's models can store as many as 51 guns at a time or multiple rifles like the Winchester Legacy 53 Gun Safe, designed to store a large quantity of firearms and other valuable items.
Well, that's one of the many options available on the list.
That being said; below are 4 of the best selling Winchester Gun Safe reviews that will help narrow down your option to the most quality focused Winchester models on the market.
Winchester Gun Safe Reviews
Undoubtedly, Winchester Gun Safes secure the top position in the most well-advised brands and they manufacture premium safes that might increase the price but doesn't compromises on the quality.
Winchester Ranger Deluxe 45-7-E (Our Top Pick)
The Winchester Range Deluxe 45-7-E offers the best protection for your possessions and peace of mind for you and your family. This gigantic gun safe has a long list of unrivaled features including fire protection and a quality built.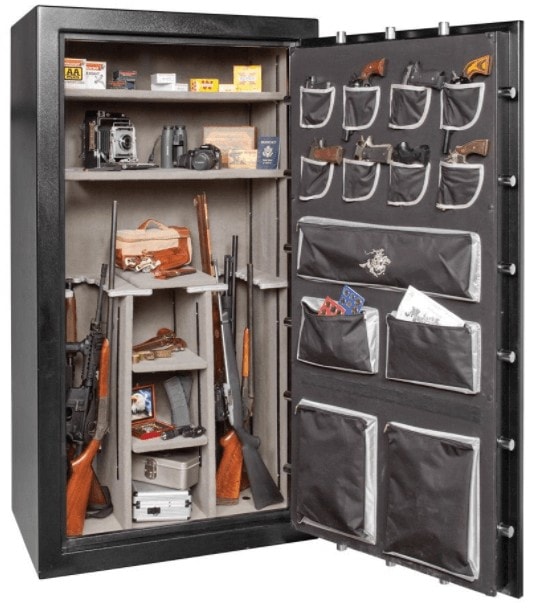 Design & Quality
I must say the safe is a monster. It's got the strength, durability and weight. It weighs a whopping 935 lbs. and you'll need a lot of help when moving it from one place to another. We highly recommend to opt for a professional moving service to avoid any damages on the safe's body or even injuring yourself.
Every corner of this safe, whether from the outside or inside has been crafted with perfectionism. You can store as many as 51 long guns at a time and still have enough space to put a few magazines, important papers or cash.
Its solid body is constructed from 12 Gauge Steel and boasts a matte black color. This extra steel gauge makes it rock solid and adds weight.
Fireproof
This beast has a fireproof design that can withstand 1400 degrees Fahrenheit up to an hour. Thanks to the tri-layered fireboard door with a dual layered fireboard body.
Moreover, the door has an extra seal that automatically expands in the event there is a fire. This expanse offers extra protection of your firearms and other valuables from any sort of damage.
Furthermore, the inside of its tri-layer fire-resistant door and behind the expandable seal is a thick sheet that offers more insulation. This ensures that whatever is locked inside your Winchester 45-7-E is 100% fireproof. These multiple layers of protection also make it unbreakable.
Dimensions
The interior of this gun safe measures 69" Height x 36" Width x 18" Depth while the exterior measures 72" Height x 40" Width x 30" Depth.
For the sake of an example, if you store 20 handguns, 8 or 10 shotguns and 10-15 rifles, you'll still have plenty of space left.
There are plenty of pouches on the rear of the front face that could literary store anything from clips loaded up to shotgun shells or a revolver. These pouches are durable and have been tested for wear and tear. The expandable door seal sits between the door and behind these pouches.
Precisely, there are eight small pouches and five large ones and the interior itself has multiple shelves and compartments.
Door & Security
It's important to discuss about the durability of the door since most of the thieves and intruders tend to break it first.
While the door is extremely solid, it also swings with ease and fluidity. You get a full 180-degree swing without any noise.
Likewise most of the other Winchester models, it features a dial pad for security. There are a total of 12 keys on this pad which includes 10 digits and two special characters.
Overall, the safe has been tested for burglary protection and offers underwriters laboratory rated lock.
FAQs
Winchester Ranger Deluxe 19-7-E (Best for the money)
The 19-7-E is another large gun storage solution which is secure, attractive and extremely functional. This gun safe has a capacity to store 24 guns and is designed with the right internal and external materials that will keep your firearms safe from weather, fire and intruders.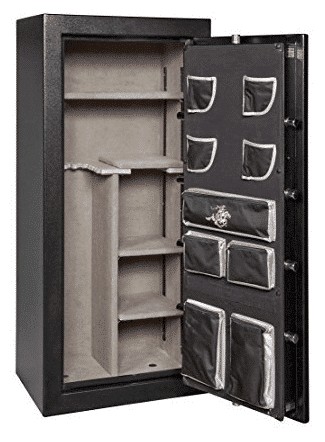 Weight & Dimensions
While it offers half of the storage capacity as compared to the 45-7-E, it is still heavy, weighing 520 lbs. and requires more than two individuals to move or even drag it. Well, that also gives you a plus point since burglars won't be able to easily move it.
Talking about the dimensions, its exterior measures 60" Height x 28" Widths x 23" Depth and the interior 56" Height x 25" Width x 14" Depth.
Inside the safe you'll find a large space to store your firearms and other valuable items. There are multiple shelves and compartments made for ease of storage and better organization of your items.
On the rear side of the front, it has four small pockets and five large ones. These pockets are made of durable fabric and can withstand the wear and tear. You can store cash, magazines, gun shells or jewelry in them.
Security
The safe features a standard Group II UL listed S&G mechanical lock. It has a dial pad with 12 keys including 10-digits and two special characters for maximum security.
The safe is fireproof for up to 1 hour at 1400 degree Fahrenheit. A tri-layer of fireboard in the door and dual layer of fireboard in the body is added for maximum fire rating.
Its rock solid 12-gauge steel body construction makes it unbreakable and durable at the same time. The door of the safe four way locking bolt system with 10 solid steel locking bolts that ensures maximum security.
For further protection from heat and fire, it has an expandable door seal. It acts as an insulation and protects your firearms and valuables from damage.
Organization
With a 24-gun capacity you get the best organization of your items. As mentioned earlier, there are multiple shelves and compartments.
You can easily remove the shelves by sliding them and store rifles. While the pockets can be used for magazines, gun shells, cash and jewelry, you can also use them to store handguns and other smaller guns.
If you want to keep the shelves inside, they can be used for handguns, ammo, headgear, important papers, cash and other items. We recommend leaving the shelves for ease of organizing your valuables in a neat and clean way.
This way, you won't have to open your safe seeing a mess of disorganized weapons. Also, in case of emergency, you'll always know which gun to choose and from where to grab the magazine or gun shells.
Safe From Burglars
YUP…! Your Winchester 19-7-E is 100% safe from burglars. They won't be able to break the door nor will they carry or drag a whopping 600 lbs.
While the mechanical lock is also a big hurdle to open or break into, its other security features like a solid steel body, gigantic steel locking bolts and 12 GA of construction thickness makes it impossible to access by any unauthorized person.
Its rock solid construction keeps out the most professional thieves. In simple, you'll not only secure your firearms and valuables but also protect your family from accidental misuse of your weapons.
FAQs
Winchester Ranger Deluxe 19
The Winchester Ranger Deluxe 19 comes with a storage capacity of up to 30 small guns and 24 rifles with some premium features and an unrivaled security mechanism that makes its foolproof against burglars.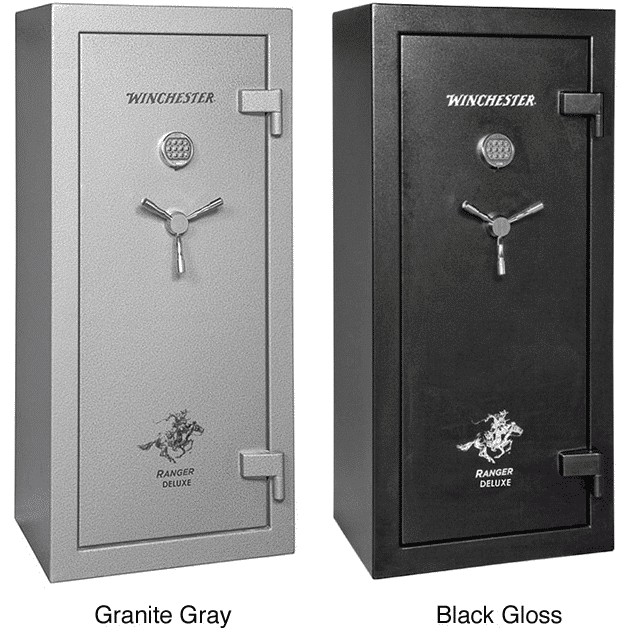 Design & Quality
The Winchester 19 has a solid built and an impeccable design. Its body is constructed out of 12 GA steel and comes in a beautiful and attractive granite color.
This safe is large enough to store up to 30 smaller guns and as much as 24 rifles. However, you will need to slide out the shelves to store that many rifles.
As solid it is, the safe has got weight of 556 pounds making it nearly impossible for a single person to move or even drag it a few inches. While it makes it difficult to assemble but at the same times, makes it secure from thieves to be carried away.
Fire Protection & Security
With a 1 hour of fire protection at 1400 degree Fahrenheit, this safe will secure your firearms and other valuable items from any type of damage. Thanks to the three layers of fireboard in its door and two layers of fireboard in the body that resist heat for that much time.
Its door has an additional expandable layer of insulation that further protects your possessions. This door is able to swing 180 degrees that gives easy and quick access in case of emergency.
There is a dial pad as well which is Group II UL Listed and is 100% safe against burglars and intruders.
Moreover, it has 10 locking bolts with 4-way locking system that makes it foolproof. This beast also has a drill resistance of up to 60-61RC that makes it safe from theft.
Winchester Bandit 14 2017 Model
If you have a limited space but capacity is still your concern along with compatibility, then Winchester Bandit 14 2017 Model is your ideal choice. This safe comes with a plethora of features and is fully functional.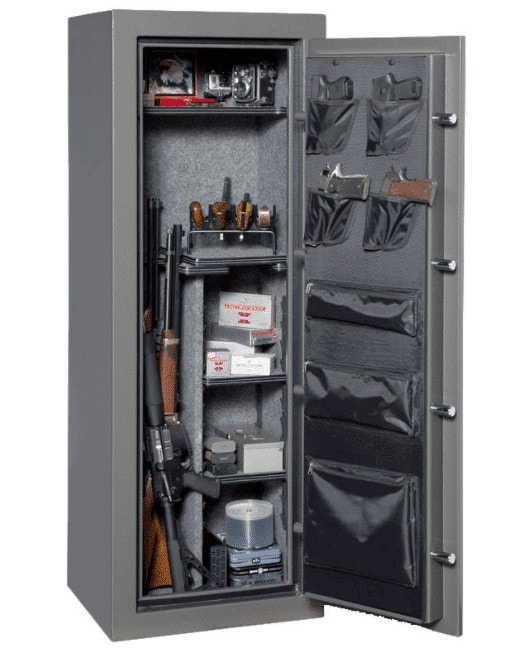 Design & Built
The safe is made of solid steel 14 gauge with robotic welds that makes it super strong and sturdy. It is made from the premium materials and has a storage capacity of up to 18 guns.
Inside the safe there is a shelf on the top and three smaller compartments made for magazines, gun shells, cash, jewelry, documents and other valuable items. The shelf can be removed to store more rifles and guns.
Fire Resistance
YUP! Your Winchester Bandit has got a fire rating of 45-minutes at 1400 Degree Fahrenheit. There are three fireboard layers in its door and two fireboard layers in the body.
Additionally, a Pal sol heat expanding door seal that is capable of expanding 6x its size when subjected to heat is installed. It acts as an additional layer of insulation to protect your possessions.
While the fire rating should have been more than an hour but we think it's quite fair for the price.
Security
This safe is fully secure against burglar and theft. It has a 4-way bolt locking system with an electronic lock system. There is a dial pad with 12 keys including 10 digits and two special characters for the best security combination.
Moreover, it weighs a whopping 348 pounds that makes it extremely difficult for any intruder to carry it. You'll also need the assistance of an individual to move or setup the safe. Don't try it yourself, or you may injure your back.
Overall, Winchester Bandit 14 is an ideal safe for those who are looking for a lower capacity and a compact design that can fit in tight space. It has a pry-resistant recessed door with steel strap hinges and an unbreakable built that ensures maximum safety.
Verdict
When it comes to choosing a quality gun safe, Winchester always has an advantage over many brands. They are the oldest one in the industry. The company strictly focuses on quality, reliability and legacy.