From red dot sights to magnified.
If you're a gun owner and hit the range on a regular basis, then having the right equipment is a big necessity. That is unless you like to keep things simple and shoot with open sights — which is often a whole lot of fun.
For those who take their shooting seriously, and those who want to, know that having some form of gear that would help improve their shooting accuracy is crucial. In this article, we've added 10 optics that we believe will add value to your shooting skills as well as helping you improve on a few things.
Top AR 15 Optics and Sights
Red Dots
Red dot sights are basically what the name implies. These type of optics use a red dot as a reticle. Unlike iron sights where you have to keep one eye closed in order to line the sights up, with red dot sights you can keep both eyes open. This allows more flexibility and with head position.
To add to that, by being able to keep both eyes open, you'll be able to draw faster and use less time to acquire your target.
Aimpoint PRO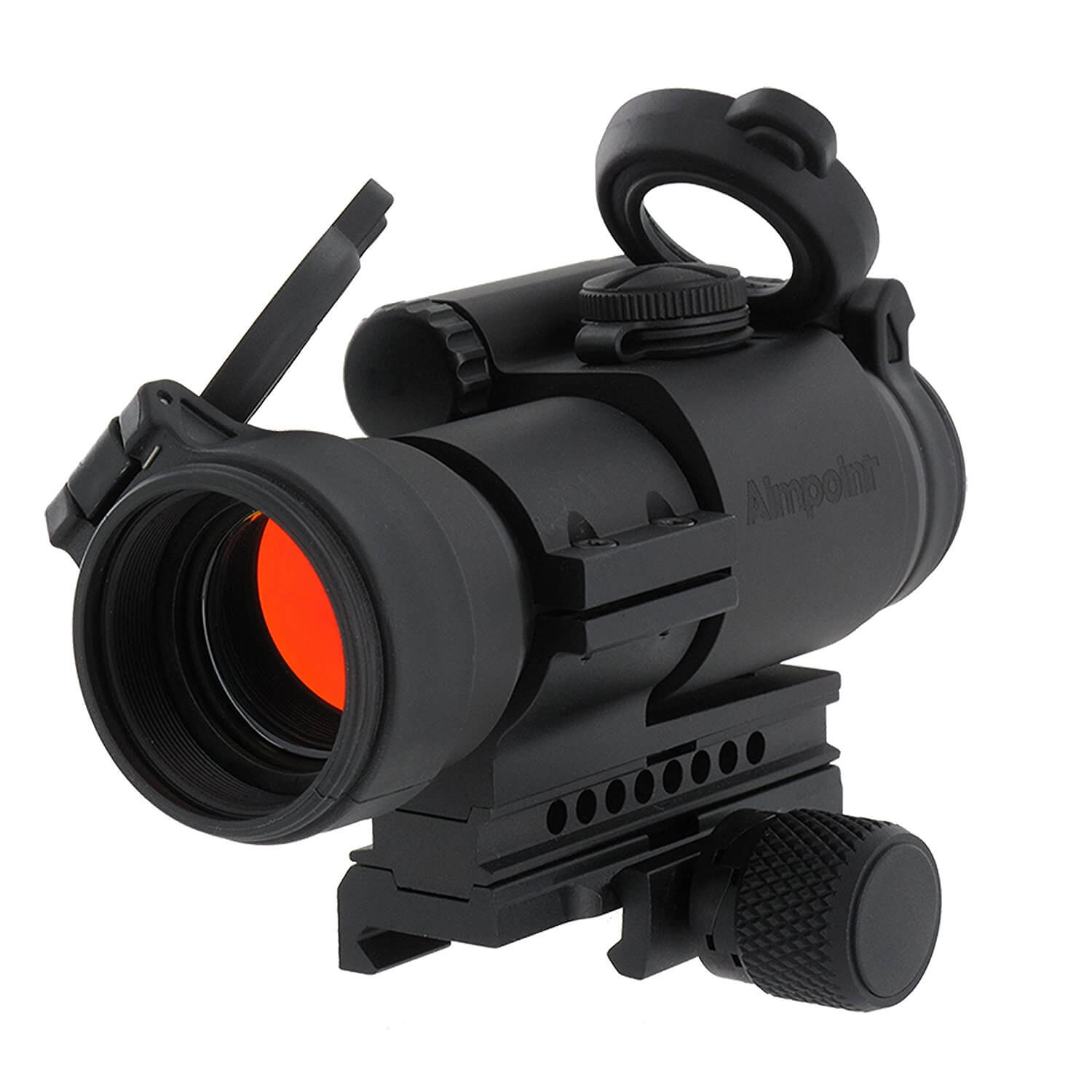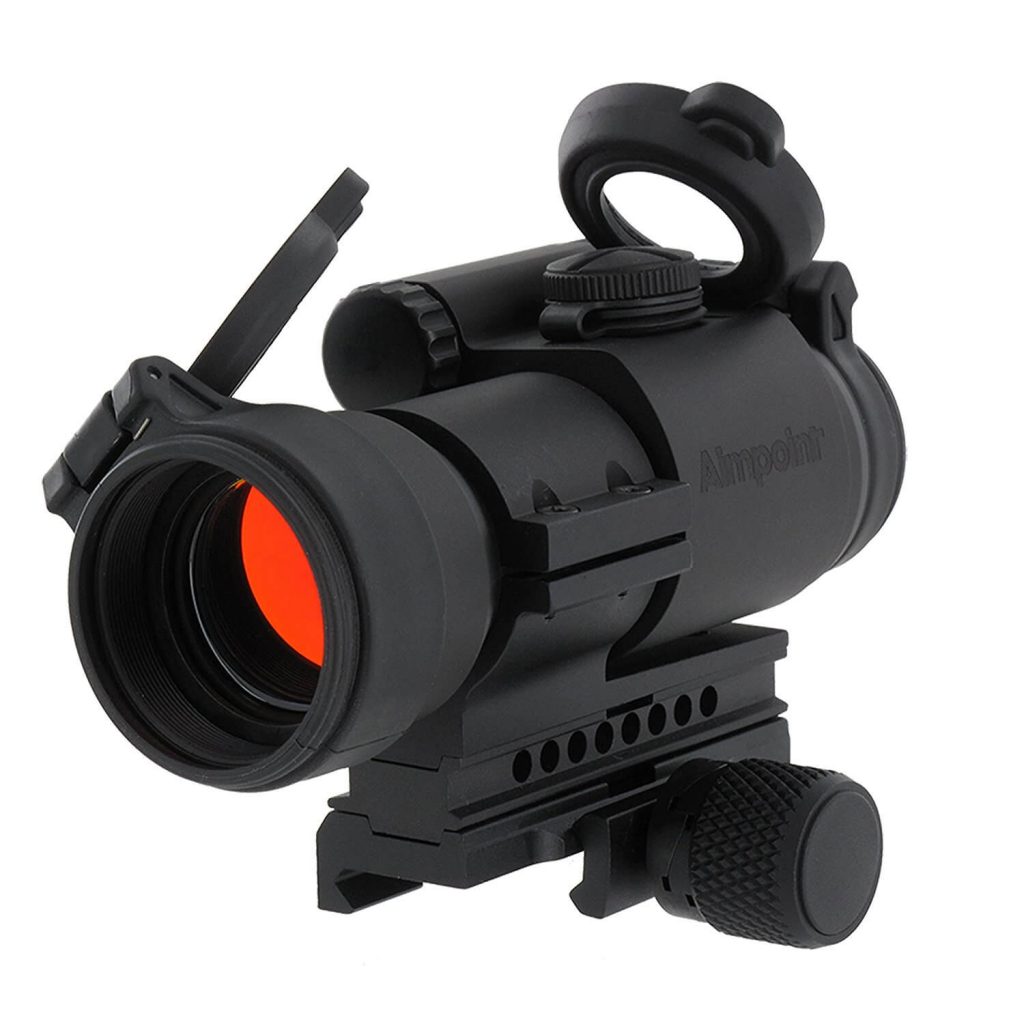 To start things off, we have the Aimpoint Pro Patrol Rifle Optic. This AR-15 optic has night vision capabilities, three years of continuous battery life (not bad at all), can tolerate temperatures of between -50 to 160 degrees, and is submersible for up to 150 feet — not that you'll be taking a deep sea swim with it.
All in all, this optic provides everything that you need and it also comes with a mounting bracket.
Bushnell TRS-25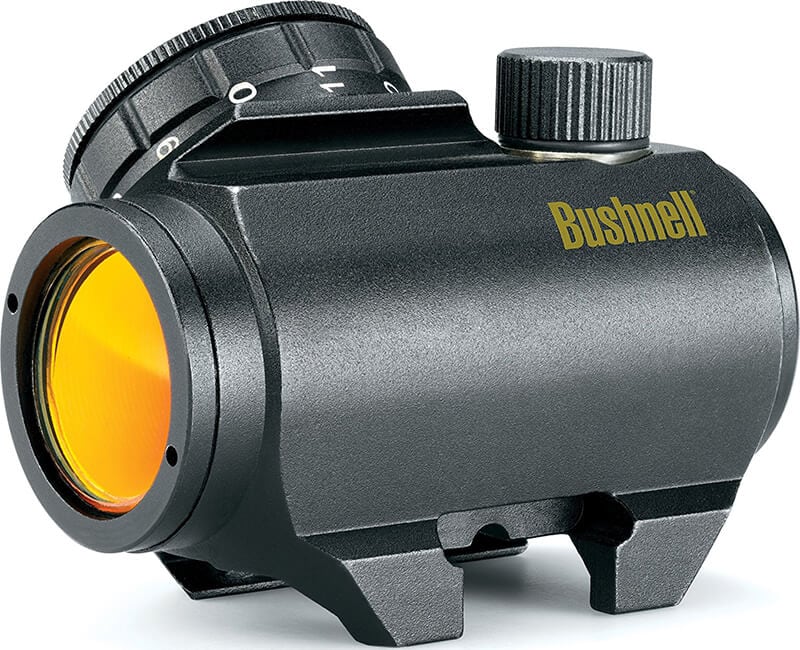 This is the budget sight for our list. Despite its really affordable price tag, this red dot has received a whole lot of positive reviews from folks who have purchased it in the past.
The TRS-25 does well with regards to performance and holding its own during shooting competitions. Bushnell is a brand that you can rely on to produce high-quality optics, and this one comes with a great price tag, too.
It's recommended that you get yourself a riser as well if you do decide to go with this one. It's a pretty low-sitting optic, so having it raised a little will go a long way as far as shooting comfortably goes.
Vortex VMX-3T (Magnifier)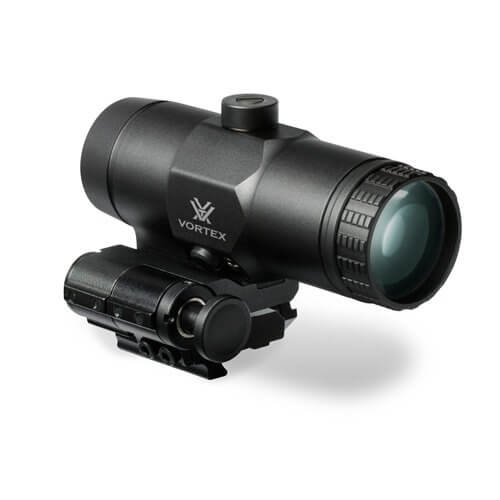 Vortex has a solid reputation for producing optics that are easy on the eye and have the clearest glass.
Something that's easy-going on the eyes is important, especially when you're downrange for a few hours at a time. There's nothing like having eye fatigue once you start to find your rhythm.
The Vortex VMX-3T has a lightweight and slim design. This is handy for when you want a good set of magnifiers without the unwanted bulk. The mount is also quite easy to use. All you do is press the knob and you're good to go. It's also easy to switch for left-handed shooters.
HOLOSUN HS403A Micro Red Dot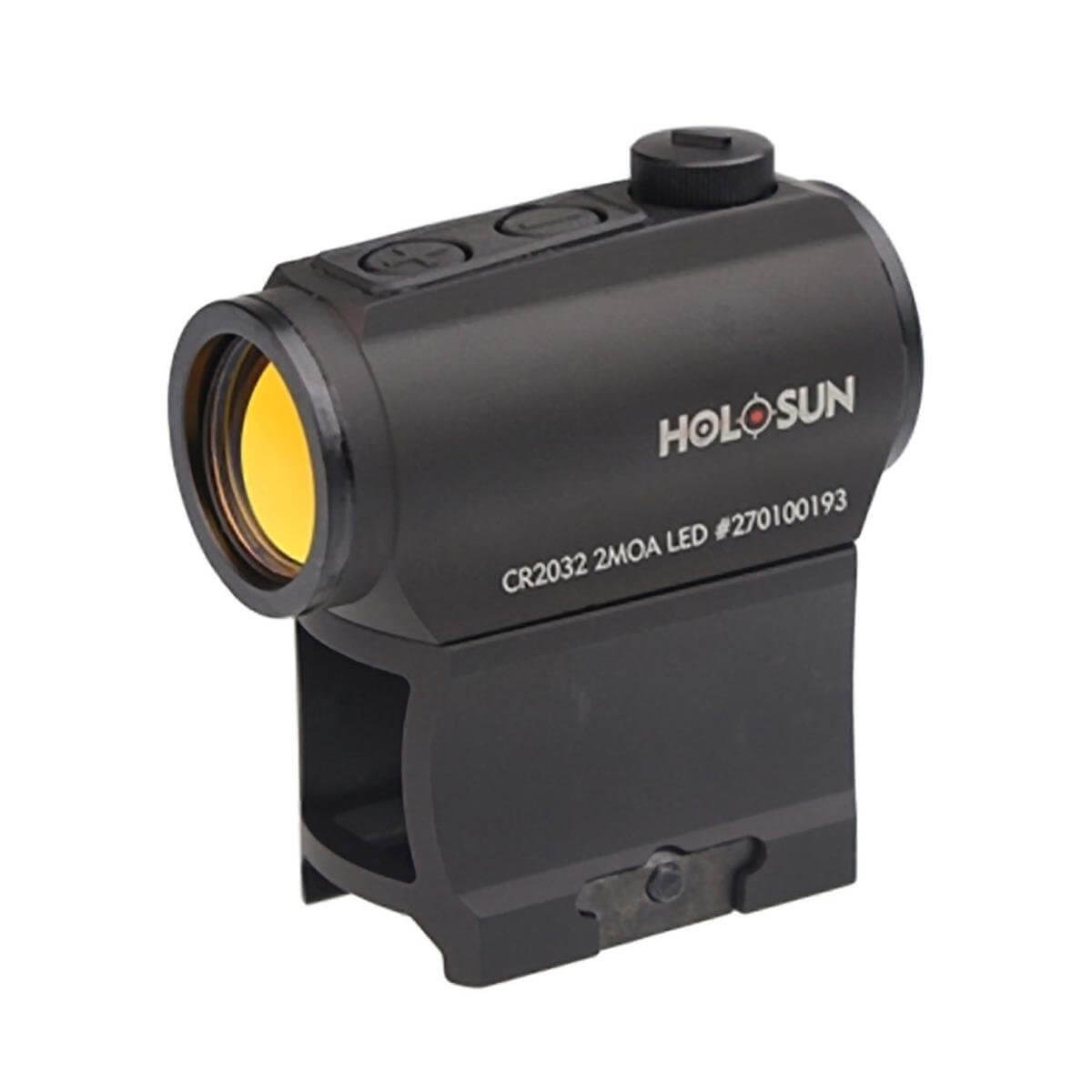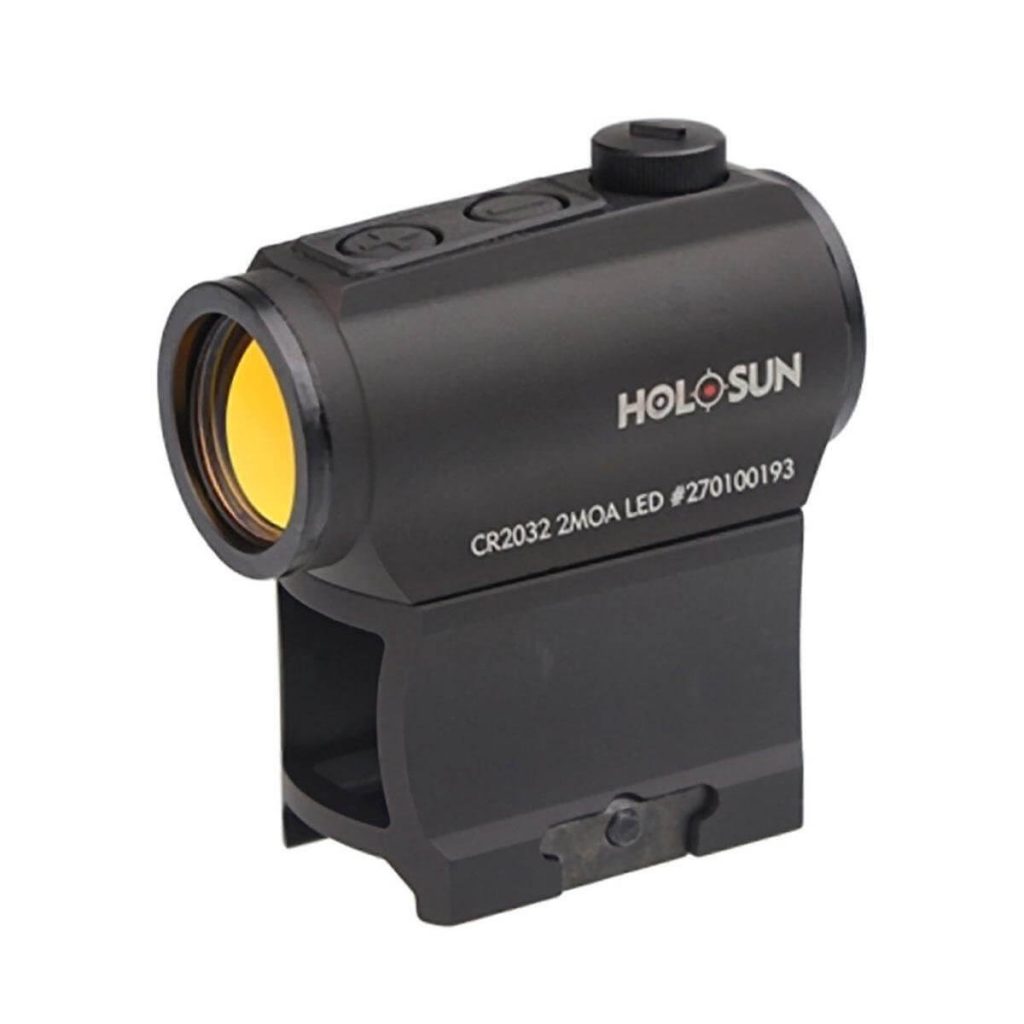 The Holosun HS403A really offers you bang for your buck! This sight does everything you need it to do, and then some.
It is night vision compatible, has a 3-year warranty, 50,000 hours of battery life, and can operate in temperatures of 14-122 degrees. The Holosun has a great field of view as well as clear glass, making it an ideal accessory for tactical shooting.
Vortex Spitfire 3x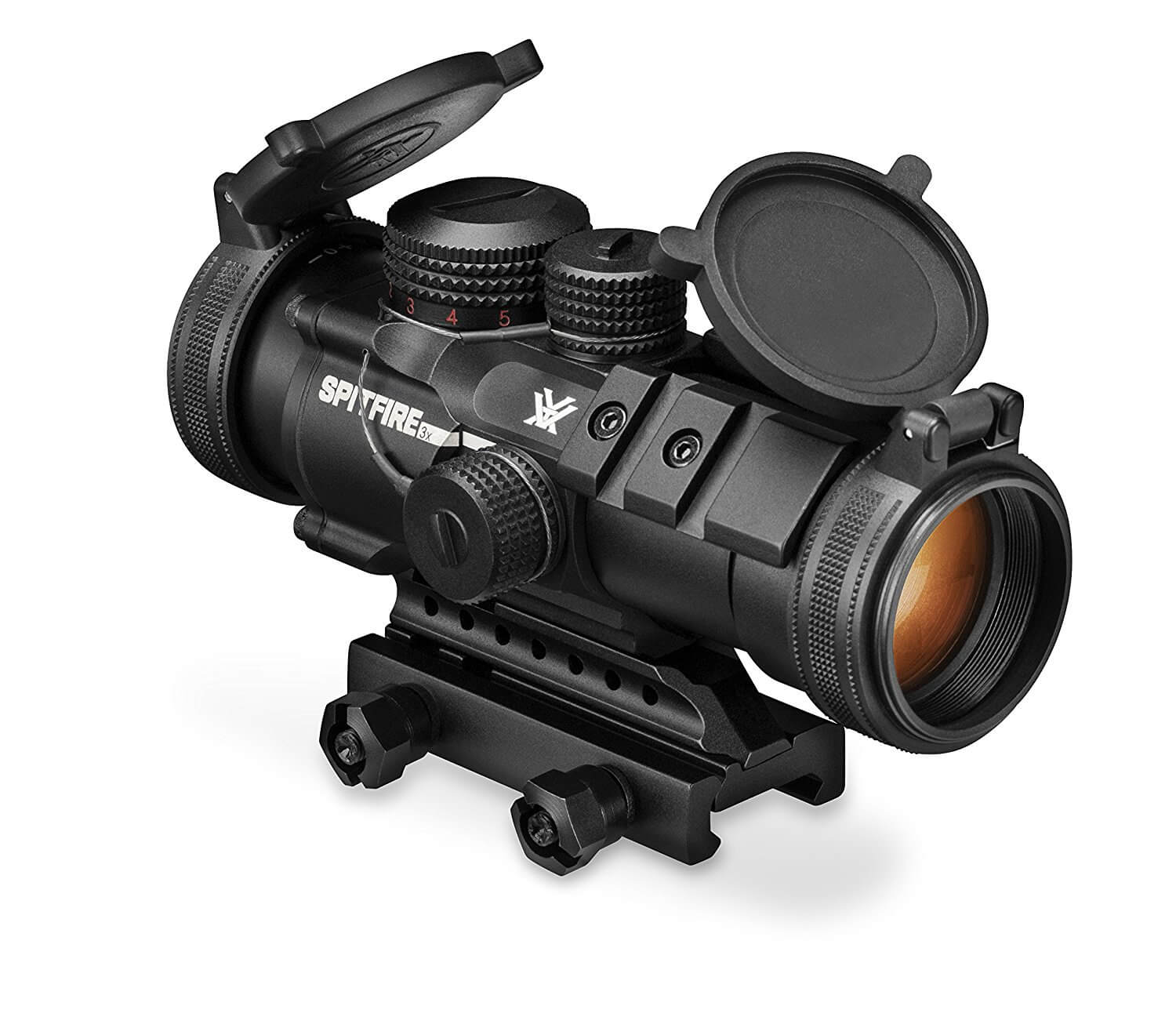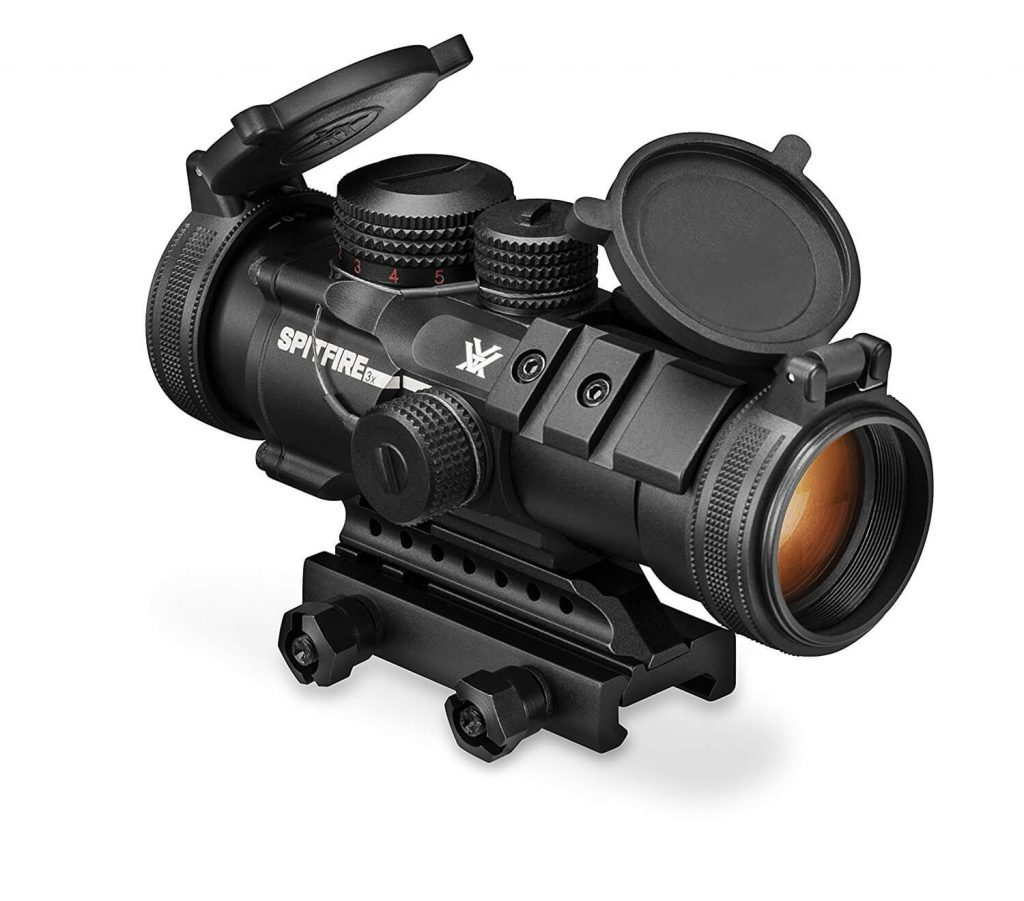 The Vortex Spitfire is a fixed x3 magnifier that is specifically built for ARs that shoot 5.56 and has dropdowns for 0 to 500 yards on the reticle. It might be a little uncomfortable to shoot at closer targets though, but at the end of the day, it's still doable.
It also comes with a transferable unlimited lifetime warranty.
There are five levels of intensity that can be chosen, the option of having a green or red reticle is also available. This is especially handy for when shooting in darker light environments.
Vortex Viper PST 1-4×24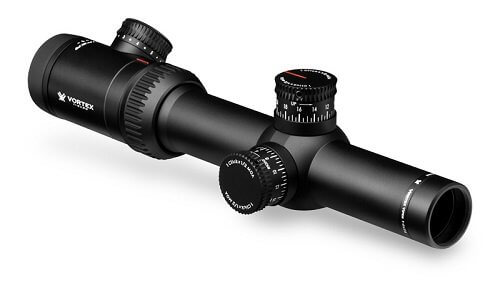 Here's another great pick from the Vortex gang. The Viper is a 1-4x magnifier that has undeniably clear glass and a reticle that performs well with both close quarters and longer distance shooting.
If you're going to go for this one, then you better get some good mounts as well. There's no point in getting a great set of optics only to have the overall experience ruined because of shoddy mounting brackets.
Magpul MBUS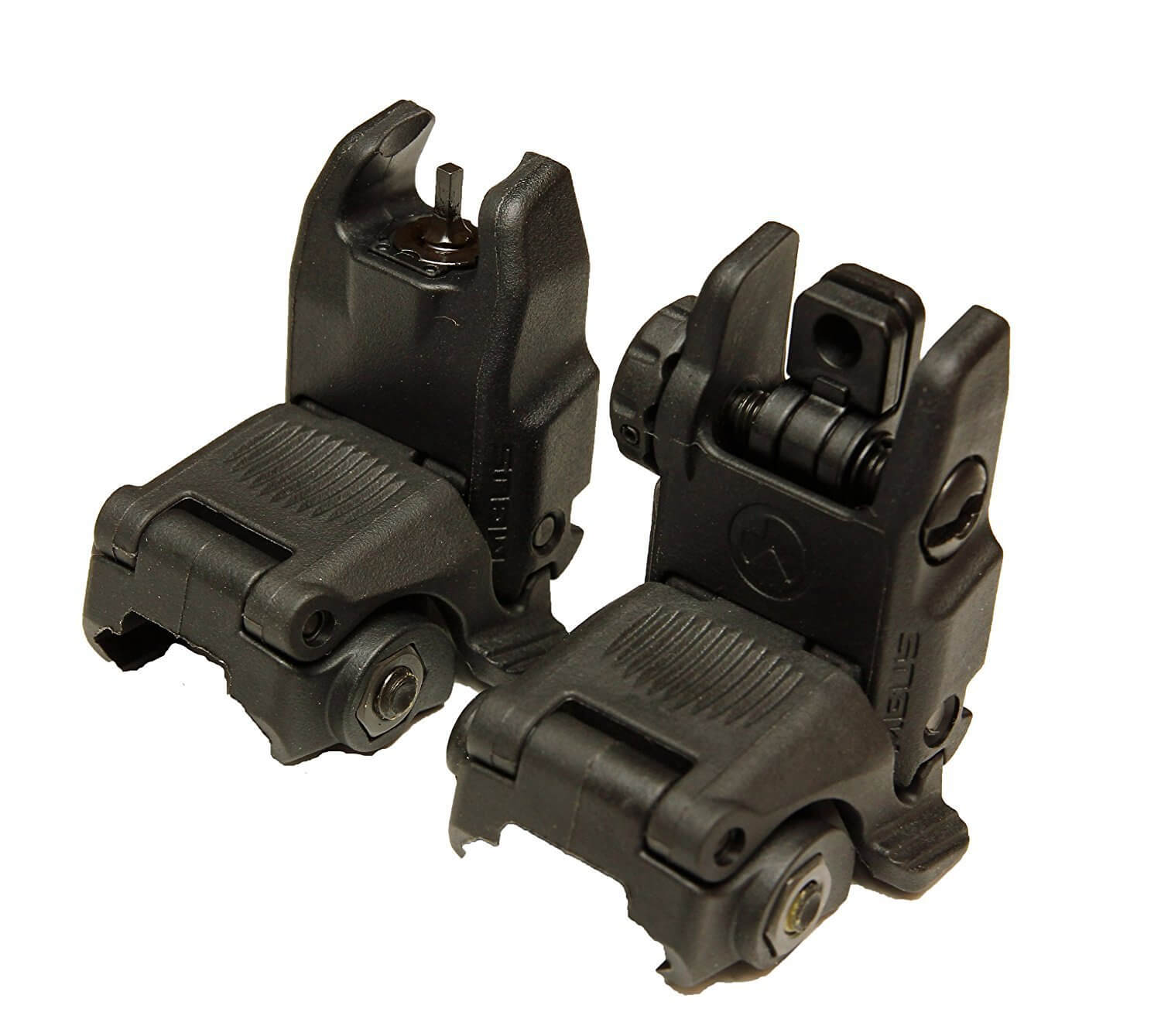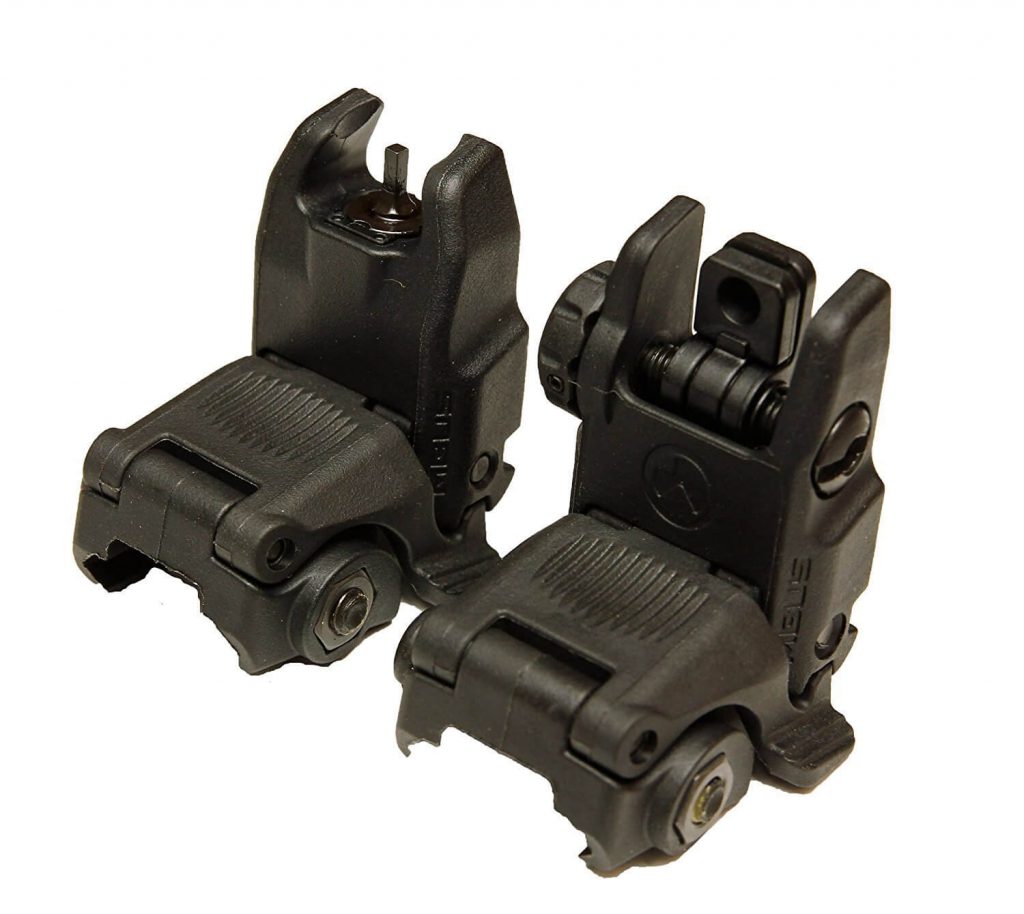 These Magpul sights are ideal to have as backup sights in the event anything happens to your optics.
Made out of lightweight polymer, these sights are impact resistant and can withstand operational abuse like no other. The sights are kept erect by use of springs but can be folded when met with unobstructed impact.
These are ideal to have as backups on any given day.
ACOG TA31F 4×32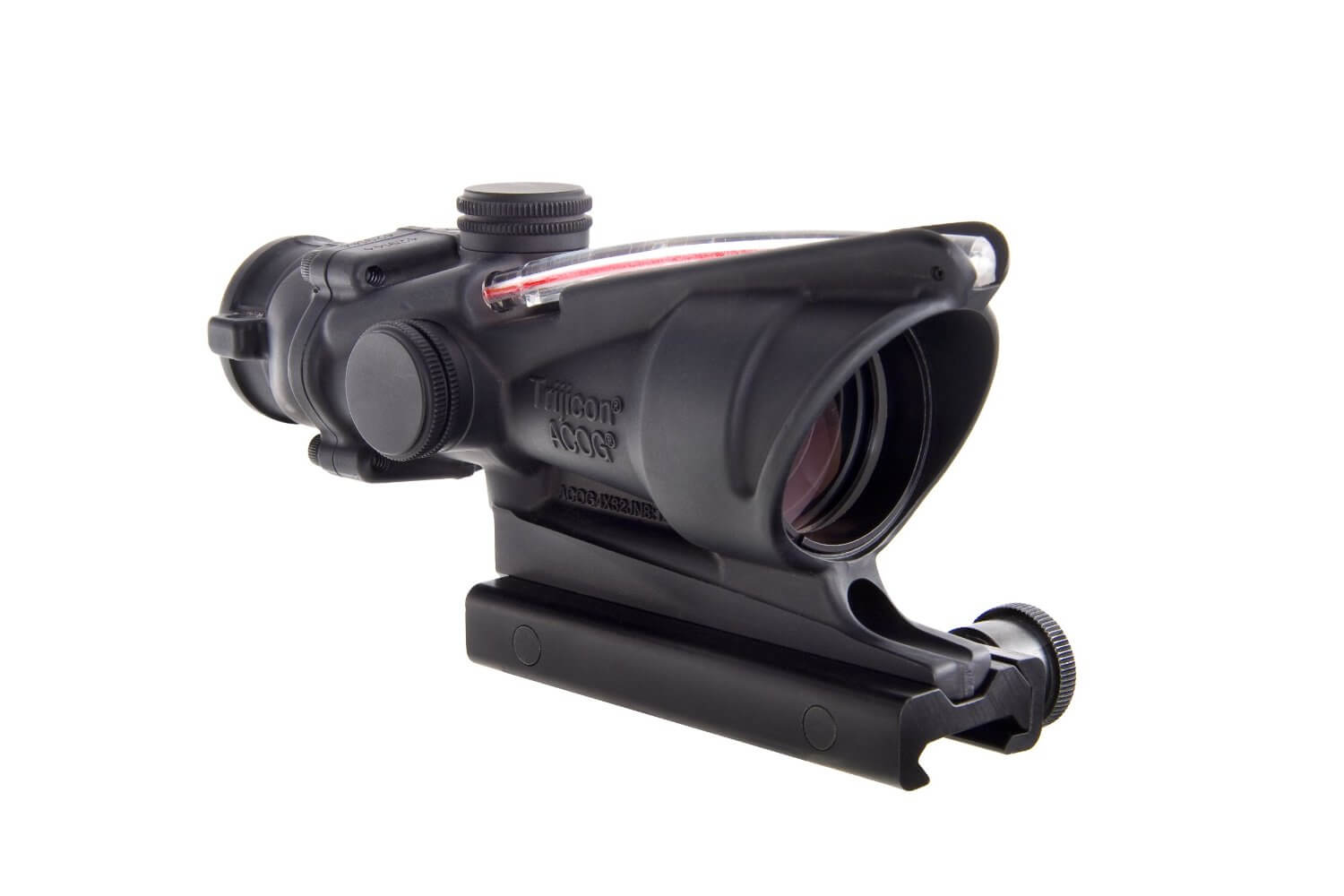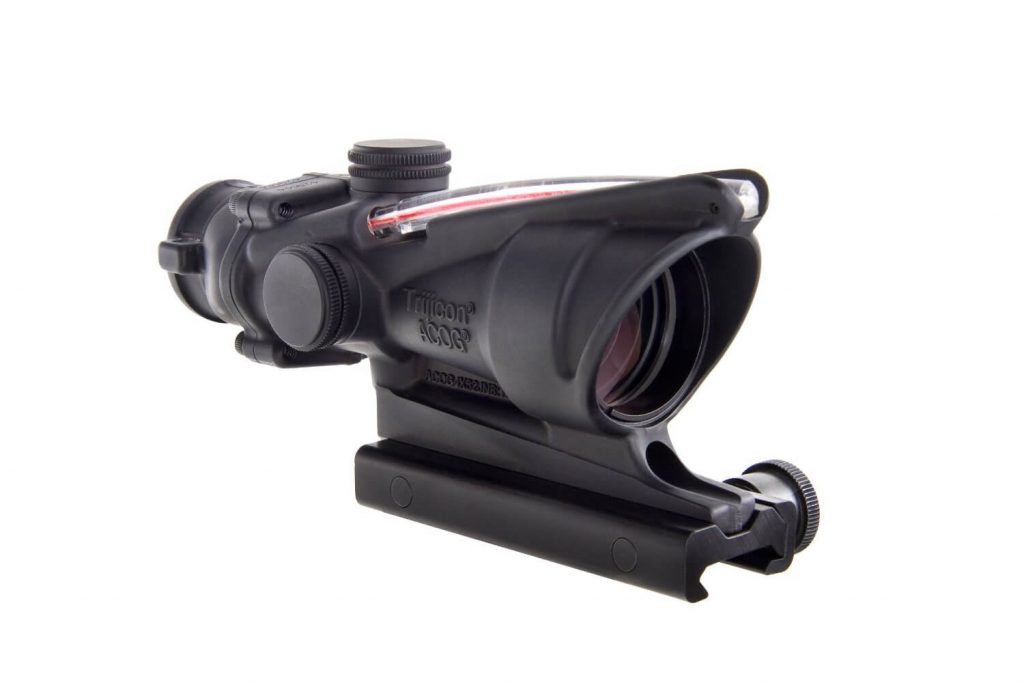 Trijicon's Advanced Combat Optical Gunsight, or ACOG for short, has proven it's worth and exceptional quality on the battlefield.
This sight has a fixed 4x magnification and is designed with ARs in mind. The reticle has been calibrated for 5.56 rounds shooting from 0-800 meters.
The price tag on the ACOG is a big one, but that's with good reason. The ACOG is as durable as a honey badger and doesn't require any batteries. During the day, its fiber optic system illuminates the reticle while during the nighttime, the tritium lamps will glow and light up the chevron reticle. These lamps are guaranteed to glow for 15 years.
The ACOG should be considered for more longer distance shooting as opposed to close quarters.
EOTech EXPS2-0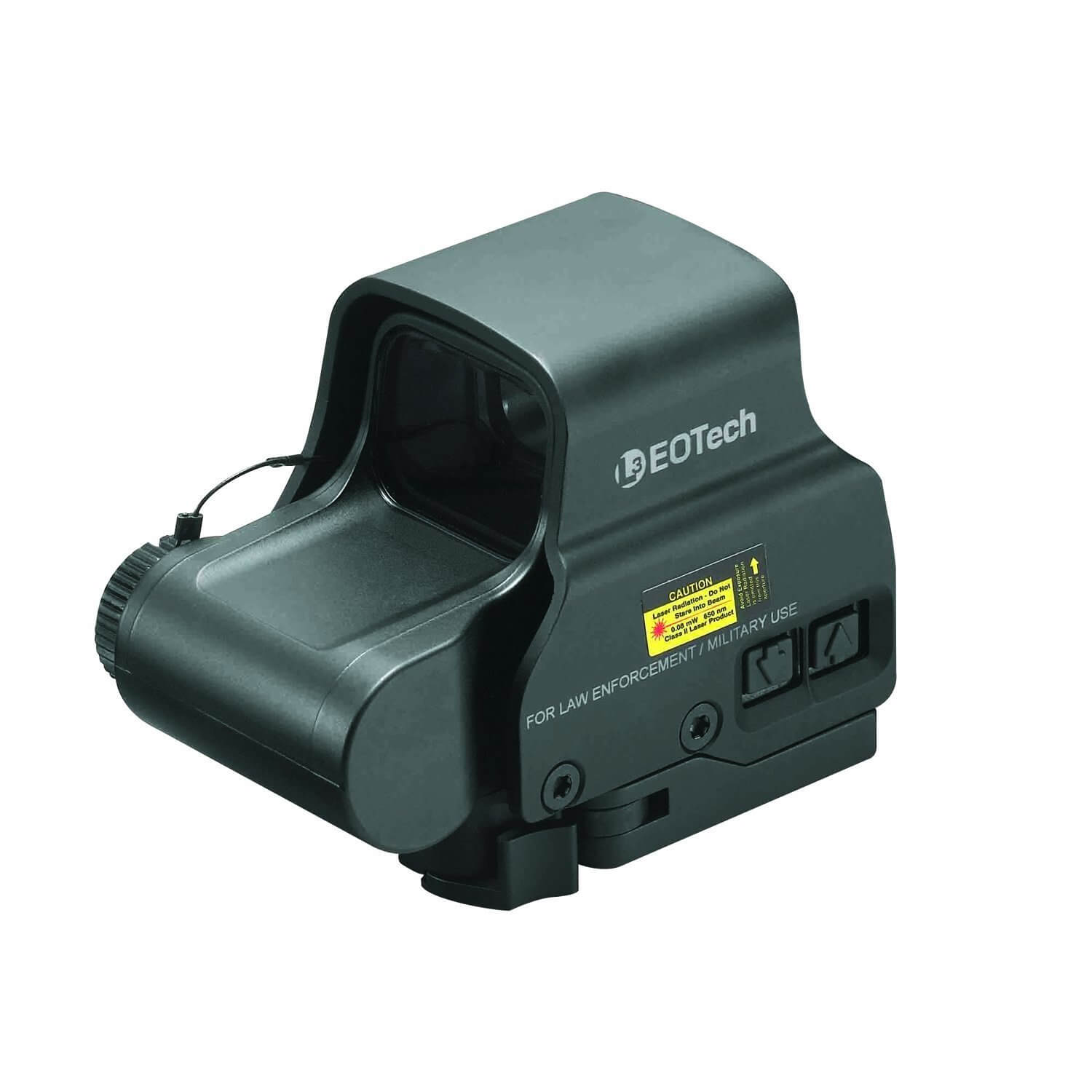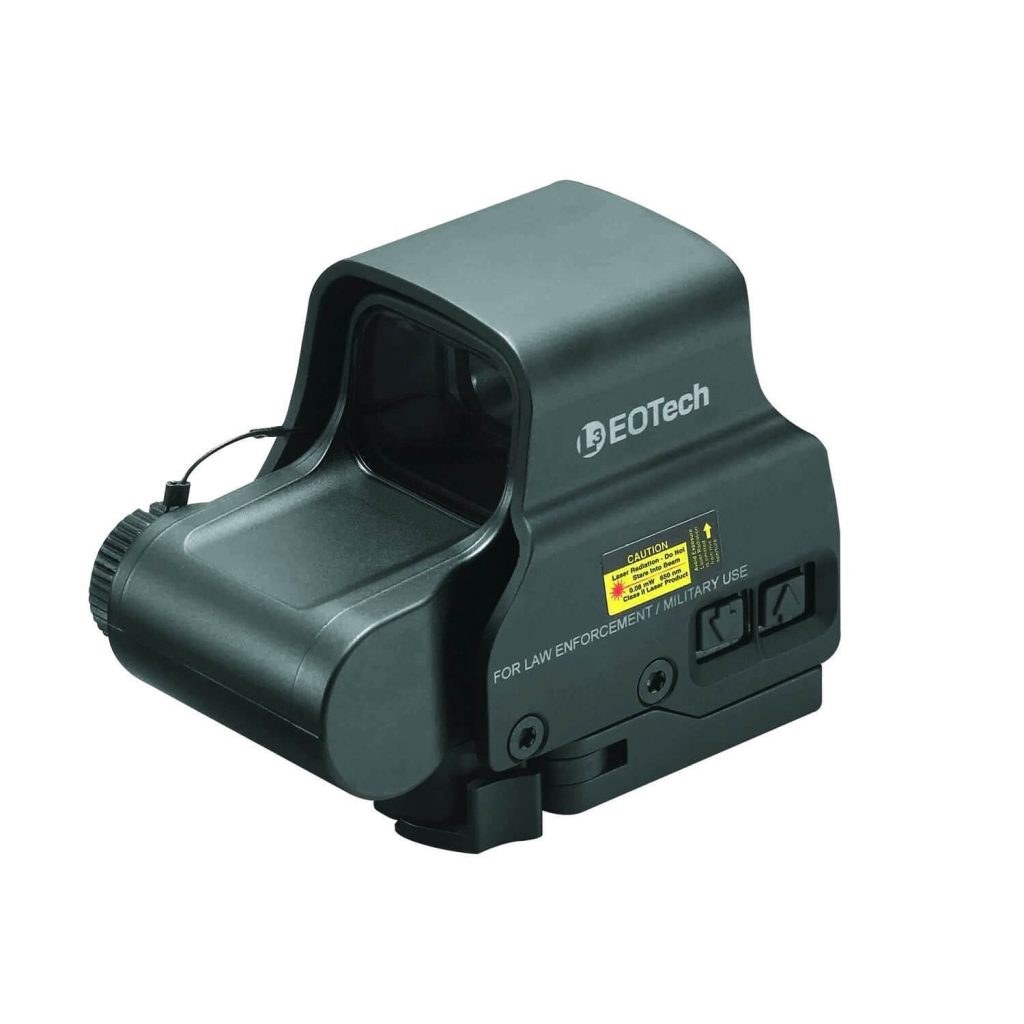 Eotech became known for its distinct holographic sights. It has always faced up against Aimpoint's reflex sights. Both were widely used in the US military and had a lot of supporters for each separate sight.
Unfortunately, in 2015, Eotech saw the ugly side of a lawsuit from the US Government due to their sights losing their zero because it wasn't weather or element resistant. But not worry, they've sorted that out now.
Sightmark Ultra Shot M-Spec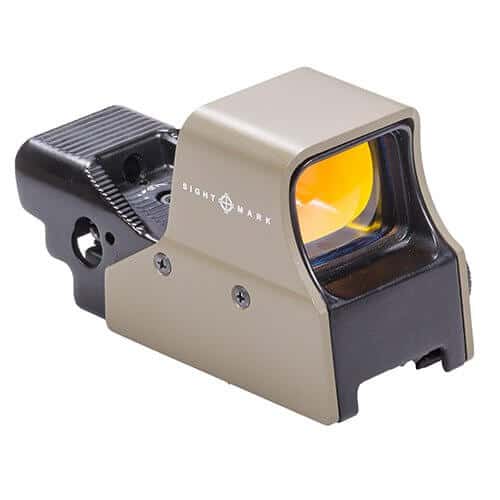 The Ultra Shot M-Spec has one of the crispest lenses, which is also scratch-resistant and provides unlimited eye relief. Along the side of the sight, you can adjust the brightness of the reticle as well as make adjustments for windage and elevation.
This has been tested on .50cals and has an amazing recoil-rated performance. The battery life doesn't last as long as a few above-mentioned sights as its battery only lasts for up 1,000 hours.
However, it does come with a lifetime warranty, which is always handy.
Conclusion
That's it, folks. We've shown you the menu, now you need to make the decision on what will best suit your needs and style of shooting.