Have a look at one of the best companies in the business!
You can always rest assured when buying a Steelwater gun safe. Steelwater is known to produce some of the finest gun safes in the business, and their reputation speaks for itself. This is because the owner and designer of Steelwater Gun Safes has been working in the security for all his life.
Servicing, repairing and opening gun safes for more than 22 years, the owner of Steelwater Gun Safes gained firsthand experience and learned what could be improved in a gun safe to increase its security and reliability.
All of Steelwater's gun safes are inspected twice; first at the manufacturing plant, and then again at the warehouse. This is done to ensure that nothing but the highest standard is met and that their reputation of top quality and professional gun safes is maintained.
Steelwater has a good selection of gun safes available to choose from. Today we'll be going over their Long Gun selection.
Steelwater Long Gun Safes
Each of Steelwater's Long Gun safes has a standard and a heavy duty version. As you would imagine, the heavy duty editions are made out of more robust materials and more intricate systems that allow for greater security.
Including the heavy duty editions of Steelwater's Long Gun safes, there are a total of 10 safes in their Long Guns arsenal.
We won't be reviewing each of them in intricate detail, but we will list the differences of the standard and heavy duty models of each safe.
We hope that this will provide you with clarity on the safes carrying the Steelwater birth mark.
Steelwater's 16 Long Guns Safes
As the name implies, 16 Long Gun safes are able to hold a maximum of 16 long guns. This is with the exception that they aren't fitted with any accessories such as scopes.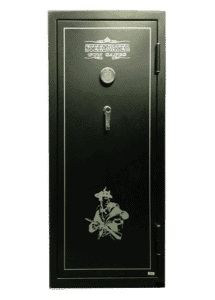 Both of these safes have a pretty decent fire resistance rating, especially considering the fact that they are the entry model safes.
The 16 Long Guns safe is the most basic model in Steelwater's Long Gun safe collection. For those who are simply looking to keep a couple of their hunting rifles and some other valuables safe, the 16 Long Guns are the most ideal options.
Other than that, this model is also on the affordable range of the spectrum. Steelwater is known for producing some of the finest gun safes in the world. So you know that whatever amount you pay for a Steelwater safe, you'll be receiving every single penny's worth of what you spent.
Upon first inspection, the most noticeable difference between the standard and heavy duty editions are the handles. The standard edition features a straight handle, while the heavy duty model has a tri-spoke handle.
Both models are lined with a grey interior which will prevent the guns from being scratched if they ever somehow slip around on the inside.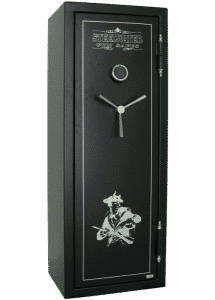 Steelwater's 20 Long Guns Safes
These models are basically the same as the 16 Long Guns safes, except for the fact that they are larger and have a greater holding capacity.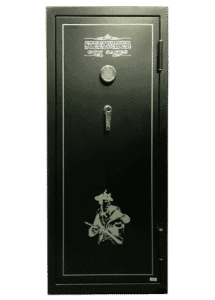 Both models have 10 one-inch locking bolts to keep the door tightly closed in the event of someone trying to break through with the use of power tools.
The steel used on the frame of the safe isn't the thickest there is. On the standard model the steel used is 14 gauge, while the steel used on the heavy duty model is 12 gauge.
The inside of both models is upholstered with a grey interior to keep the guns from slipping as well as making it look a little more pretty than having nothing. At the back of the safes, there is a pre-drilled half-inch hole for those looking to install an electrical dehumidifier.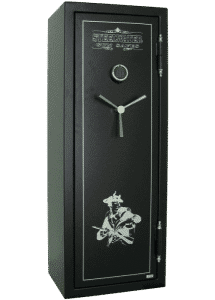 Steelwater's safes all have an expandable door seal. So if a fire were to ever break out, the door seal would expand from the heat which would make it seal the door even more, keeping out any heat and smoke.
Steelwater's 22 & 39 Long Guns Safe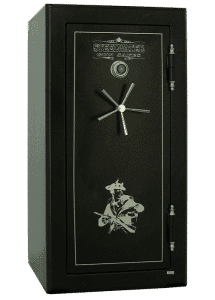 Now things are starting to get a little serious. Even though this might only be an upgrade of "two" long guns from the 20 Long Guns safe, its features absolutely crush the 20 Long Guns.
Okay, it could make sense that the 22 Long Guns in question is the Xtreme Duty model. Since there isn't much of a difference between the 22 and 39 Long Guns safes other than their size, we'll throw them both into the mix and list the features that are similar. If everything sounds the same, that's because it is.
The fireproofing on these safes far exceeds that of any of the former mentioned safe models. These safes are fireproof for up to 2 hours at 1875 degrees Fahrenheit. Their fireproofing abilities come from the 9 gauge with which it was constructed, as well as the 5 layers of fireboard.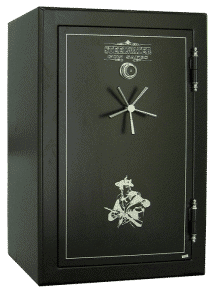 The doors are both 5 1/4" thick with a 1/4" solid steel plate. To finish this off, there is a total of 4 layers of fireboard.
The walls, floor, ceiling, and door jambs all have an additional 1/8″ "fire barrier", along with the fireboard layers.
The locking system is gear-driven. The drill-resistant hardplate is 8x larger, protecting the re-locker, combination lock, gear drive, and linkages. The lock is a UL Listed Group 2 La Gard lock. So you know that the quality of the lock is far superior to any other lock.
On the floor, the safe has 4 pre-drilled anchor holes. Anchoring your gun safe to the floor will ensure that you keep the contents of your safe as secure as possible. The safe also comes with a UL Listed power supply with 3 AC outlets as well as 2 USB ports.
Conclusion
Steelwater Gun Safes are undoubtedly top of the line quality. The main thing you have to take into consideration when buying one is what will you use it for.
I guess there will always be a list of questions that you need to ask yourself before buying a gun safe. Why are you buying a gun safe? Is it because you feel it's time to upgrade to bigger and better or are you a new gun owner? Will you be relocating to a different state within the next couple of years or are you planning on staying where you currently reside?
Another big thing to consider is whether or not you'll be increasing your gun collection. If you're happy with what you have, a hunting rifle, shotgun, and a handgun, then buying a gun safe that could house 20 or more guns would be unnecessary. However, if you plan on adding more firearms to your collection each year, then planning ahead by buying something like the 39 Long Guns safe would be a wise thing to do.
Also remember that you're putting your guns in a safe to protect them (apart from abiding to the law in some states). You wouldn't want to store a gun in a safe that cost three times less than your gun.