20 Great Affordable Options To Choose From.
As a gun owner and a good citizen, you have been thinking, maybe its time to get a small gun safe.
It is your responsibility to secure your firearm from kids, neighbors, and thieves. Placing it in a hidden place inside your house isn't an option. You must own a gun safe.
A gun safe is a great investment not only for the safety of your gun and people around you, but it also offers quick access to your firearm in case of an emergency.
Whether it be recreation or home defense, your gun safe must give easy and quick access to your weapon. Also, it must have the strength so that no one can break it.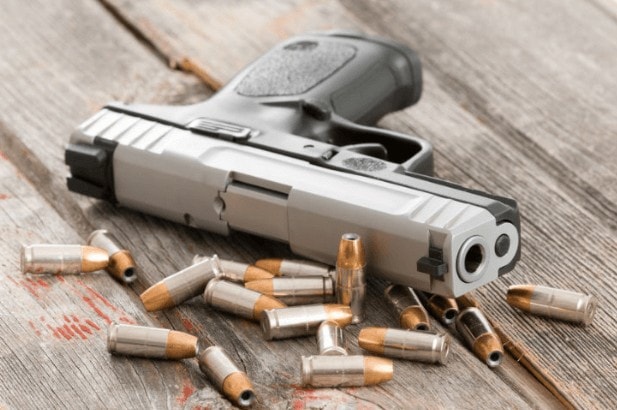 You are probably here because you own a handgun and looking for a good way to secure it. Investing in a large bulky gun safe that will cost you $700+ is not a good option. You need a small safe that will secure your weapon and be reasonably priced.
Your goal is not to focus on the attractive things. The thickness of the steel, proper locking system, and secure assembly is what ensures the best safety of your weapon.
Best Small Gun Safe Reviews
No matter your budget, these great bedside small gun safes will help keep your firearm secure, keep it out of children reach and give you quick access during an emergency.
Fort Knox Handgun Safe (PBI)
Fort Knox is a brand you can always trust. Their small safes are made with simplicity offering maximum security and convenience. This handgun safe has a compact design and is user-friendly to install in a drawer or a corner of a closet.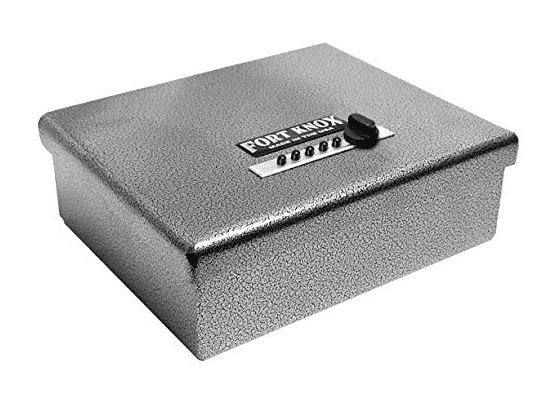 Durable Steel Construction
Even at this compact size, it offers 10-gauge steel uni-body construction with a large 3/16" tamper-resistant wraparound door that keeps your firearm safe and secure.
Its body has a shiny and slippery surface with rounded edges. The silver coating on the body doesn't scrape off easily and keeps it in good condition for a long time.
Capacity
You should be able to easily fit a large revolver, two compact semi automatics, and a spare clip. The little extra room offered lets you store cash or other valuable items, but not much. Ideally, a handgun with a clip and some cash would easily fit inside.
Locking System
Fort Knox (PBI) uses a Simplex Lock, which is user-friendly and durable. While it may not offer as fast access as digital or biometric locks, it still unlocks very quickly. Once you get used to its locking system, unlocking the safe is easy.
Door & Dimensions
The safe is made with gas-strut assisted heavyweight door, which makes it virtually impossible for intruders to break or pry open it.
Overall the safe measures 4-1/4"h x 12-1/2" w x 10-3/" d and comes with a lifetime warranty.
FAQs
V-Line Top Draw Locking Tactical Gun Storage Box
V-line is another small safe with a flat body and uses Simplex mechanical lock system. It is easily portable and comes with pre-drilled bolt holes for mounting it in your home. You can always purchase a mounting bracket, but that's not recommended.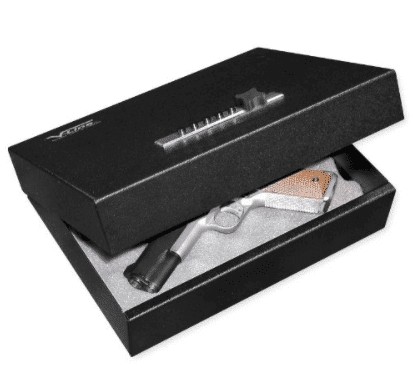 Capacity
This small and smart gun safe can accommodate two pistols at a time along with a magazine. You can also store a few other valuable items like cash or important documents. Whether or not it will store two pistols depends on their size and bulk.
Construction
While it may appear thin, the steel used is thick and rock solid. V-line has invested more money in making the safe durable than fancy. This stainless steel construction has a rugged textured low gloss black powder coating along with gloss black V-line logo on top that looks great.
Locking System
This CA approved gun storage safe comes with Simplex Mechanical Lock for quick access. This lock has five button combination with a push-button that is easy to operate. While it is a simple lock, it is double the strength as compared to most of the gun safes on the market.
Ease of Mounting
With pre-drilled holes, you can easily secure it in place. The mounting hardware comes along with your purchase.
FAQs
SentrySafe Quick Access Safe
SentrySafe is one of the best brands of gun safes. It features a digital lock and has a single gun capacity. Though the safe appears less sturdy, it has a thick steel construction that makes it rock solid.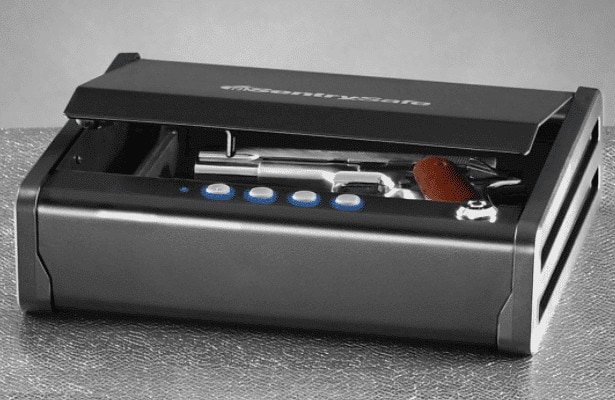 Storage
The safe is built for only one standard handgun. However, there is still enough space to put in a couple of magazines and important documents. The safe may not be that large but offers an affordable solution for your firearm.
Digital Lock
With an advanced digital lock system, it adds more protection and security. Simply push and unlock. There is a 4-digit combination that you can set and the safe unlocks within a couple of seconds of entering the code.
Built
The safe is pry resistant. Its door and body are constructed from solid steel that adds more strength and security against unauthorized access to firearms. SentrySafe is tested for wear & tear and pry-resistance.
Backup
YUP! It comes with an override key for convenient backup access. While the safe offers leading-edge and tactical firearm storage, it is also certified to California DOJ requirements and is one of the best safe you'll ever have.
FAQs
GunVault GV2000C-DLX Multi Vault Deluxe Gun Safe
Thousands of gun owners like GunVault multi deluxe safe for many reasons. The best thing about this gun safe is its storage capacity and two compartment interior that gives you plenty of room to store more valuable items.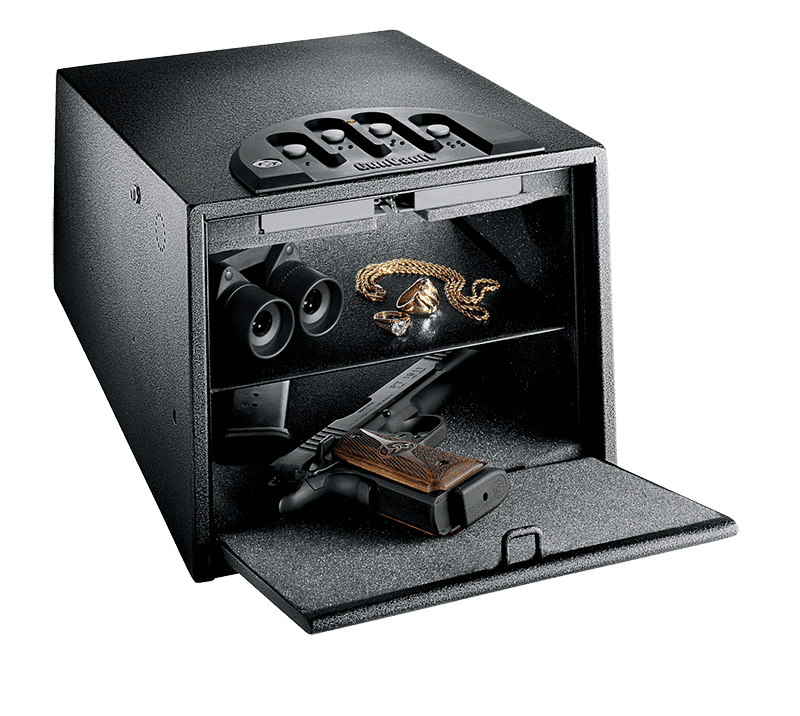 Durability
This safe is 100% pry resistant and keeps your pistol or handgun safe from intruders. It is made of thick steel with a matte black glossy finish. The extra thickness does increase its weight, but it ensures maximum safety of your valuable firearm. It's virtually impossible for any thief to break it.
Storage
Storage is its main selling point. With two compartments inside separated by a shelf. The lower compartment is normally used for storing the gun while the upper can be used for items like cash, jewelry and important documents. If you have two handguns, they both can be easily stored in this small safe.
Lock
It has an advanced locking system with built-in computer blocks and key pad entries along with patented no-eyes keypad which allows you quick access. The lock has 'Learn Buttons' that are easy to program with more than 12 million user-selectable access codes. This safe beats all the other electrical safes with its incredible strength, features, and affordability.
Fort Knox Personal Pistol Box Handgun Safe (PB4)
Another beast by Fort Knox is their PB4, very similar to PB1 handgun safe. Both the safes have the same price tag and matching features. However, there is a slight difference in the design that distinguishes both models.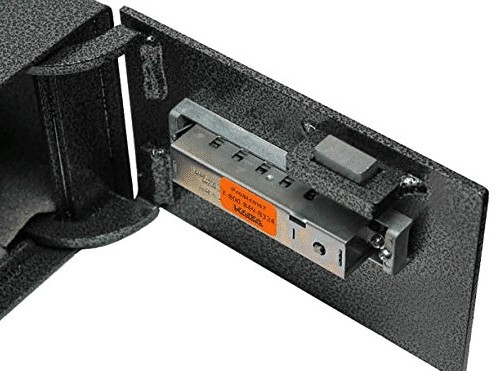 Strong Steel Construction
PB4 has a heavy 10-gauge steel body construction with a 3/16" plate door. It is 100% pry resistant and is virtually impossible for any intruder to break it. Its solid door has spring assisted hinges that push the door outwards as soon as you unlock it.
Locking System
Like the PB1 it has a mechanical locking system with 1081 user combinations. The lock is easy to feed with your desired combination. The spring assisted hinges in the door gives you quick access to your firearm.
Premium Materials Used
Overall the safe is made with premium materials, all made in the USA. It has a nice textured gray, skin and brown color mixture that looks great. Though the extra thickness of the steel adds weight to your small gun safe, it also makes it strong and pry-resistant.
Browning Pistol Vault PV900
Browning Pistol Vault PV900 comes with a biometric pad and grants instant access with the touch of a fingertip. It has twice the steel thickness as compared to other small handgun and is loaded with some cool features.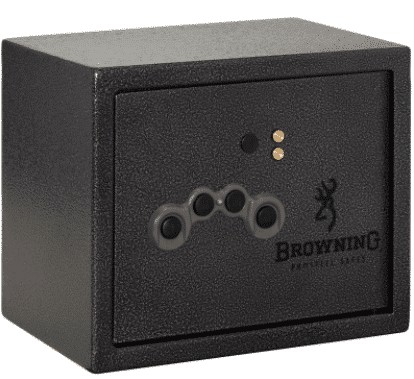 Biometrics
Small hand gun safes usually have a mechanical or digital lock. The Browning Pistol offers a biometric locking system. It's a user-friendly locking system, very easy to program and unlock with a touch of a finger. On average, the safe unlocks in less than three seconds. In addition to the biometric system, it has an extra backup entry option where you can program a personal code using the four-button keypad. The entire system runs on AA batteries (not included).
A manual key lock is also available in a backup mode if batteries go dead or you forget the code.
Durable Construction
Browning Pistol body is constructed with 10-gauge steel while the door has 14-gauge thickness. This makes it extremely durable and pry resistant. Its body has a dotted rough texture in matte black color with Browning Logo on the front.
Inside the safe, you'll find an LED lighting, which automatically turns on when you unlock and open the safe door.
Capacity
Other than storing your standard handgun, there is enough space left for valuable items like cash, jewelry, documents, and camera.
If you have multiple handguns, you can store them instead. Perhaps a loaded magazine could be placed inside.
GunVault MV500-STD Microvault Pistol Gun Safe
GunVault MV500-STF is a must have safe for handgun owners. It is a programmable safe with a user-friendly interface. The safe grants quick access to your firearm and has a compact enough size to carry in a backpack.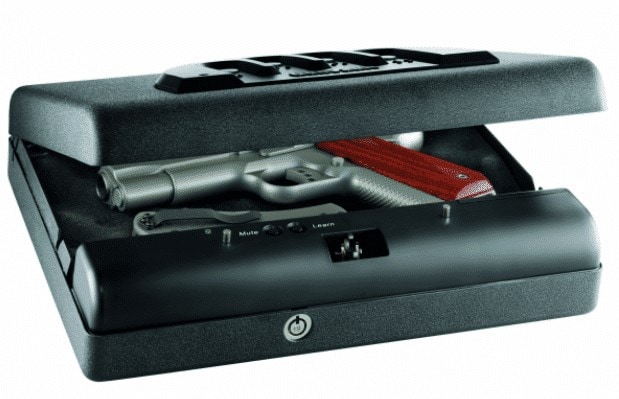 Capacity
It has enough room to store two small handguns or a standard pistol along with some ammo and magazine. If you only have one firearm, use the additional space for storing other valuables like cash, jewelry, and documents.
Lock & Case
The safe body is constructed using a durable and thick 20-gauge steel with a black color finish that looks great. Its door has got strength and is pry-resistant. You can rely on it for its high-strength.
Its exterior is designed in such a way that there are no purchase points for a thief to pry or even try to break it open. This makes it ultra-reliable and 100% secure.
No-Eyes Keypad
On the top, you will see a no-eyes keypad that is user-friendly to program. It allows you to store a secret code and make a combination out of 12 million possibilities. With that excess of different variations, your weapon is extremely safe from being accessed by unauthorized people.
Secure
Nonetheless, this safe is fully secure. It comes with pre-drilled holes in its body that allows you to attach a security cable (supplied by manufacturer) and is made out of steel. This strong cable can be used to temporarily attach your safe to the car seat or a desk leg so that it is immovable.
Tamper Detection Feature
For making the safe more secure, a tamper detection technology is added to the keyboard. If someone makes 24 incorrect entries, the safe will automatically go into sleep mode for 2-minutes. During this time, if an entry is made again, its safe beep warns that someone is trying to gain unauthorized access to your firearm.
Other Features
A few other features of the safe include a protective foam cushion that prevents any scratches or damages to your firearm from steel casing.
A warning beep is also installed if 24 wrong entries are made. You can turn it on or off using mute button located on the unit.
Finally, it comes with a backup override key in case of battery failure.
GunVault SV500 – SpeedVault Handgun Safe
The SV500 offers storage for a single handgun and can be securely mounted under a desk, next to your bed, inside a cabinet or anywhere else where you can quickly reach. It barely has a bit of extra space for a magazine and ammo. Still, you can rely on it for your weapon's safety.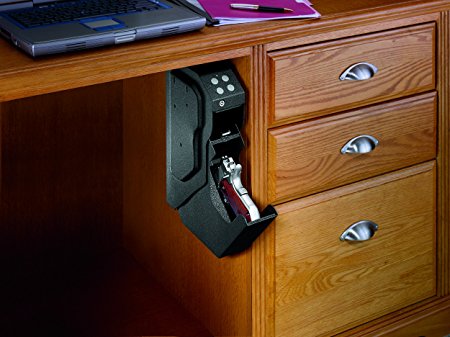 Installation
Installing SpeedVault is quick and easy. It comes with mounting hardware and takes only 10-minutes to install. A separate mounting bracket comes with your purchase that makes it easier to install the safe anywhere you want.
The safe also requires a 9V battery, which lasts for a year. You can use user Energizer Advanced Lithium Battery With 10 Year Back Up. While it may not last for that much time, still it is better than an alkaline battery.
Access
You can access this safe with a combination lock and with biometric lock. This biometric technology can store 120 fingerprints.
IMPORTANT: The Combination Lock model is separate from Biometric one. You have to pay extra to get the biometric model.
We recommend the traditional push button lock since it is less expensive and a quick way to access your weapon. However, the safe only supports 256 unique combinations which is a drawback. But it is 100% safe and secure.
Tamper Mode
One of its best features is the tamper mode. It tells you if the last combination entered was correct. To use the tamper mode, hold down the 2 and 3 key together for five seconds. An LED will display with a red or green color. If it displays a green color, a correct combination was entered last time, and if red is displayed, somebody tried to gain unauthorized access, but the safe prevented it.
Mute Mode
When you enter the secret code, it beeps on every key press. If you want to keep things quiet and calm, press the mute button inside the safe. To enable the beep, push the mute button again.
Other Features
The SpeedVault features a padded foam that protects your weapon from damages and scratches. It has enough room for full-sized revolvers or semi-autos and can also fix an extra magazine inside.
To prevent corrosion in its interior, it comes with Flambeau Zerust Plastab. Finally, a top-mounted LED makes it easier to locate the firearm in the dark.
Stealth Handgun Hanger Safe
Stealth Handgun Hanger is one of the best-selling small gun safes on the market. It has a thick and sturdy feel with a lot of space. You can easily store four guns, a magazine, and ammo. It uses a keypad combination for entry and has four bolt down holes at the bottom.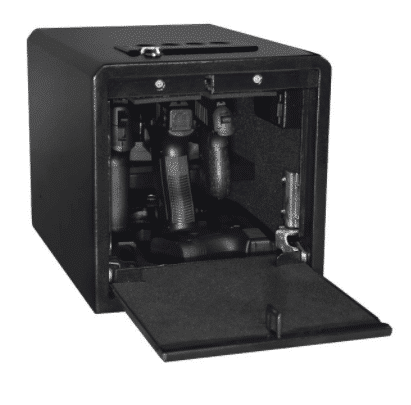 Keypad Combination
Using its digital keypad combination, you can secure your firearm. An override key is also provided as a backup if batteries go dead. It is easy to program the digital keypad and even easier to unlock the safe.
Noise Factor
No mechanics of the safe make any excessive noise. However, it gives a loud beeping noise whenever you unlock it, and there is no button to mute. This could be a potential drawback.
Design
The interior dimensions of the safe are 8" H x 7.5" W x 10" D while the exterior measures 9" H x 9" W x 12" D and weighs only 15 lbs.
Solid 12-gauge steel construction ensures that no intruder can break or pry open the safe. Its 6-digit combination keypad is easy to program and use. Depending on your finger speed, it will hardly take three seconds to unlock it.
GunVault 1000S Mini Vault Standard Gun Safe
The GV 1000S mini vault is one of the best small gun safe for handgun owners, and it has been on the market for more than ten years. It is an attractive gun safe with a reasonable price and is perfect to store two mini handguns.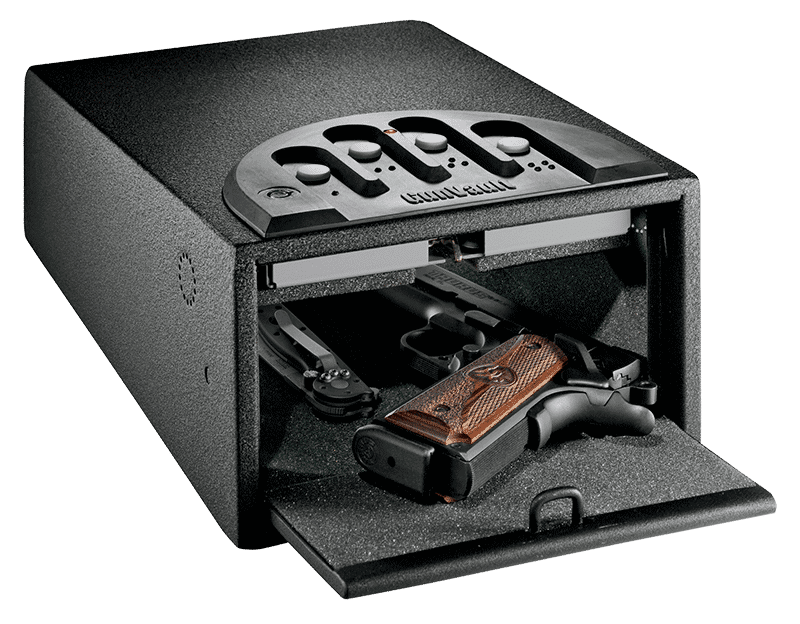 Learn Button Technology
A few individuals have trouble programming a gun safe, especially if it uses biometric or digital lock technology.
But not with GV 1000S!
It has a Learn Button technology that simplifies the tasks. It takes you through a step-by-step procedure to setup the lock and program one from 12 million possible combinations. This also ensures maximum security of your firearm.
Heavy Duty Construction
Don't worry about thieves' pry opening your safe. It is constructed of heavy duty steel that makes it virtually impossible to break it. It has a high strength lock mechanism and a 16-gauge steel housing that protects it from any damage.
Low False Reject Rate
Nowadays, a lot of gun safes, especially that are cheap have a high false reject rate. This can be frustrating and may panic you as well. However, GunVault 1000S has a very low false reject rate and grants quick access to your firearm.
Interior Foam Protection
People often fail to think about the inside of their gun safes. While the thick layer of the sheet on the outside helps protect it from intruders, the interior, if not properly designed may cause damage to your weapon.
For this reason, GV1000S comes with an interior foam protection that prevents any scratch or serious damage to the gun. This foam has a thick padding and ensures protection of the weapon's materials.
SnapSafe Keyed Lock Box Portable Steel Handgun Safe
A gun safe must ensure secure handgun storage. It's, in fact, a crucial factor, and SnapSafe ensures it. It is a portable safe with enough space to secure your handgun and a few valuable items. Its smart locking system keeps the burglars away, and thick steel construction prevents pry-opening attempts.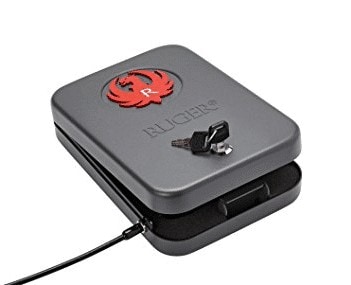 Storage
It's a roomy safe and is built to store two mini-handguns. Its interior measures 9.5" by 6.5" with sides reinforced with steel and makes the safe anti-pry.
Those who plan to keep two guns may not be left with any space for magazine or ammo. If you have a single gun, you can even store cash or important documents.
Durable Construction
With 18-gauge heavy steel construction, no one would dare to break it. It has the strength, weight, and durability. It nicely fits your firearm inside and protects them from intruders. Its construction, feels solid and sturdy.
Recognized For Safety
YUP!
A gun safe is useless if it cannot secure your firearm. This safe meets TSA airline firearm guidelines and is approved as firearms safety device by California Department of Justice. It has a heavy duty steel construction and keeps the intruders away and your surroundings safe.
Scratch Protection
As mentioned earlier, this safe has a thick foam padding inside and on the inner walls. This ensures that your valuables are safe from scratches or damage. Also, proper compartments have been engraved into the foam that keeps your valuables in place. You won't have to worry about bumps while driving.
Mountable
Your Snap Safe comes with a 1500 lb. rated security cable for more protection. It's a patent pending cable that allows you to mount it on the bedside or to a wooden table. Holes required for mounting are pre-drill in the body of the safe.
Ivation Quick Access Pop-Open Gun Safe
Ivation pop-open safe is a great solution for small weapons like pistols and revolvers. It has ample of space and comes with pre-drilled holes for quick and easy securing to wall or floor. Best of all, each button on its keypad sits in its groove. This ensures quick access to your firearm.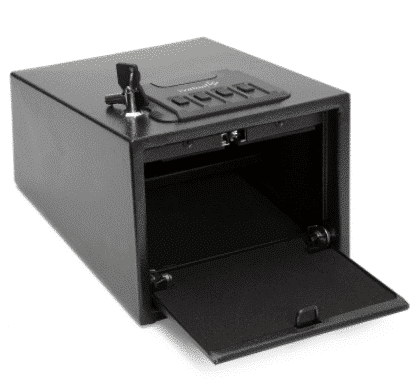 Solid Steel Construction
With a 16-gauge steel construction, this safe is reliable and has the strength to prevent those pry-opening attempts. In fact, it is virtually impossible to pry open it. This safe protects your weapon from reaching wrong hands. In its interior is a soft protective foam liner and a removable steel shelf that lets you change the layout of the safe.
User-Friendly Locking System
The safe has four rubberized buttons with 256 user-selectable combinations. There is an onboard computer that blocks access after repeated invalid entries while audio feedback confirms each correct entry.
Four AA batteries power this system. Unfortunately, these batteries are not strong, and you have to change them after a month or two.
As a backup, override keys are included that are helpful in the event you forget secret combination or batteries go dead.
Doesn't Fumble
Since each button on the keypad has its dedicated groove, your fingers can quickly find their position in dark or emergency. Whenever unlocked, the spring loaded door flips open instantly giving you quick access to your firearm. During an emergency every second is critical.
Easy Mounting
The safe has pre-drilled holes in its body that ensures easy mounting. You get all the mounting hardware with your purchase and installation guide. It's not that difficult. Grab the nuts and bolts and mount it to the bedside, inside a cabinet or on the side of a table.
Honeywell Small Steel Security Safe
Honeywall is a small yet a roomy gun safe for handgun owners. It is easily portable and features an advanced locking system with 10-digits and two special characters. The safe is FDA approved and made from thick steel for ultra-durability.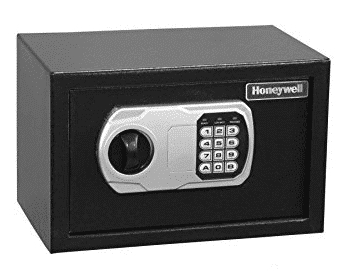 Programmable Digital Lock
At a very affordable price, this safe offers a programmable digital lock that protects your valuable possessions from theft and tampering. This lock is operated with AA batteries (not included) and is user-friendly to setup.
Best thing is it takes less than three seconds to unlock, which gives you quick access to your firearm. This lock lets you choose a 3-8 digit pass code.
California DOJ Approved
Honeywall safe is California DOJ Approved and is suitable for firearm storage. It keeps your firearms secure from children and intruders and ensures that no unauthorized users can access it anyway.
Solid Steel Construction & Smart Design
Its solid steel construction makes it pry-resistant. It is virtually impossible for any thief to break it. It has concealed hinges and recessed door. This keeps your valuables protected from unwanted users and prevents prying of the door.
Moreover, two live steel locking bolts on the safe further add protection to your possessions. While the exterior has a nice shiny surface, its interior features a carpeted floor mat that protects your gun and other items from scratches or damage.
Mounting
At the bottom of the safe, you can see pre-drilled mounting holes. You are also provided with all the mounting hardware and instructions. Simply use the nuts and bolts to mount your safe to wall, floor or inside a cabinet.
Homak Electronic Access Pistol Box
While it has a little room inside, you can still store one or two mini-handguns. It doesn't have a slant in its interior which reduces available inside storage space. It will barely fit a Glock 19 or J frame revolver. Mini-handguns fit easily.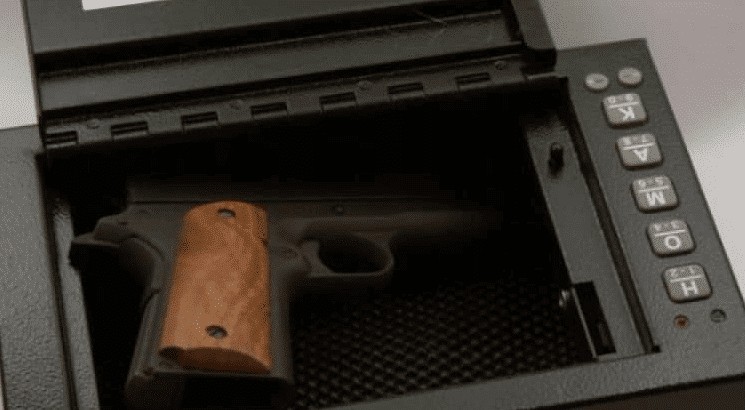 Design
This safe is a perfect option for small areas of storage. It is light weight and measures 10" W x 3.5" H x 7.5" D. Overall, the safe is compact to carry around.With a small interior, don't expect it to store a large gun. However, it effectively secures your firearm and prevents thieves from prying it open.
Along with a handgun, it has a bit of space left for a magazine or ammo or jewelry. Choose wisely what you want to store.
Its interior has a rubber mat that protects your possessions from scratches. The body of the safe has pre-drilled mounting holes and comes with hardware required to install it.
Positioning The Gun
Whether it be a small or large gun safe, you must know how to position your firearm inside the safe for quick retrieval. The best placing would be organizing two boxes of ammunition on the bottom and then the handgun on top with its handle pointing towards the door. This will give quick retrieval.
Other Features
Its electronic locking system is worth a mention here. The safe has all the basic characteristic of a smart gun safe. You are assured 100% safety of your weapon. All the parts of this safe are made from premium materials that increase its lifespan and makes it durable.
Its advanced locking system prevents any unauthorized access while the thick steel layer of the safe makes it virtually impossible for thieves to pry open it. Two override backup keys are included that allows to unlock it manually.
Moreover, it has a lockout mode that automatically activates if wrong entries are repeatedly made.
Ivation Portable Biometric Car Gun Safe
With an advanced biometric locking system, the Ivation Portable Gun Safe is one of the best safety equipment to store your handgun. It unlocks within a couple of seconds and can store as many as 32 unique fingerprints. It is easily portable and lightweight.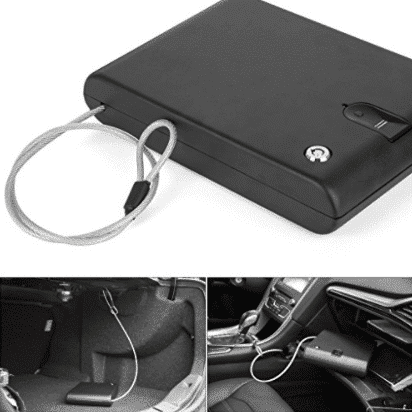 Safety At the tip of your finger
This safe is perfect to store your firearms, cash and other valuable possessions. It has a solid steel construction and comes with an advanced biometric fingerprint sensor. It runs on 4 AA batteries (included) and gives you access within seconds.
Because of a very low false-rejection rate, you always get access in the first attempt.
Being capable of storing as many as 32 unique fingerprints, you can scan the desired finger from different angles to ensure fast access.
A red LED alert when the batteries are low.
32 Programmable Fingerprints
Whether you are living alone, with your spouse or girlfriend and want them to have access when you are not around, this safe makes it possible for you. It scans each fingerprint smartly and properly, taking scans at different angles and unlocks quickly.
Backup
Don't worry if the batteries go dead and the biometric system stops working. You can use manual override keys to manually unlock this safe and access your gun and other valuables. While it's rare that the fingerprint sensor gives an error, but for any reason, if it doesn't work, use override keys.
Easily Fits in Glove Compartment
Though this safe has a bulky design, solid steel body and biometric system, it still fits easily into a glove compartment. You are also provided with a 34" (rated at 1500 pounds) steel security cable for tethering it to car seats, bed side or cabinet.
Overall, this safe can hold a single regular sized firearm with a few other valuables.
VAULTEK VT20i Biometric Handgun Safe
Biometric + Bluetooth technology! What else you need at such an affordable price? YUP, Vaultek is a biometric and Bluetooth operated small gun safe with a rock solid design and smart ergonomics that gives ample of room for storage.
Control With Your Smartphone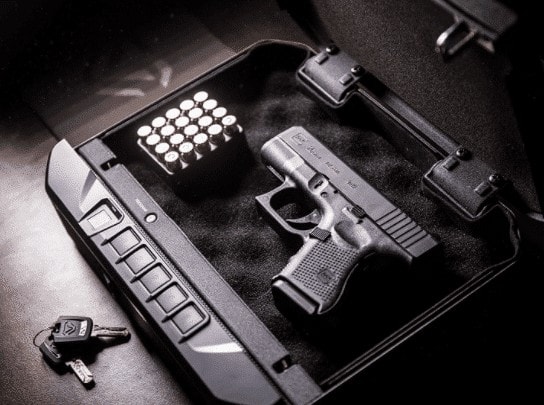 You can connect Vaultek safe with your smartphone easily. It is done using Bluetooth technology. There is an instruction manual inside the box that takes you through the setup process. Once connected, you can check the remaining battery life, unlock the safe, turn off/on the sound feedback, manage stored fingerprint and view history log when the safe was opened. All done directly through a Bluetooth app installed on your smartphone.
Design
Vaultek safe has a compact and flat design. It is made of thick steel, which makes it virtually impossible for any thief to pry open it. Inside the safe is a thick foam padding which is properly engraved for organizing your firearm in a better way.
It has a bulging Vaultek logo in red color on a rugged black surface and biometric system on the edge of the top opening door.
Storage
This compact safe is perfect for storing a standard sized gun. There is a little more space left for ammo, magazine, and cash. Its interior dimensions are 11.0" x 5.75" x 2.0" and is advertised to hold a J&K size revolver or a full-size semi-automatic hand gun.
Other Features
This safe comes with a biometric fingerprint scanner, digital keypad combination and overrides key as a manual backup. Rechargeable lithium-ion batteries are included that last up to 4 months and a micro-USB charging kit which charges in less than 2.5 hours.
Using the Bluetooth technology, you can view battery status, the brightness of the interior light and even unlock the safe.
Its steel body has a 16-gauge thickness, and the safe can be moved around fairly easily. Overall, this safe is perfect for handgun owners and is pry-resistant.
Adir 0.5 Cubic Feet Security Safe With Digital Lock
Adir safe comes with a programmable digital lock and features a compact design, which makes it easier to slide it into the smallest places. It has concealed hinges with a soft and slightly padded carpet cover along with four pre-drilled mounting holes.
Durable & Sturdy
With a strong steel construction, this safe is built to last long and prevent thieves from prying it open. It offers the best physical protection from forced entry. The safe has a nice matte black finish with a shiny surface. For interior protection, a carpeted floor is added, which protects your valuable possessions from scratches and damage.
Programmable Digital Lock
The Adir safe comes with a programmable digital lock. You can use it to create your secret combination, which is then stored in the safe's memory. This digital keypad is operated via two AA batteries (included) and also includes two override keys as a manual way to unlock the safe. They can be used if you forget the passcode or batteries go dead.
Top Notch Security
While the safe has a solid steel construction and an advanced digital lock, it has other security features that ensure maximum safety. The door has two live bolts, pry-resistant concealed hinges with a pry-resistant steel door. Its design also prevents intruders from forced entry.
User-Friendly
Finally, this safe is easy to install and use. It has four pre-drilled holes that make mounting to the wall simple. You can also fix it to the floor or a cabinet.
GunVault GV2000S Multi Vault Standard Safe
The GV2000S is a small safe but has enough capacity to store two handguns and other valuable possessions. It comes with some smart features that ensure your firearm is fully protected from intruders.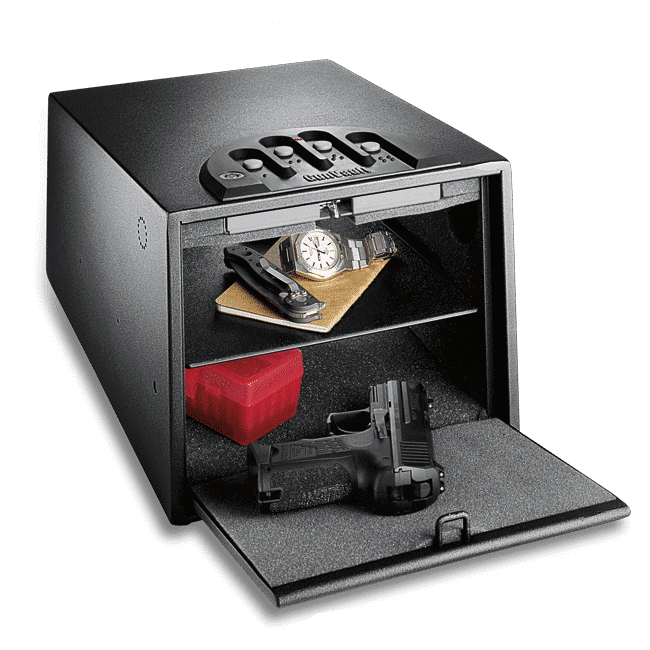 Lock Type
GV2000S uses a unique combination. It has four buttons on the top with 12 million possible combinations. You can easily program it with your desired secret code, which will be saved in the safe's memory.
Best about this lock system is a separate groove for every button. Whether it's an emergency or complete dark, you can easily type in the code and gain access to your firearm.
Two override keys as a manual backup are also added.
Storage
The safe has a very compact design from outside but has a roomy interior. You can easily store two handguns along with ammo, magazine and a few other valuable possessions like cash or jewelry.
There are two compartments, separated by a thin shelf. However, the shelf cannot be removed.
Durable Construction
To make it pry-resistant and prevent any other means of forced entry, this safe is built using 16-gauge steel. It is 8.4 inches at the front, 15 inches goes back and approx. 10 inches wide.
Though it has a solid steel body, the safe weighs only 10 lbs. and is easily portable. You can carry it around.
First Alert 5200DF Portable Handgun Safe
First Alert is one of the largest and most recognizable company when it comes to safety. They have been in the industry for over 50 years.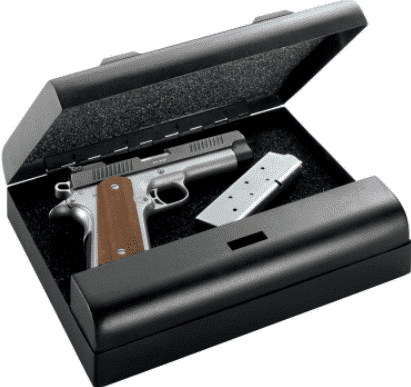 The 5200DF is one of their top-selling small gun safe. It is a reliable and dependable equipment for protecting your firearm.
Quick Access
You get access within seconds. It features a 'no see' keypad with 3 to 8 digit code. Simply program it, and the safe will store in its memory. Moreover, a spring-loaded mechanism is triggered when you unlock the safe. It pop opens the door so you can access your gun in no time.
This locking system runs on a 9-volt battery with 8 hours' backup.
Portable
Despite the 18-gauge heavy steel construction, this safe has a compact design to be carried on the go. You can easily store it under your car's seat or slide it into a glove compartment.
Durable Shell Design
As mentioned above, it has an 18-gauge heavy duty steel construction that makes it virtually impossible for intruders to pry open it. Your firearm is fully secured inside.
Cushioned Interior
While it offers protection from outside, its interior is designed with a padded foam lining that protects scratches and damage to your possessions.
Verifi Fast Access Biometric Safe
Verifi is fast access biometric safe with FBI Fingerprint sensor. It is very similar to Vaultek but has great technology. Its reliable fingerprint technology is what attracts buyers the most. The FBI approved several government departments use fingerprint sensor installed.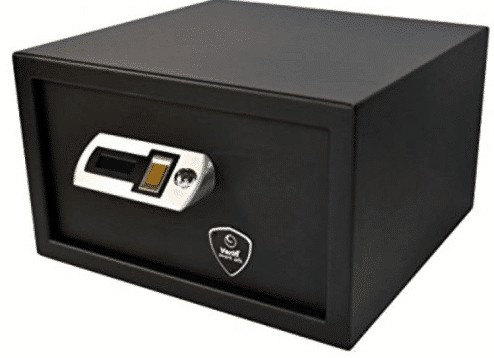 With a sophisticated 3D sensor, it maps a detailed image of your fingerprint from different angles. This ensures quick and secure authentication.
Also, it runs a self-diagnostic test whenever you use it. This alerts if there is any error in the system. Results are displayed on LCD.
You can add ten unique fingerprints per user and 40 in total. It also has AutoLock and interior LED light for visibility at night.
Finally, the solid 14-gauge steel body and 8-gauge door construction make it virtually impossible for any thief to pry it open.