These are the best Gun Safes manufactured by Liberty Safe
Liberty is the largest manufacturers of gun safes in America. They're also the number one sellers of residential safes in the US. Liberty Safes has two sister brands; Centurion and National Security. Liberty Safes was founded in 1988 and is headquartered in Payson, Utah.
Liberty employs around 500 people. This brand is arguably the most aggressive marketer in the gun safe industry. Their service is top notch and will cater to your queries if you're facing any problems. Since Liberty is the largest domestic gun safe manufacturer, they've invested in modern infrastructure like robots for welding which brings the cost down while maintaining constant build quality.
Reasons For Buying a Liberty Gun Safe
Protection
Liberty is the biggest producer of heavy-duty gun safes in the USA. Liberty offers unparalleled quality, reliability, and service when it comes to their gun safes. Your Liberty gun safes will protect your valuables against fire and authorized access.
Choice
Liberty offers a range of safes you can choose from. They offer more than 30 models of the finest home, security and gun safes, available in more than two dozen colors. If you're choosy about the color and graphics on your gun safe, you will surely find the right safe for yourself at Liberty.
Lifetime Warranty
Liberty offers a lifetime warranty which is unmatched in the home safe industry. If your home, office, or gun safe ever experiences an attempted break-in or a fire, Liberty will repair or replace your safe for free. You can surely have peace of mind with such an extended warranty.
Best Liberty Gun Safes
While there are numerous gun safes by Liberty present on the market, we want to draw your attention to four gun safes in this article. The first is a handgun safe, the second is an entry level 'big' gun safe with the capacity to hold 18 guns, the third is a larger gun safe which can hold up to 36 guns and the fourth is a giant gun safe which can store up to 48 guns.
Liberty HDX-250 Smart Vault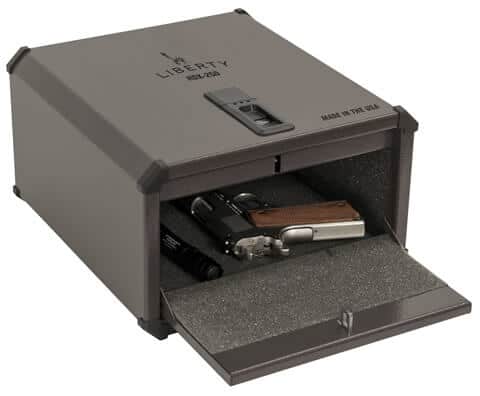 Liberty HDX-250 is a handgun safe which allows for quick and secure access to your valuables by using a fifth generation biometric finger swipe technology. The biometric technology on this handgun safe is the most reliable on the market, with supreme accuracy and the lowest fail-rate.
The HDX-250 is setting records with its speed. Entry using the Biometric swipe can be obtained in 1 SECOND when utilizing the AC adapter (included) and under 2 seconds (1.63 to be exact) with the 9v battery (included). This speed will ensure you reach to your firearms when you need them the most.
The Smart Vault can save up to 15 different fingerprints. One of the coolest features of the HDX-250 is, it has an auto-opening door, just swipe your finger and the door opens automatically. You just need to lift a finger, literally. Liberty has provided mounting holes in the bottom of the safe for direct mounting, an optional accessory mounting bracket is also available.
Liberty takes pry bar attacks seriously and uses 14-gauge steel door which has built-in anti-pry tabs and a reinforced latch system specially designed to resist pry attacks and other attempts to gain entry. Liberty provides a five-year replacement warranty on any defects.
Liberty Centurion 18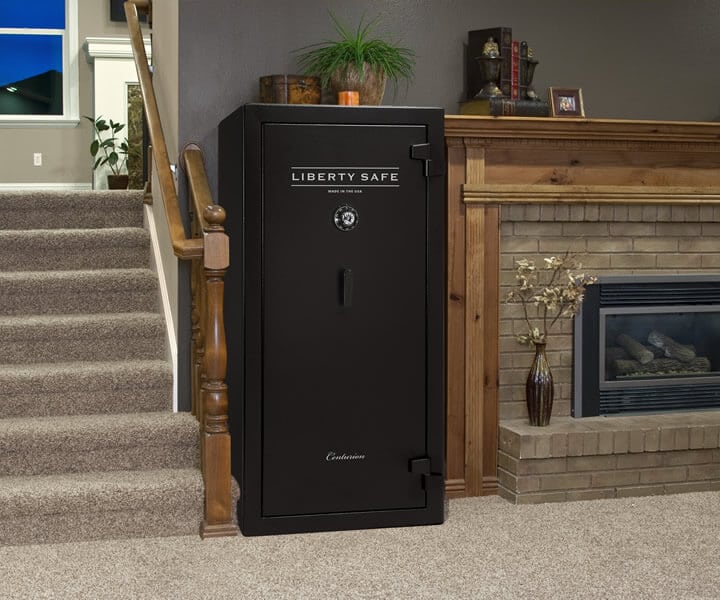 Liberty Centurion provides 30 minutes of fire protection @ 1200°F which is more than its entry-level competitors which have a single layer of fireboard for fire protection. The Centurion safes come in three variants which can hold 12, 18 and 24 gun safes each.
We have chosen the 18 gun model for this article because it is only a $100 more than the 12 gun variant and provides a better bang for the buck when it comes to the space available inside the safe. The 12, 18 and 24 gun safes have an interior space of 5.3, 9.7 and 11.5 cubic feet respectively.
The 18 gun safe has almost double the interior space as compared to the 12 gun variant. On the other hand, there isn't much difference between the 18 and 24 gun variants. The Liberty Centurion 18 is a California-approved firearm security device which has 10 4-inch wide military-style locking bars, internal hard plate, and relocker to add a level of security to the safe.
The Centurion 18 comes standard with an S&G's UL Listed mechanical lock. All Centurion safes include two layers of 14 gauge steel in the ceiling and door, achieving 62,000 BTU heat resistance. They also come with a palusol heat-expanding seal which expands up to 7 times its size in a fire at 212°F.
Liberty Big Boy 36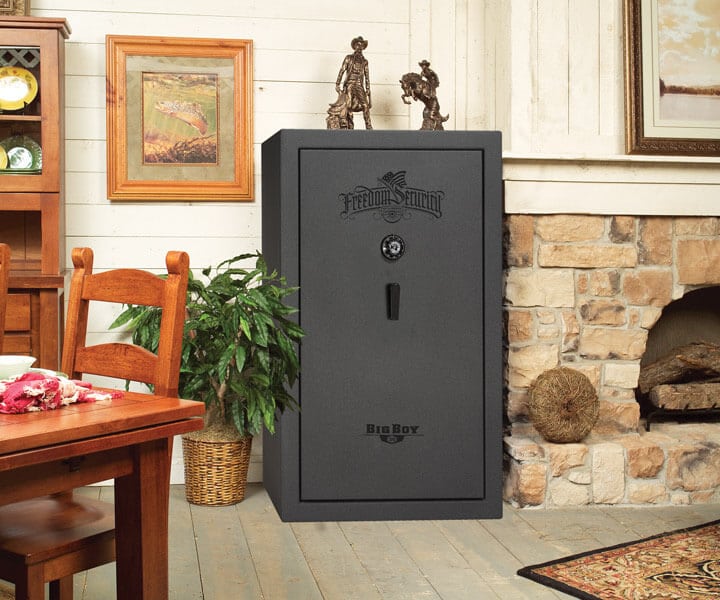 Liberty Big Boy 36 has a thicker 12 gauge steel body with 1″ composite steel fire and security door increases pry & fire protection. Big Boy 36 has a 30-minute fire rating. This safe can survive a fire for 30 minutes @ 1200°F.
Liberty Big Boy 36 includes two layers of fire board in the ceiling and door, achieving 62,000 BTU heat resistance. The Bog Boy 36 has been awarded UL's Residential Security Container burglary classification.
This safe features triple case hardened steel plates which protect the lock from a drill attack. The Big Boy 36 has also been equipped with a defensive barrier of 1″ diameter locking bolts. This Liberty safes comes with a palusol heat-expanding seal on all models which expands up to seven times it size in a fire at 212°F. This can prevent the fire and smoke from entering the gun safe.
Liberty FATBOY Jr.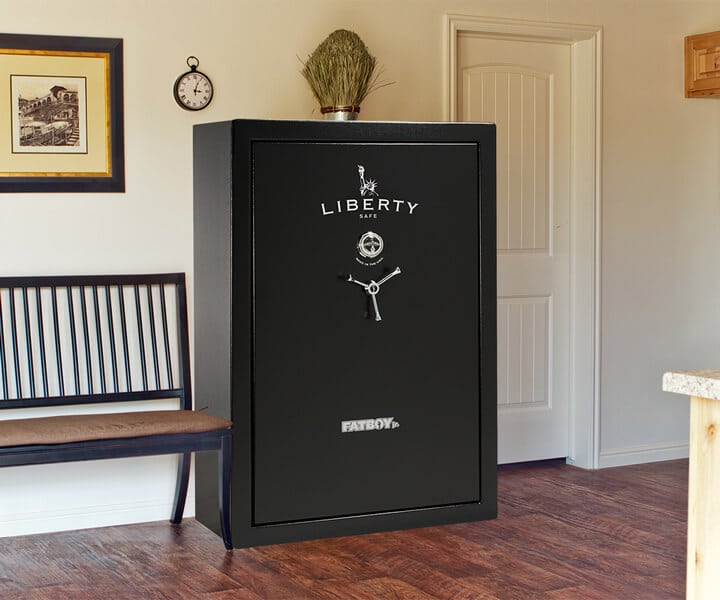 Liberty FATBOY Jr. is a wide-body safe which can hold up to 48 guns. This gun safe has a 60-minute fire rating. The FATBOY Jr. can hold up to 60 minutes in a fire @1200°F or 83,000 BTUs. This is one of the best fire protection you'll find on a gun safe in this segment.
The FATBOY Jr. has been awarded UL Residential Security Container burglary classification. FATBOY Jr. has a thicker 11 gauge steel which makes it tough and heavy. This gun safe features triple case hardened steel plates which protect the lock from drill attacks.
FATBOY Jr. has a UL Listed S&G™ Group II electrical lock which can provide a quick access to your valuables or your firearms in times of need. Just like the Centurion 18, the FATBOY Jr. comes with a palusol heat-expanding seal which expands up to seven times its size in a fire at 212°F.
This gun safe features defensive barrier of twelve total bolts on all four sides of the door. Because this is a Liberty safe, it comes with a lifetime warranty where the company will replace your gun safe in cases of fire or an attempted break-in.
Conclusion
If you're looking to buy a gun safe, Liberty offers some of the best gun safes. To make the deal more attractive, Liberty gun safes offer the best in class customer service and warranty. Therefore, if you own a few guns or a significantly higher number of guns, Liberty has a safe for you.
Liberty Safe also give you the option to customize your gun safes. For the bigger gun safes you can choose from different colors, locks, and accessories to add to your gun safe. These accessories can add utility to the gun safe and you might end up using the safe more often.
All the gun safes mentioned in the article have the highest number of utility and security features in their respective segments. It is always advised to get a bigger gun safe than you need as you can use the extra space for the guns you might buy in the future.
If you have any questions or queries about buying a gun safe, please feel free to drop them in the comments below and we will be happy to help you.