Are you looking for an in-wall gun safe?
What is the Best In-Wall Gun Safe?
Having an in-wall gun safe installed is nothing to be taken lightly. First of all, you're going to have to get an "ok" from the missus. Secondly, you're going to have to knock out a big part of your wall (depending on the size of the safe, that is).
Once you knock that first bit out it'll be too late to turn back and say "No, I don't think I want to do this anymore." Although, you could always have that hole repaired but that would still mean no in-wall safe, and even worse, no extra points on your man card.
What I'm trying to say is that having an in-wall safe installed is no small thing — either you do it or you don't. And when you do go through with it, you have to be certain that you're paying for the right one. Having a budget safe installed could cost you dearly in the long run, so we'll be having a look at a few of the top options that you could go for.
As the name implies, an in-wall gun safe is installed into the wall (I think that's been established), but for what purpose would you need a gun safe installed into your wall? Well, there could be a few reasons; to conceal your safe in case of a break-in, to save space that a safe would otherwise take up or simply because you've seen one too many spy movies.
Whatever your reason may be, we're sure that it's completely valid.
What to Consider When Getting an In-Wall Safe
If you're someone who's either considering getting an in-wall gun safe or just simply someone who is entertaining the idea, you need to know what size safe to get and which firearms and other valuables you'll be storing away. It would be a little excessive if you got a safe that's big enough to store shotguns and long rifles and only use it to keep a handgun and your great grandpa's pocket watch.
Apart from getting a safe that suits your needs, storage wise, it's also useful to know why you're getting the safe and what for. Obviously, you're wanting to keep your firearms safely locked up, but what if there's an emergency and you need to quickly get a hold of your gun?
For such a reason, you would need to get a gun safe that unlocks quickly, allowing you the quickest possible access to your firearm without compromising your own safety and that of your loved ones.
Installing a Wall Safe
As mentioned above, installing an in-wall gun safe is not a decision that you should just make on a whim, and if you do make it on a whim, you should definitely put extra thought into where you'll be installing the safe.
For instance, it would be foolish to install a wall safe in the living or TV room where it would be exposed to all kinds of eyes. A gun safe is much like your wife's panties, no one other than you and your wife should see it.
The most popular location where a safe would be stored is in the main bedroom, and there's nothing wrong with doing that. However, burglars are prone to head over to the main sleeping chamber of the house as soon as they gain access to your home. So, a good bet would be to install the safe in your basement, as that's a less-than-likely location that burglars would go looking for a safe.
If you know where you would want to install your in-wall safe at, you could either hire professional help or you could simply do it yourself. However, if you have minimal experience in working with your hands, then I'd suggest that you opt for getting a professional to help you with the installation of your safe.
Burglary in the U.S.
Now, some of you might think "why would you keep you gun locked away when there's a possibility of a break-in." First of all, statistics show that the majority of break-ins occur when you're out at work. Secondly, it is always good practice to use gun safety, especially if you have children running around the house.
However, you should also take into consideration in which State or city that you're living in. Not all locations are equal, we all know that, and so, here are some statistics on various crimes in the country:
Cities with the Highest Burglary Rates
Fayetteville, NC – 1,827
Flint, MI – 1,448
Toledo, OH – 1,389
Little Rock, AR – 1,379
Memphis, TN – 1,303
Montgomery, AL – 1,389
Bakersfield, CA – 1,271
Spokane, WA – 1,239
Winston-Salem, NC – 1,220
Columbus, GA – 1,211
Cities with the Highest Property Crime Rates (includes Burglary, Larceny-theft, Motor Vehicle Theft)
Spokane, WA – 5,538
Fayetteville, NC – 5,359
Little Rock, AR – 5,150
Columbus, GA – 4,778
San Antonio, TX – 4,688
Springfield, MO – 4,623
Lubbock, TX – 4,522
Montgomery, AL – 4,448
Fresno, CA – 4,423
Miami, FL – 4,390
With that in mind, it would be a good idea to consider using a concealed in-wall gun safe in you perhaps reside in any of the above-mentioned cities. It never hurts to practice a little safety and security.
Now then, let's have a look at the top in-wall gun safes that you could get on the market!
Top 4 In-Wall Gun Safes
STACK-ON IWX-55 FULL-LENGTH IN-WALL GUN SAFE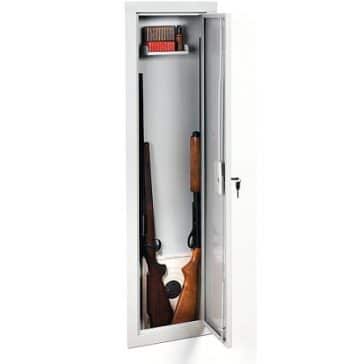 If you own a shotgun or a long rifle—or both—then the Stack-On IWC-55 Full-Length in-wall gun safe is the ideal package. This safe has enough storage space to store two long guns, up to three handguns, and then there's additional space to store extra ammunition.
This safe comes with a small shelf located at the top of the safe where you could either store extra ammunition or some dear valuables that don't want anyone getting their hands on.
At the bottom of the safe, it's lined with foam to protect your firearms from being scratched or damaged when being removed from the safe or being placed back in it. Other than that, it also holds your long guns firmly in place, making sure that it doesn't slip around.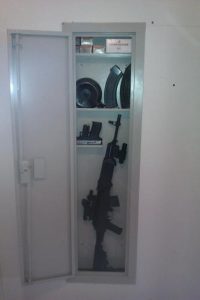 Earlier I mentioned that you shouldn't go for a budget safe, and I still stand by my words, however, despite the highly affordable prices of the IWC-55, it's quality and security are world-class.
It has a 3-point locking system that'll make it a hefty task for anyone to break into without the correct set of tools. On top of that, once installed, this safe sticks out about 3/8th's of an inch, meaning that it could easily be concealed behind a very long piece of art or mirror.
Not to mention, this safe is quite long, so that eliminates the risk of small children trying to gain access to the safe.
In the event that anything does happen to this safe, it has a 3-year warranty and is approved by California's DOJ, for all those living in California.
Unlike all the other safes mentioned in this article, the IWC-55 uses a simple key lock. This would mean that you have to take extra care of that key and keep it somewhere safe and out of reach of small children.
BARSKA AX12408 LARGE BIOMETRIC WALL SAFE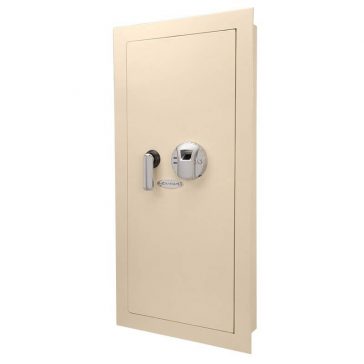 We know that the price tag which accompanies the Barska AX12408 in-wall gun safe isn't the most outrageous nor is it the cheapest. In fact, it sits comfortably smack dab in between the two spectrums.
With its decent price, this gun safe offers features that other safes do not, despite being in the same pore range, more or less.
This safe is equipped with a fingerprint scanner that is capable of storing up to 120 different fingerprints. So that would allow you to give everyone in the house access (only those who really need access) to the safe and all its contents.
For operation and function of the fingerprint scanner, you'll need 6 AA batteries, which are included when purchasing this safe. It also comes with two interior and exterior keys. The exterior keys serve the purpose of gaining access to the safe in the event that the fingerprint is not available.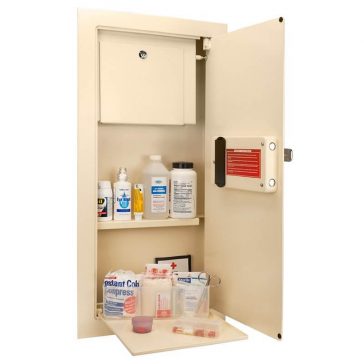 However, the inside of this safe is rather small. So if you want to store long guns or large valuables, then this safe will be of no use to you. The inside compartment is only large enough to store handguns and small valuables.
The inside of the safe is equipped with a small LED light which will make it easy to retrieve items in the dark, for example, if there's a power outage and you decide to get to your safe before you can get hold of a torch. Although the interior light is not an essential or crucial thing to have, it sure does provide a small sense of luxury.
A downside of this safe is that the insides aren't lined with any form of padding, making your firearm susceptible to being scratched against its metal walls.
At the very bottom of the safe, there is a fold-out tray. This can prove to be useful if you're organizing or rearranging the contents of your safe. Or it can simply be used for when you're attending to your firearms.
This safe also comes with a 1-year limited warranty.
V-LINE CLOSET VAULT II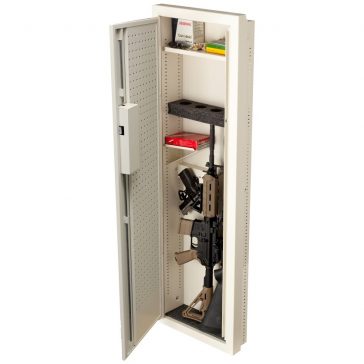 This safe has a more serious feel to it than the aforementioned in-wall safes. The safe's door is made of 14 gauge steel, making it quite sturdy and rather tough.
It makes use of a 3-point locking system that provides all the more security, especially against prying attacks.
In terms of concealment, this safe doesn't rank high. The door and frame protrude about 2 inches from the wall. This makes it challenging to hide the fact that you have a safe installed into the side of your wall. Although, this isn't all bad. With the little bit of protrusion going on, you'll have extra storage space on the inside.
On the inside, the safe is lined with foam at the base and it also has an adjustable foam barrel guard for all your long guns. Along with that, you also customization options such as having a full shelf, half shelf, and pistol hangers.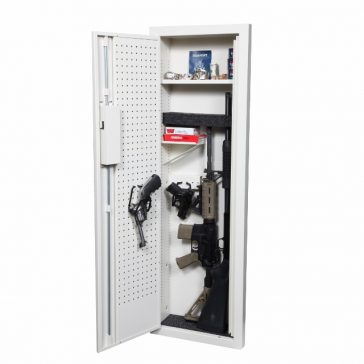 The Closet Vault II features a user-friendly simplex lock that has the capability of utilizing one of 1,081 unique combinations.
Although this safe is more costly than the rest of the safes on our list, it's with good reason. It's made with thicker steel than the other safes and has more options for customization for the best user experience.
And to finish things off, the Closet Vault II is made right here in the USA and is approved by the DOJ.
BARSKA AX12038 BIOMETRIC WALL SAFE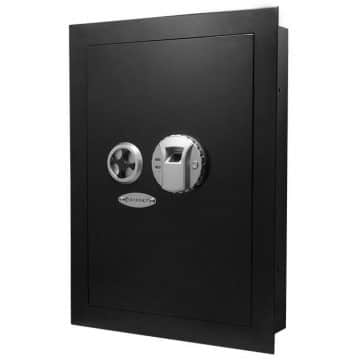 This Barska in-wall gun safe could be regarded as the little brother of the Barska AX12408 large safe. It also comes fully loaded with a biometric fingerprint scanner for that added security measure. And just like its "bigger brother," this one can also store up to 120 different fingerprints.
This safe makes use of two motorized steel deadbolt locks, ensuring that it stays closed even when there's an attempt of a forced entry. The lock on this safe requires 4 AA batteries to function and operate.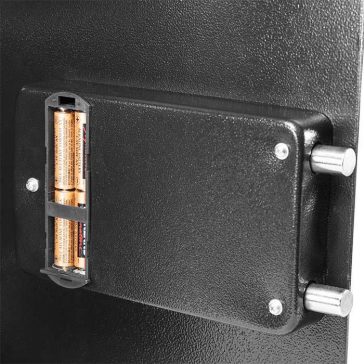 The safe comes ready with pre-drilled holes. This allows you to safely anchor the safe in place, making it near impossible to be removed. The inside of the safe is also fitted with racks which make it easier to keep everything organized.
Seeing how we've labeled this safe a "little brother," it's only natural that your response to it in size is that it's small. This is true with inner dimensions of 13.75in x 3.5in x 18.75in. This doesn't leave too much storage space, but that depends on what you prioritize on.
If you're planning on using this safe for all sorts, then you're going to have a tight squeeze. However, if you use it mainly for either one, then this safe will do just fine.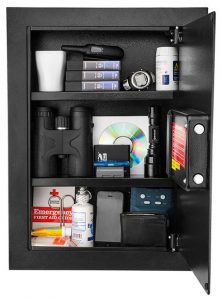 Unfortunately, this safe is not fireproof and the shelves for the inner compartment are weak. This makes it a bit of a gamble when storing objects that have some weight to them.
Final Thoughts
There you have it, the review of our top 4 picks for in-wall gun safes. As you've likely noticed, not all safes are made equal. Some may be better in this regard while other may be better in that regard.
It's all about what you wish to keep safe and keep out of the hands of thieves and curious children.
Always keep the bigger picture in mind. Are you buying this safe for handguns, valuables, long guns or all of the above?
It would be foolish to buy a large in-wall safe if you're not going to utilize its storage space. The same would be true if you bought a smaller safe but don't have any handguns to keep safely tucked away.
As for us, our pick would have to be the V-LINE CLOSET VAULT II. It has lots of storage space for both handguns and long guns and also has options of additional racks.