If you choose to get a concealed handgun license, the most important factor to consider when selecting a firearm and an appropriate holster to safely and securely carry that firearm with you is: will you consistently carry this firearm?
Often, we've heard people recommend large caliber guns as the only effective method to protect yourself in an unpleasant situation; however, this is the very reason people do not consistently carry a firearm, it becomes impractical for everyday carry. We believe that a concealed firearm should revolve around your lifestyle, not the other way around.
For many women a concealed carry handbag is a practical and versatile way to always give yourself an option to carry no matter what type of clothing you choose to wear.
Almost all concealed carry purses share the common design element of an easily accessed, hidden gun compartment that is reinforced so that your firearm is securely isolated and concealed while also preventing your firearm from being exposed when you open up the main compartment of the bag. And now, more options are becoming available to choose from in varying sizes, shapes, materials, and lifestyles: from high-quality, stylish handbags, to briefcases, to runners' belts. Even if you don't carry in this method every day, we think everyone should at least have one to use in a pinch when carrying on-body is not an option.
What to look for in a Concealed Carry Purse
Choosing the right concealed carry purse for your lifestyle isn't easy. There are plenty of styles available, from small cross-body bags to large totes. How do you know which one is best for you? Start by asking yourself a few questions. How often do you plan to carry your concealed carry purse? If you're like most people, you'll want to select a style that you can wear daily and be unobtrusive. When you carry, will you have quick access to the gun? If you're carrying in a bag, you'll need to make sure you have easy access to it. If you're carrying in a tote, you may prefer a bag that has a top zipper.
Concealed carry purses for women don't have to be just a fashion accessory. They can also be functional. The trick is to find a purse that is comfortable and can carry all of your everyday carry items. It also needs to be stylish enough for everyday use, without looking like you are carrying a weapon. There are a lot of great concealed carry purses for women out there that are available for purchase. If you are in the market for a new concealed carry purse, check out this collection: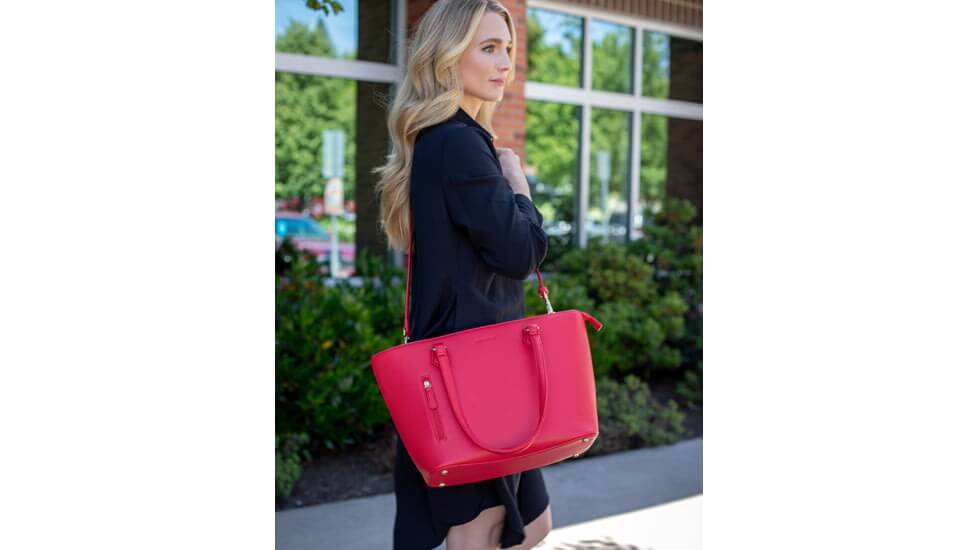 This Contemporary Purse is elegant and sophisticated; it just has that look. The clean, polished style is undeniably charming. Excellent quality and a fashionable design will get you compliments everywhere you go. Comfortable, stylish, and perfect for all occasions, the removable shoulder strap allows you to wear the purse how you'd like.
13in length x 4in width x 11in height The gun compartment differs from other bags; it's a secure, concealed carry space that allows you to keep your firearm in complete safety while traveling. The hook and loop lining allows you to comfortably attach a hook and loop holster, and it makes the shoulder strap for easy carrying. Ambidextrous pockets provide quick and easy access.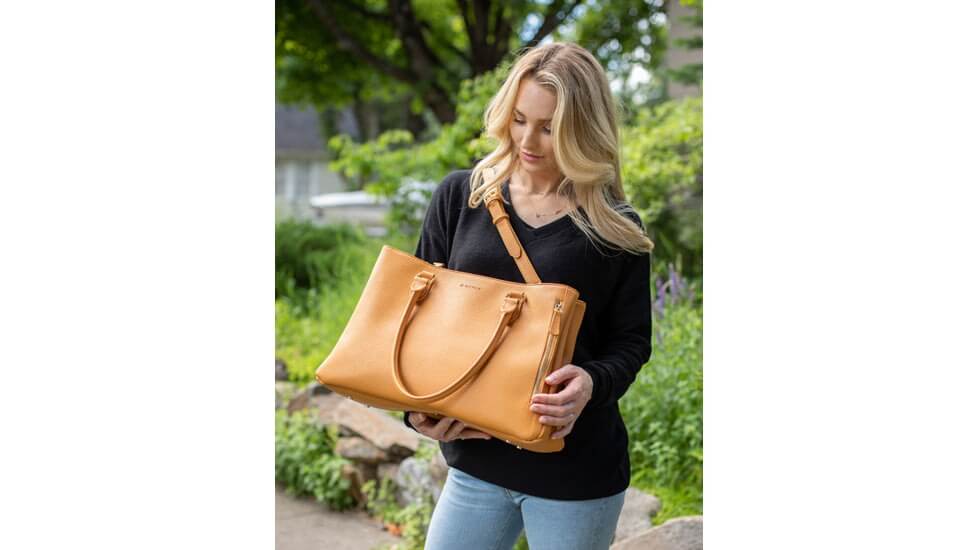 The classiest purse you can own is one that doubles as both a statement piece and a weapon of self-defense. Our Conceal Carry Purse will add Glam to your outfit and both rest easy and bring a touch of style to your day. They offer it in three colors, and the shoulder strap is removable!
Literally, this bag looks cute. It features two main interior compartments for organization, and a zipper pouch on the front. The shoulder straps look to be adjustable, while we can conceal the main carrying strap with one removable shoulder strap. Each of these additions reminds me of a very popular fashion accessory, the crossbody bag.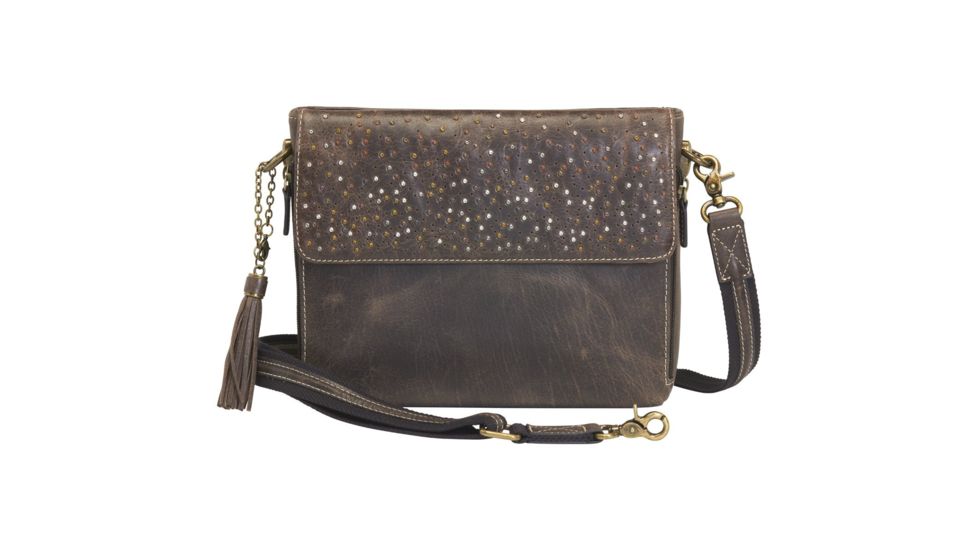 Distressed Buffalo leather handgun tote with a cross body length. What an unusual and ornate design. The leather looks very good, soft, and the straps are exceptionally well made; which will make it a wonderful addition to any wardrobe. There is also an adjustable strap that can be used in combination with additional options for movement. The steel reinforcement in the shoulder straps is a delicate touch as well.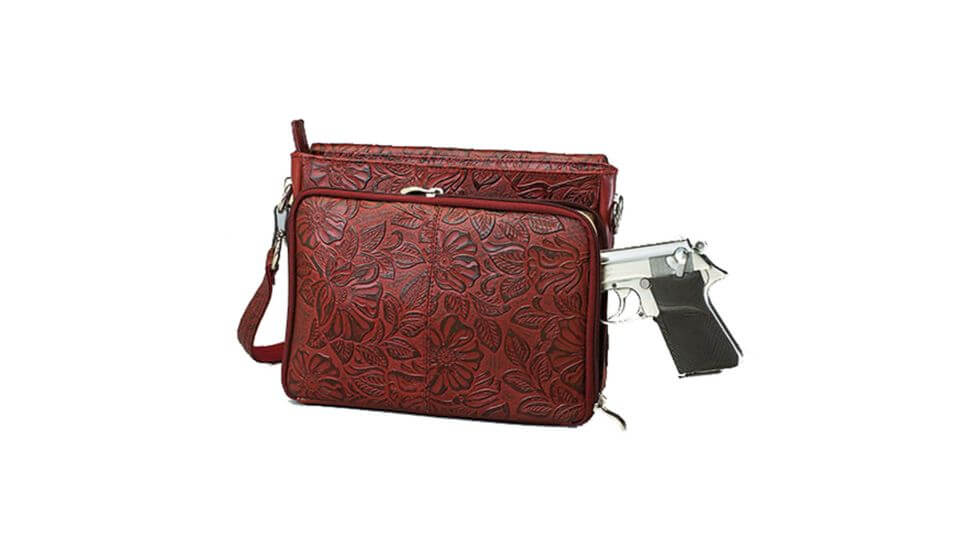 The Gun Tote'n Mamas Tooled American Cowhide Purse w/ Holster GTM-0022 made sure you're perfectly protected while it is being carried. The shoulder strap on these Carrying Bags from Gun Tote'n Mamas is removable, adjustable, easily clips on and off, and is reinforced with a metal clip to ensure the safety of its users.
This leather is hand-crafted in a unique and beautiful pattern. The natural beauty of its color palette perfectly balanced A world-class handmade work of art,. The CCW holster pockets outside in each direction for easy access and fast draw. The natural texture and perfect leather thickness provides the best feel ever felt against your skin.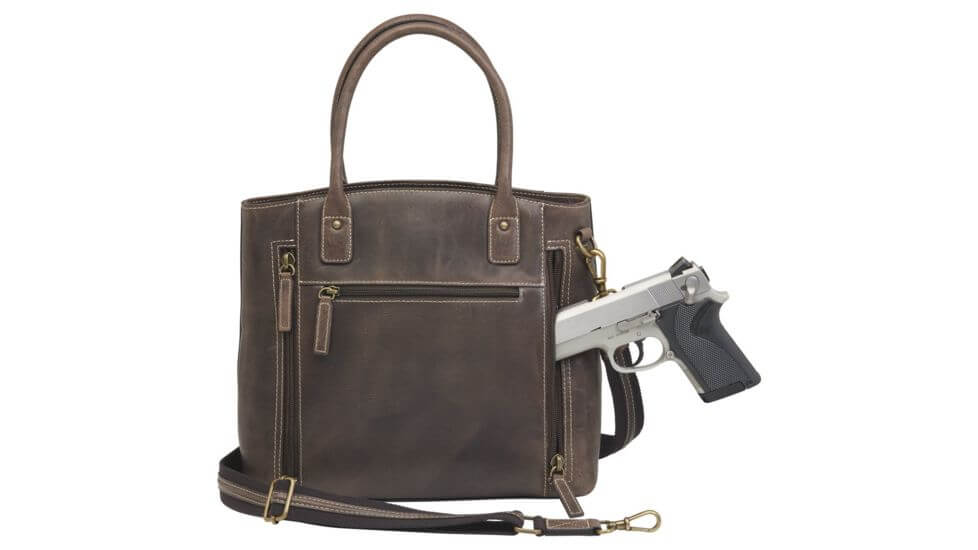 Distressed Gun Tote'n Mama vintage tanned buffalo leather design, designed for left and right-handed gun toting mamas, special padding helps prevent gun imprinting. Slash resistant shoulder strap.11 ply steel wire, cross body length.
This purse is great for women who want a compact and strong purse. It's very well-constructed, easily accessible with plenty of pockets, and has a comfortable carrying handle. Unbelievably, the inside of the purse has an additional pocket designed to carry your handgun or holster. It features a trigger guard that can be removed, along with a removable holster. With this level of customization, it's perfect for CCW holders.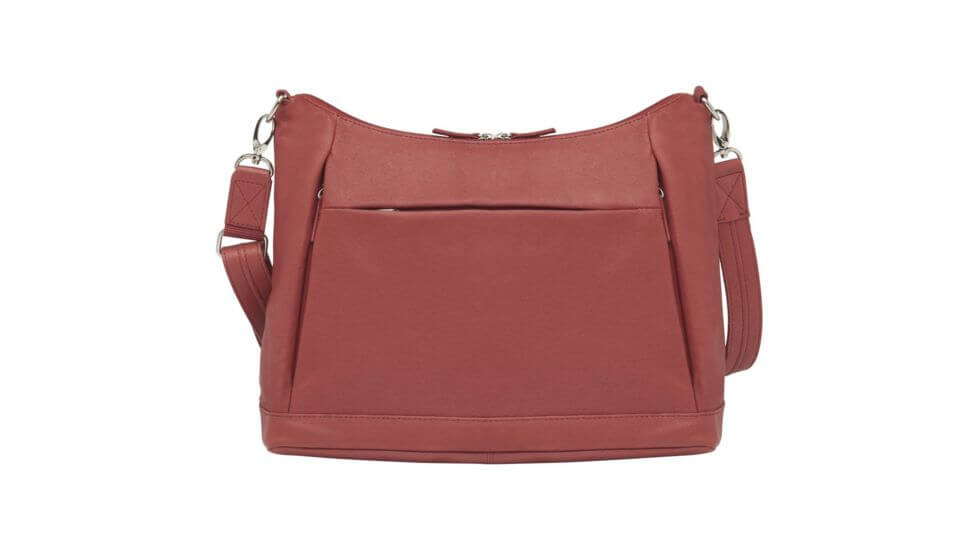 The Gun Tote'n Mamas Large Hobo Sac Carrying Bad with Handgun Holster for Women is a slash resistant shoulder bag built to be the perfect way for ladies to carry a concealed handgun without the bulk of an obvious holster. The shoulder strap on these Gun Tote'n Mamas bags can be worn cross body and is removable and adjustable. We've designed our concealment bags with women in mind.
Women love this bag for its personal side/back access on the left and right that is not immediately noticeable by a casual observer. The ability to wear it cross-body is a nice added feature, too.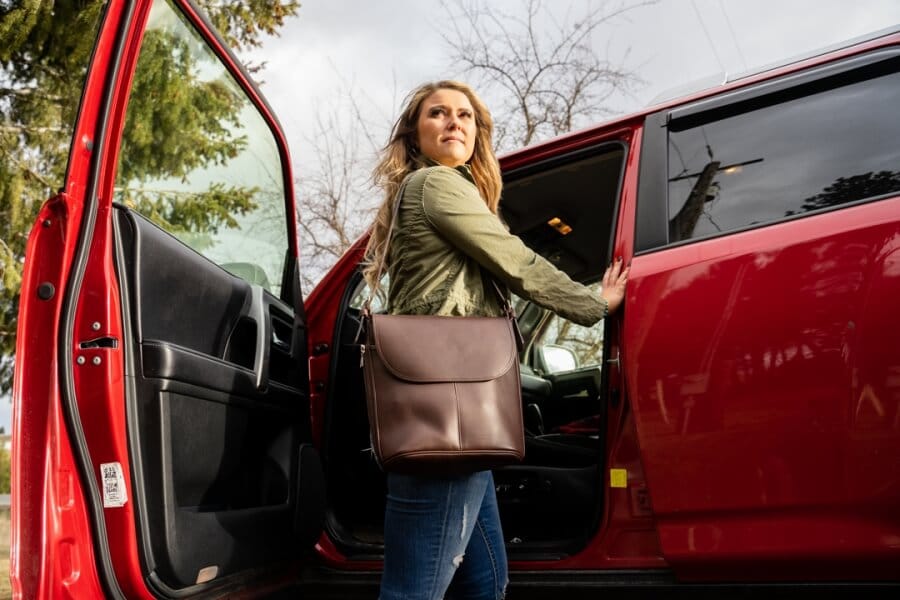 If you're looking for a secure and discreet way to carry your handgun, you'll want to make sure that you're using a good holster. These Galco side-entry holster compartments are a brilliant choice. The zippered pockets design will keep your small or large-framed handguns securely inside a secure and weather resistant material.
With the weather resistant material, these carrying bags will keep you protected from inclement weather. It comes in three neutral colors with brass hardware or nickel plated hardware for a more stylish look.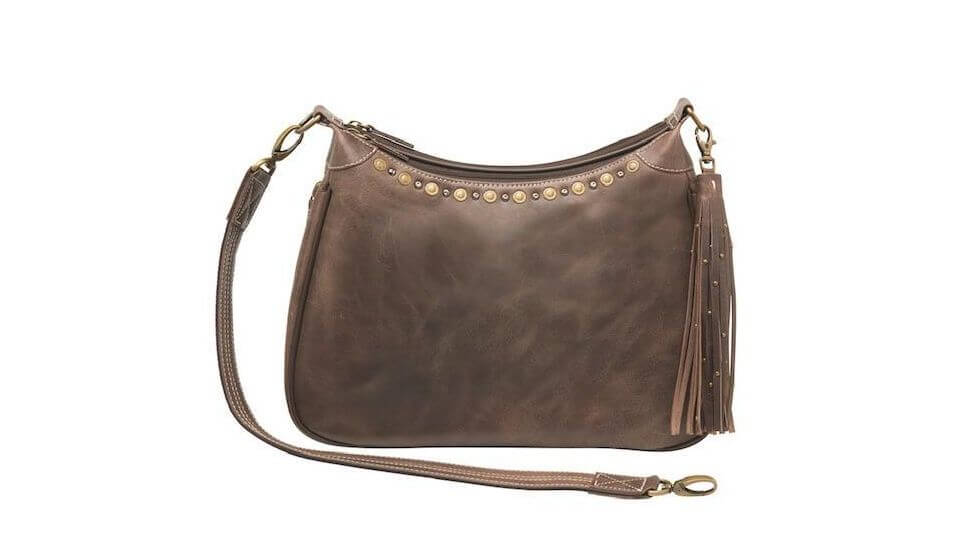 This distressed leather Gun Tote'n Mamas bag is crafted from buffalo leather with a variety of tanned and natural color. The brass rivets on all the zippers add a unique element to this handbag. It has a large, zippered pocket on the front side. There are two Open Top Handles, one for either left or right-handed use. Made with 11-ply steel cables along with a padded shoulder strap to carry it while walking around town.
It's just the right size, the absolute perfect weight, and it fits my firearm perfectly. I have two for my practice weapon and one for my everyday carry. The only issue is that they don't make a gun pocket that locks.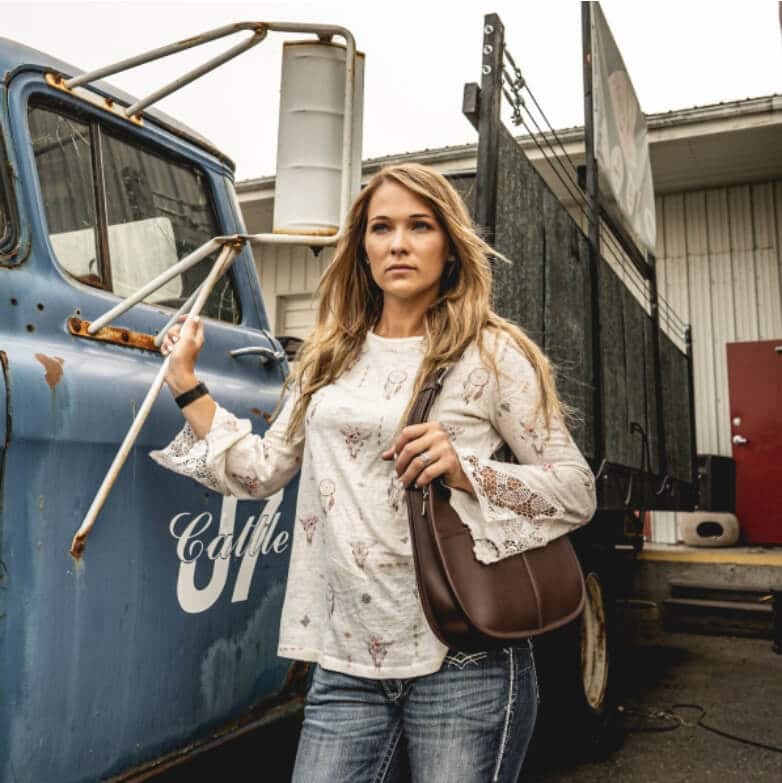 The Galco Meridian Holster Purse is a full-grain genuine leather shoulder bag with concealed security. When you need to draw your firearm, reach in the center of the bag and get it out before you're compromised!
Holster bags are perfect for traveling. This stylish, versatile bag can be used as a handbag and a holster bag. It gives you room for your essentials to go with you wherever you're going. Whether traveling for work, or a weekend getaway, you can always bring along your handgun with you. Choose from both the black and brown color options of this high-quality holster handbag.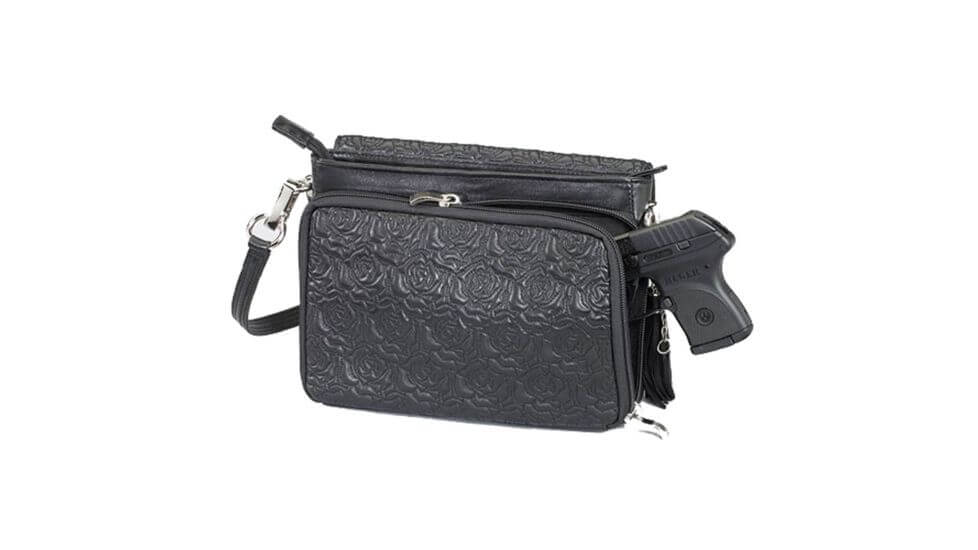 This little evening purse is an ideal size for carrying everyday essentials, and a separate concealed carry compartment for your pistol. One of our customers described it as "super well-made with quality materials." A careful search will turn up similar products, but the quality this one features is really top notch.
Best Concealed Carry Purses
It's the one thing that every woman dreads, getting stuck somewhere without a purse—or worse, stuck somewhere with a purse and no room for the essentials. It's the worst nightmare of every woman who carries a concealed firearm for self-protection when you have to go somewhere with a cute little purse that's just not big enough to easily conceal your weapon. Here are 6 of the best concealed carry styles to help you stay safe and keep your gun close at hand.
Concealed Carry Shoulder Bag
They range from quite small to large enough for a laptop. A concealed carry shoulder bag can be the best option for a person who likes to carry their handgun in a bag. While it's hard to know just what you will need in a bag, it is important to plan for the future. Having a bag that is the right size for your handgun and magazines can make it easier for you to carry your handgun with you.
Concealed Carry Tote
Tote bags go well with almost any outfit. They are longer than a shoulder bag and have an open top that allows you to check your items without taking it off. Tote bags are usually rectangular in design and be larger than a typical shoulder bag. The best concealed carry tote bags have zippers on the inside of the bag for keeping your flashlights, keys, or other items out of view.
Concealed Carry Crossbody Purse
The crossbody purse is a great way to carry concealed. It's the most functional purse for women. You cannot get more bang for your concealed carry buck than a concealed crossbody purse. We love concealed carry purses. To us, they perfectly combine function and style.
Concealed Carry Satchels
Satchel bags can be the same style as a crossbody bag , but are larger. Many will even feature an envelope flap and buckle closures. These have become a staple in the current millennial fashion trend, as it allows someone to access their firearm while they are on-the-go.
Concealed Carry Hobo Bag
Hobo bags are a practical shoulder bag with a slightly unique shape. Hobo bags are on the rise as people look for more casual, fashionable ways to carry their firearms and gear. This style is considered very functional for concealed carry and should be offered in a wider range of colors.
Concealed Carry Backpack Purse
The Concealed Carry Backpack Purse is a superb choice for individuals who enjoy carrying a hand gun whom don't want to advertise the fact that it arm them to someone who may wish them harm. When looking for a concealed carry backpack, you want to find one that will hold the firearm comfortably, and some extra magazines, and extra ammunition.
FAQ
Conclusion
Concealed Carry Purses is a simple way to pack a firearm while keeping it concealed. A good concealed carry purse should work as a discrete weapon holster inside of a designer bag or suitcase. For some women, purchasing one of these purses is definitely a "easy decision".