3 Top-Selling Models You Should Definitely Consider.
When it comes to choosing a large traditional safe for securing your firearms, nothing beats the quality of Cannon. They have been in the industry for over 40 years with some of the most iconic, durable and quality large gun safes.
For a responsible gun owner, the safety of his firearm is one of the biggest concerns. When you buy a gun safe, the first thing that comes to mind is how effectively will this safe prevent unauthorized access and minimize any damage to your weapon. Cannon safes ease these concerns.
Cannon gun safes, apart from being large, are also rigorously tested for burglary protection and fire safety.
They bear a high price tag but come with more prominent features, durable construction and are backed by a solid warranty. Best of all, Cannon safes are capable of powering and connecting your electronic equipment like Ethernet and USB cables from outside.
With all that said; here are some of the best Cannon gun safes you should consider when buying a large safe for multiple firearms.
Cannon Gun Safe Reviews
We have done substantial research and pulled out these three best-selling models of Cannon so far.
Cannon Safe All Rifle 5936
This large safe bears a 42-gun capacity and is fire rated. It is designed mainly for storing rifles, however; you can also secure those long shotguns inside. The safe has a roomy interior with two compartments and multiple pouches on the rear of the door for storing smaller items.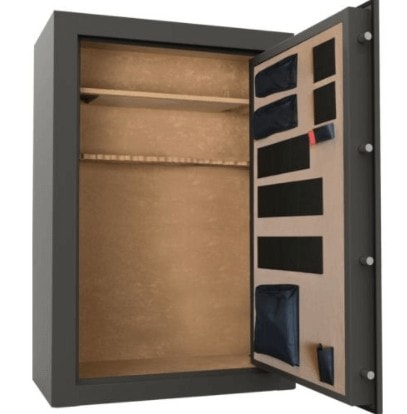 Capacity
This safe is capable of storing up to 42 guns. You will still be left with plenty of space for smaller guns, important documents, cash, jewelry, magazine, and ammo. Its interior has two compartments separated by a single non-removable shelf.
On the rear side of the safe's door are ten storage pouches of different sizes. These are made out of durable fabric, which can withstand the weight. You can store some handguns, magazines, ammo, documents, and cash in them.
Fire Protection
The All Rifle 5936 safe has been tested for fire at 1100 degree Celsius for 45-minutes. It comes with a triple-fin smoke seal that further adds protection to your valuable possessions.
Burglary Protection
This massive 450-pound safe prevents burglars from prying open the safe. The Cannon All Rifle 5936 Safe is California DOJ approved and is constructed from durable steel.
Moreover, it has four-inch locking bolts, tru-lock internal hinges and a triple hard plate on the lock that offers maximum protection against intruders.
It uses a standard easy access electronic lock and a chrome three spoke handle. These premium features and flawless design makes it virtually impossible for burglars to gain any kind of access to your possessions. Needless-to-say, its heavyweight also prevents it from being robbed.
Warranty
This attractive safe is backed by Cannon Safe lifetime replacement warranty. They promise to repair it if it gets damaged due to theft or any natural disaster. Also, you don't have to pay for shipping cost. The company covers it. Best of all, their customer service is very cooperative and responsive.
FAQs
Cannon Safe 5524-30-H1TEC-17 Foxtrot Safe
The 5524-30-H1TEC-17 Foxtrot Safe by Cannon offers a 24-gun capacity and is protected by tru-lock internal hinges. It has three locking bolts and dual stage triple fin door seal that automatically expands during fire. Here are some of its best features: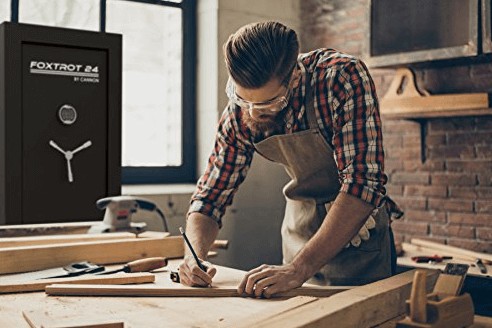 Design
This is a high-security safe with tons of useful features that protect your firearm and other items from burglars and fire. It is built to hold guns and other hunting equipment. Its high-security lock, operated by a smooth chrome handle adds more security to the safe and prevents unauthorized access.
Its compact design lets you easily slide it into smaller spaces. It measures 59" x 24" x 18" and weighs 290 pounds. Though it has got the weight, it isn't as heavy as the Cannon All Rifle safe. Overall, it has a nice matte black finish with a chrome handle that looks attractive.
Fire Protection
The Cannon Safe 5524-30-H1TEC-17 safe comes with a 30-minute fire rating, tested at 1100 degree Celsius. It features a triple fin intumescent seal that expands during fire and provides more protection for your valuables.
This expandable sheet sits between the front and rear side of the door and prevents the transfer of heat. It's actually great since the rear side of the door has pouches for storing ammo, magazine, handguns, cash, jewelry and other valuables.
Protection from Intruders
With a thick layer of steel, three locking bolt mechanism and an advanced locking system, it is virtually impossible for thieves to pry this safe open. It is protected by Trulock internal hinges which makes the door rock solid. It uses an electronic locking system. Users can set a 4 to 8-digit secret code out of 12 million possible combinations.
Warranty
This safe is backed with lifetime replacement of parts and one year of labor warranty. You also get an exclusive 5-year warranty in which Cannon Safe will repair or replace your safe free of charge if the damage is occurred due to fire or burglary.
They also have the option to include a 2-year or 3-year protection for a couple of extra bucks. If you think you need this, don't hesitate to buy.
FAQs
Cannon 2017 Premium Series Safe CA594024 Safe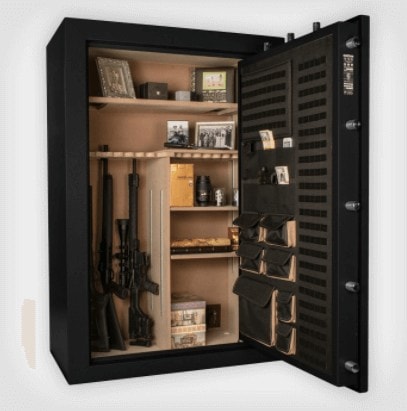 The CA594024 is a premium series safe and is recently launched in 2017. It comes with luxury features and an advanced security system. You have two striking color options to choose from: hammertone black and hammertone charcoal.
EMP Lock
It comes with Cannon's exclusive EMP lock. It has both an electronic lock function on the top of the unit and a mechanical lock on the face of the unit. This ensures quick access to your firearms in case of an emergency.
Triple Hard Plate
The triple hard plate features six hardened steel layers, which are packed around the lock for protection against prying it open and drills.
While the safe features a 4" thicker steel door as compared to other Cannon models, it also has three additional layers of extra hard, 60+ RC steel hard-plates for maximum protection of the lock.
Fire Protection
Unlike other Cannon safes, this model has been tested for 90-minutes for up to 1200-degree temperature. This ensures maximum protection of your valuable possessions. Moreover, it has an expandable insulation layer in the door for further protection.
Warranty
As a potential customer, you are under the Cannon Safe lifetime warranty. If the safe is damaged due to fire, the company will repair it for free. Their customer support is outstanding and very responsive.
Overall, this safe has smart ergonomics including active locking bolts and anti-pry tabs for maximum protection against intruders.
Verdict
While there are several other Cannon safes, these three are the best performing and reliable. We've done our part; now it is your turn to choose the most suitable option from the list available.