Get the right gun safe for your home.
A safe in every home is a must. Home safes provide safety against unauthorized access. It is an incredibly effective way of keeping children and burglars away while and your valuables from fires and floods.
There are many kinds of things you could store in your safe. You can keep your firearms, jewelry, cash and important papers in the vault. Most of us have precious and often irreplaceable items in our homes. A home security system isn't effective against people who know the way around your home.
Getting a home safe is one of the best ways of safeguarding your valuables from sneaky guests, thieves, children and natural disasters. There are numerous home safes present on the market and you could end up buying the wrong one. We have put together this article to help you make the right decision.
Things To Consider Before Buying A Home Safe
Things You Will Be Keeping In The Safe
You should have a clear idea about what you'll be storing in the gun safe. If you're getting a gun safe to store jewelry and important papers, your gun safe will be small in size. You can't expect to store guns and other heavy material in the small safe.
Where Will You Put It?
The place you install a gun safe in will be a major determinant in buying a gun safe. If you don't have a lot of space available, you would want to opt for a smaller safe. Also, you should store the gun safe in a place which isn't an obvious guess like the master bedroom. We wrote an entire article about where you should put a safe, check it out here.
What Do You Want To Save It From
Different people get a home safe for different reasons. One might get a gun safe to keep his valuables safe from unauthorized access while the other might get it to save himself from fires and floods. Choose a safe which will give you protection against these threats.
Locking Mechanism
Home safes come with an array of locks. You can choose between mechanical, electrical or biometric locks. We recommend you should always go with a home safe with at least two locking options. One of the two, in this case, will be the primary lock and the second will be used in cases of emergency when the primary lock fails.
The Size of The Safe
If you own a long gun, you should opt for a long gun safe. If you own a single gun, there are chances you might buy new ones in the future. Keep this in perspective and opt for a gun safe which will have room to accommodate your present valuables and will have room for the new ones you buy in future.
Portability of The Safe
Some people need to carry their valuables like important documents or firearms with them when they travel. In such cases, you should have a portable safe. You need to choose a safe which is lightweight but doesn't compromise on the security features.
Best Home Safes
Listed below are the three safes which are perfect for storing your most valuable possessions like cash, jewelry, guns and important papers. If you have these valuables at your home, it is a good idea to save them from eager eyes and unauthorized access by storing them in a safe. These three safes will satisfy most user needs. Further down in the article we review more specialized safes in case you need something larger, smaller or more secure.
Fire Alert 2092DF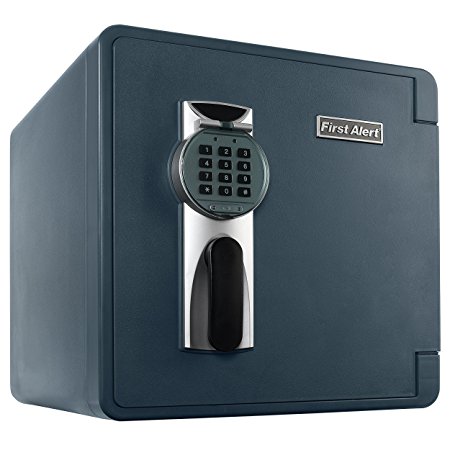 The First Alert 2092DF is arguably one of the best home safes on the market. This home safe has an all-around protection and includes burglary, fire and water protection. The safe's anti-theft features include patented pry-resistant concealed hinges, a programmable (use your own personal 3 to 8 digit passcode) digital lock and 4 solid locking bolts.
This is one of the only safes on the market which doesn't lose its fire and water protection even after you bolt it to a floor. This safe from Fire Alert is one of the biggest and its interiors are large enough to store a full sized laptop which makes it the perfect home safe as most of your valuables can be stored in it without a problem.
This First Alert fire safe is UL classified for 1 hour to withstand an external temperature of 1700 degrees Fahrenheit while maintaining an internal temperature of lesser than 350 degrees. The composite construction with watertight seal prevents water damage to the contents caused by flooding or by water used in fighting a fire.
Liberty 9G HDX-250 Biometric Smart Vault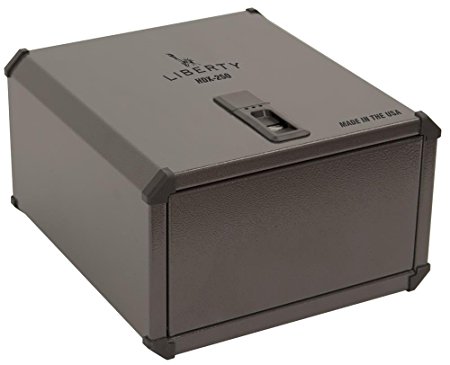 Liberty HDX-250 allows for quick and secure access using its 5th generation Biometric finger swipe technology. The biometric technology used in this gun safe is the most reliable in the industry with the lowest fail rates. Entry using the Biometric swipe can be obtained in 1 second while using the AC adapter and in 2 seconds using the 9V batteries, which are both included.
The Smart Vault can store up to 15 fingerprints. The 14 gauge heavy duty steel door has built-in anti-pry tabs and the reinforced latch system is specifically designed to resist pry attacks and other attempts to gain entry. The door on the HDX-250 opens automatically after you scan your finger. This feature provides you quick access to the contents of the safe.
The 9G HDX-250 comes with a key override feature for the times when the AC adapter and the batteries fail. This home safe is small in size and can only store your most precious possessions. You can store a handgun, jewelry and some important papers in the safe. This Liberty Smart Vault come with pre-drilled holes so you can bolt this to a sturdy surface.
SentrySafe SFW123DSB Combination Fire Safe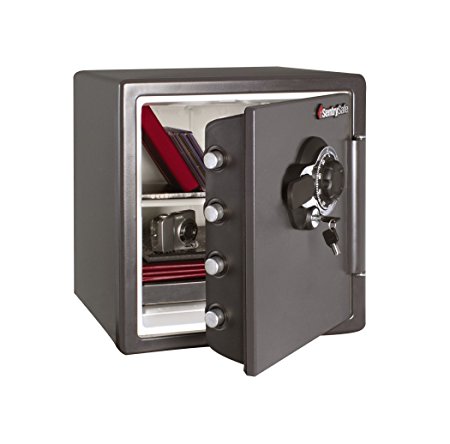 The SentrySafe SFW123DSB makes it to the list because it's value for money and provides high-quality protection. This safe has four pre-drilled holes so it could be bolted to the floor or a solid surface which makes it theft resistant. The SFW123DSD weighs 101 pounds which can make it hard for the burglars to carry it.
The SentrySafe has a pry-resistant hinge bar and four one-inch locking bolts. The theft-resistant features make it hard for the thieves to break into the safe. The SFW123DSB comes with a unique feature. You can't reset the combination lock on this safe. There is one combination which is pre-set by SentrySafe, and you'll find it on the back of the manual.
The SentrySafe is fire and water resistant. In case your house catches fire or is flooded, the SFW123DSB will be one of the few things which will remain unharmed. There have been cases where condensation has formed inside the safe because of its fire and water-resistant capabilities. You will need to use a dehumidifier to safeguard your valuables from the moisture.
Special Purpose Home Safes
While the safes reviewed above are the best types of safes you can get for general purposes and smaller things, there are other safes which are much bigger and are for specific purposes like storing guns, portability, installing in specific places, etc.
Best True Gun Safe – American Security RF703620X6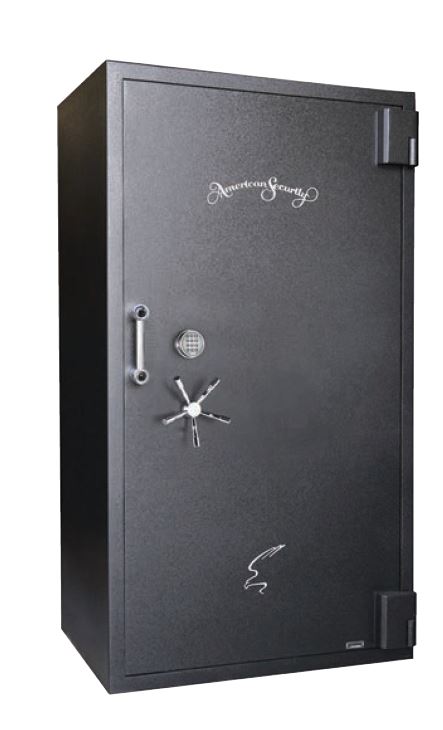 The RF703620X6 is the ultimate safe. This safe by American Security comes in the 'True Gun Safe' category and provides you with the best security measure against theft and fire. This safe is UL TL-30X6 certified, which means it can protect your valuables from 1850 degree fires for 120 minutes. The RF703620X6 has a lifetime warranty against fire and theft.
The sheer size of the size can be intimidating for the thieves. The American Security safe weighs 4578 lbs and comes with four pre-cut holes for anchoring the safe to the floor. This safe is UL TL-30X60 certified for theft protection. This implies that the trained professionals will take at least 30 minutes to gain access to this safe.
The RF70360X6 comes with a ton of features and customization options. This safe comes with pre-installed interior LED lights for better visibility, an option to choose from three lock types, storage cabinets and a dehumidifier. This safe by American Security is primarily for the purpose of storing long guns but it has ample space to store all your valuables.
Best Budget True Gun Safe – SecureIt Model 52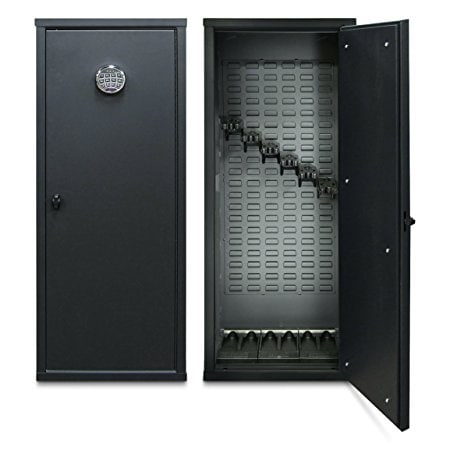 SecureIt is a known brand name when it comes to firearms storage. SecureIt calls itself an intelligent firearms storage company and also manufactures tactical firearm storage units to the military. You can rest assured this company knows what it is doing since it is associated with the army. The Model 52 is one of the best and fairly priced gun safes on the market.
The SecureIt Model 52 Gun Cabinet is a premium, heavy-duty firearm storage gun safe. The Model 52 does everything a gun safe does without being horribly heavy or hard to move. This safe by SecureIt comes with a patented KnockDown technology which makes it incredibly easy to disassemble and transport the Model 52.
You can customize the Model 52 according to your needs. The SecureIt Model 52 comes with a CradleGrid technology for adaptable and organized storage. You can adjust the safe with the CradleGrid system to store any long gun without using any tools. You can store your full sized guns (up to 50 inches), jewelry or electronic devices in this safe.
Best Underbed Gun Safe – SecureIt Tactical – Fast Box Model 47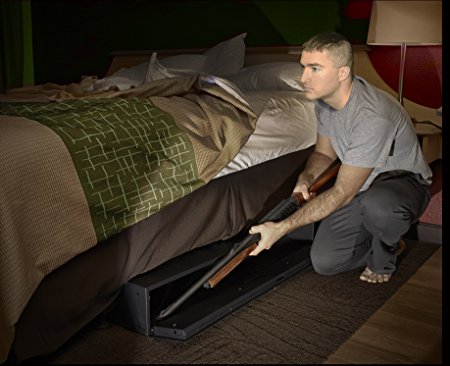 SecureIt Fast Box Model 47 is an under bed gun safe. If you don't have enough space to install a gun safe in your home or if you want to keep your safe concealed, under bed gun safes are the best option. Underbed gun safes are great at saving your valuables from unauthorized access.
SecureIt has an exclusive line of component-based modular storage solutions which are portable and yet don't compromise on security. The Model 47 comes with boltable sides so the safe could be anchored to the bed or the floor. The Fast Box Model 47 has enough room to store a rifle with handgun, ammo and other valuables life cash and important papers.
Model 47 has an electronic locking system which is quick and effective and has a key override for times when the electronic keypad fails. The SecureIt Fast Box has a pad insert to cushion your valuables so they don't get scratched. You can even carry this gun safe while you're traveling as the Model 47 fits perfectly in the trunk of your car.
Best Bedside / Under Table Gun Safe – GunVault SV500 – SpeedVault Handgun Safe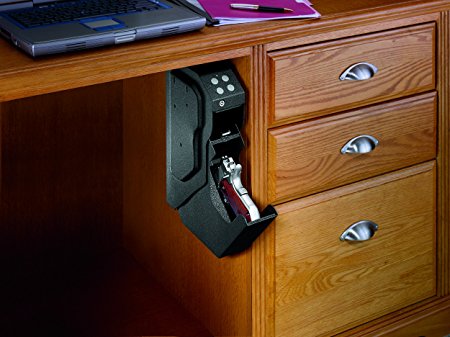 GunVault SV500 is the quickest unlocking handgun safe on this list. If you live in a neighborhood which has a high burglary rate, you should have this gun safe installed in your home. Although this safe can only hold a single handgun and nothing else, it is worth the investment. The GunVault SV500 can be installed at your bedside, in your cupboard or under your desk.
The SV500 has a high-strength lock mechanism which is virtually impossible to pry open in cases of burglary. The SV500 has an audio and LED low battery warning for when the electronic lock is running low on battery. GunVault also provides a key option to open the handgun safe if your batteries run out of juice.
The SV500 has a foam interior which protects your gun from damage and helps to prevent rattling. There is also a light inside the safe which turns on when you open the gun safe. The SV500 has an 18-gauge rock solid steel housing. GunVault provides a five-year full warranty on fire and burglary on this gun safe.
Conclusion
If you have cash, jewelry, guns or other valuables at your home, you should get yourself a home safe. While there are many home safes on the market, the ones mentioned in this article are the best in their respective categories.
If you have any questions or doubts while buying a gun safe, drop them in the comments below and we will be happy to help you.