Our review of affordable fireproof gun safes
Despite the safety that gun safes offer to whatever is being kept inside (we're guessing mostly guns and one or two valuable items), they may not all offer security against the elements, which in this case, is fire.
In the event of a house fire breaking out, having a fireproof gun safe would be highly beneficial, especially if you're using it to store valuable items such as jewelry, important documents and, of course, your guns. With that in mind, it would be irresponsible to not invest in a gun safe that doesn't have at least some form of fireproofing.
However, we're here to present you with our tops fireproof gun safes so that you don't have to go and do a ton of reading — we've done that for you.
On this list we have gun safes that vary in size, because we know that not everyone needs the biggest safe out there.
Why Own A Fireproof Gun Safe?
Buying a fireproof safe could be one of the best investments that you could possibly make in the long run. Storing things with great sentimental value as well as valuable documents such as passports and certificates inside of a fireproof safe could prove to be a very smart move.
For those who fear the threat of a house fire, investing in a fireproof gun safe is a must. And if you can afford to buy an extremely large fireproof safe, you could use that to store food and other survival items such as medicine, clothes, tools, etc., that you would possibly need if anything ever burnt your house down.
Fire Ratings of Gun Safes
Many of the conventional gun safes on the market don't meet the requirements of the fire endurance rating UL 72 Class 350. To meet this rating, a safe must keep the inside temperature below 350 degrees Fahrenheit for 4 hours with outside temperatures of 2,000 degrees Fahrenheit.
The things that mainly affect the fire rating of a safe are:
Sealing
Fire insulation
Structural integrity
Outer shell steel thickness
All the above-mentioned things play a part in keeping the contents of the safe intact and working as normal.
Best Fireproof Gun Safes
SentrySafe SFW123GDC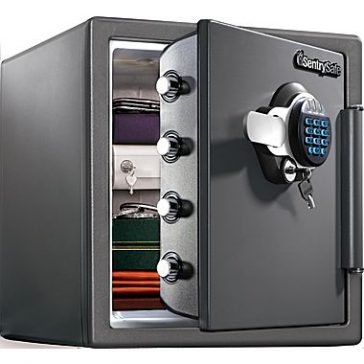 The SentrySafe SFW123GDC is the most affordable fireproof safe in this review. However, the SFW123GDC isn't an exclusive gun safe, it still does the perfect job of housing a handgun.
This safe, despite not being labelled as a gun safe, was designed to keep whatever is stored inside of it safe from the elements. Many people choose to keep valuables such as passports, money, jewelry, keys and other possessions that carry sentimental value, in their safes.
With the SFW123GDC, keeping these things safe from almost any form of disaster is possible. This safe has fireproof capabilities of resisting heat of up to 1,700-degrees Fahrenheit for about one hour. That provides more than enough time for the Fire Department to put out the fire without the contents of your safe succumbing to the heat of the flames.
The SFW123GDC is UL Classified, providing the contents of the safe with the best protection against fires. The safe features a locking system makes use of four large 1-inch locking bolts, has a pry-resistant hinge bar for added security, interior lighting, and has bolt-down hardware as well.
Considering what you're paying for this safe, its capabilities of safe keeping and fire resistance are outstanding.
First Alert 2096DF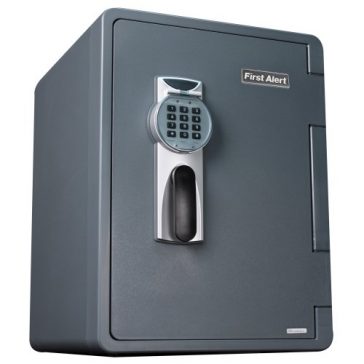 The First Alert 2096DF is a small safe designed to keep small items and a handgun safe from harm.
Not everyone is a gun enthusiast or collector, so having a smaller safe such as the 2096DF will be more than enough to meet and satisfy the needs of someone who owns a handgun for self defense purposes.
If this safe ever gets caught up in a fire, it will maintain an internal temperature of 350-degrees Fahrenheit and can withstand external temperatures of up to 1,700-degrees Fahrenheit for up to one hour.
This safe features an electronic keypad, however, if you are unable to gain access to the safe because you forgot or lost the entry code, you can use the override keys that come with the gun safe to open the safe.
On the inside, the safe has adjustable shelves that can be moved around to allow you to make more space if you desire to do so.
The features that come with this safe as well as its safe keeping capabilities makes this safe a good option for anyone looking for a quality safe to store their handgun and other valuables in.
Steelwater Standard Duty Gun Safe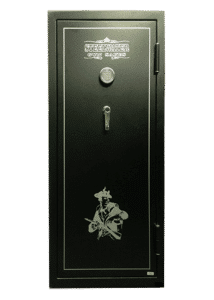 Now we're getting into the bigger gun safes. The Steelwater Standard Duty Gun Safe is for the gun owner who has one or two long guns that he or she would like to keep safe from fire. This safe comes with an electronic keypad and electrical system that is EMP-proof.
On top of that, it is able to withstand fire temperatures of 1,550-degrees Fahrenheit for up to 45 minutes. It may not equal the fire resisting capabilities of the smaller fireproof gun safes, but that doesn't mean that this gun safe should be ignored as an option.
The reviews that this safe has on Amazon are 99% positive, giving it a good reputation among gun owners who like to keep their guns safe.
Other than being a great safe to protect its contents against fires, it also does a superb job of meeting all the other safety requirements of a top-notch gun safe.
This safe has a 5-inch composite door with two layers of fireboard. The ceiling, walls, floor, and door jamb all have a single layer of 5/8″ fireboard. The door seal is heat-activated and expands up to 8 times its thickness during the event of a fire. As a result it greatly increases the safe's ability to keep smoke out.
The lock also features a hard plate and a spring-loaded relocking bolt. Just in case anyone tries to drill their way into the safe.
The safe is made with 14 gauge steel which wouldn't do much when someone tries to gain access using the right power tools. However, if this safe is placed where its sides and back are surrounded by concrete and bolted down, then you wouldn't have to worry much about that.
Stack-On FS-14-MB-E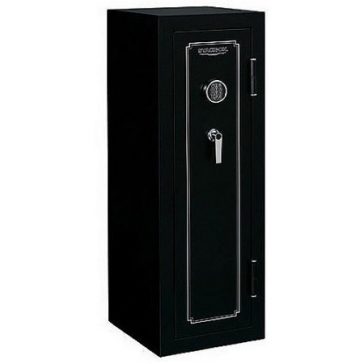 Here we have the second big safe in this review. Stack-On is a world-renowned safe manufacturer with products that speak for themselves.
The FS-14-MB-E has an overall positive rating with gun owners on Amazon.
This gun safe has the capacity to store up to 7 guns along with other things. If you want to use the safe to just store long guns, then that number increases to 14. But beware, this means that the long guns can't have any accessories attached to them like scopes.
It features a molded barrel rest and adjustable shelves. This safe makes use of a two-way locking system with six locking points as well as steel deadbolts.
The FS-14-MB-E makes use of an electronic keypad that comes with backup keys in case the batteries die. It does, however, warn you when the batteries are running low, so the likelyhood of you using the backup keys are slim. Just remember where you keep your backup key just to be safe.
This safe is able to withstand temperatures of up to 1,400-degrees Fahrenheit for 30 minutes. Stack-On claims that this was verified by an independent laboratory.
Conclusion
There are gun safes out there with great fire protection, but they would cost you an arm and a leg. Therefore, the safes mentioned in this review are for the gun owner who'd simply like the extra security.
The safes in this review are aimed for those of us who aren't serious gun collectors or enthusiasts. These fireproof gun safes are affordable when you consider their fire resistant qualifications.