Rifle cases are an invaluable item for all firearm owners.
Many gun owners don't have a safe means of transporting their firearms. When at home, there's a safe to securely keep their guns locked up. But if a gun needs to be transported for whatever reason, then it might just get wrapped up in a blanket and put in the trunk of a car, at best.
Logically speaking, this way of transporting a gun is not the wisest option to take. So, what's the next best thing? A rifle case!
Choosing a case for your your rifle shouldn't be hard, and if it is, then we're here to help make the decision easier.
Essentially, there are two different types of rifle cases: 1) hard shell cases and 2) soft shell cases.
The decision that you make on which type of case you're going for will depend on your needs, and perhaps a little bit of personal taste.
However, having a proper case makes all the difference. You could have a simple soft shell case that zips up but that same case won't have sufficient padding or storage space for extra attachments or ammunition when going to the range. Nor would it have any way of locking your zips together.
In the same way, you could have a hard shell case that is constructed with low grade materials which could crack if the case ever fell to the floor.
Therefore, it is essential that you make the right choice when deciding upon what gun case to purchase. We're only here to help make the thought-process go a little smoother. At the end of the day, the choice is yours.
Top Single and Double Cases
The table above should provide some brief insight on the gun cases that we're going to review in this article.
Obviously, there are way more options out there to consider. However, we've selected the few that we rate are some of the best options for money.
The order in which we discuss each case in no way reflects the way we rank the cases. Although, we will have an editors choice, which is the option that we prefer most.
VooDoo Tactical Padded Weapons Case

The Voodoo Tactical Padded Weapons case takes a modern approach to storing your rifles. This case is designed with modern rifles in mind and was designed to stow two long guns inside of it.
It comes available in three different lengths; 36, 42, or 46 inches. As you would imagine, each length is designed for different types of firearms. For example, the 36 inch case would be better suited for modern tactical rifles rather than hunting rifles with longer barrels and stocks.
On the inside, this case has a padded divider to separate the guns from one another. This divider is intended to keep your guns from bumping and knocking against each other when being transported.
Not only does it protect your firearms from picking up bumps and bruises, but it also protects any valuable optics that you might have attached to your guns. Another neat feature on the inside are the tie-down straps. Instead of allowing your guns to be "free" inside their compartments, these straps allow you to tie them down securely.
There are a couple ways to carry this case. There is the standard carry-it-like-a-suitcase way, and then there's the ability to carry it like a backpack. The backpack way allows you to throw this case over your shoulders and carry it like you would a normal backpack.
This way of carrying the case makes things easier, especially if you have to haul the case for some distance while on foot.
The case is fitted with enough storage space to carry extra ammunition and magazines. Outside, the case has MOLLE straps that allow you to expand the bag for any extra things you may need such as more ammo. You can never have too much ammo.
Plano Gun Guard AW Tactical Case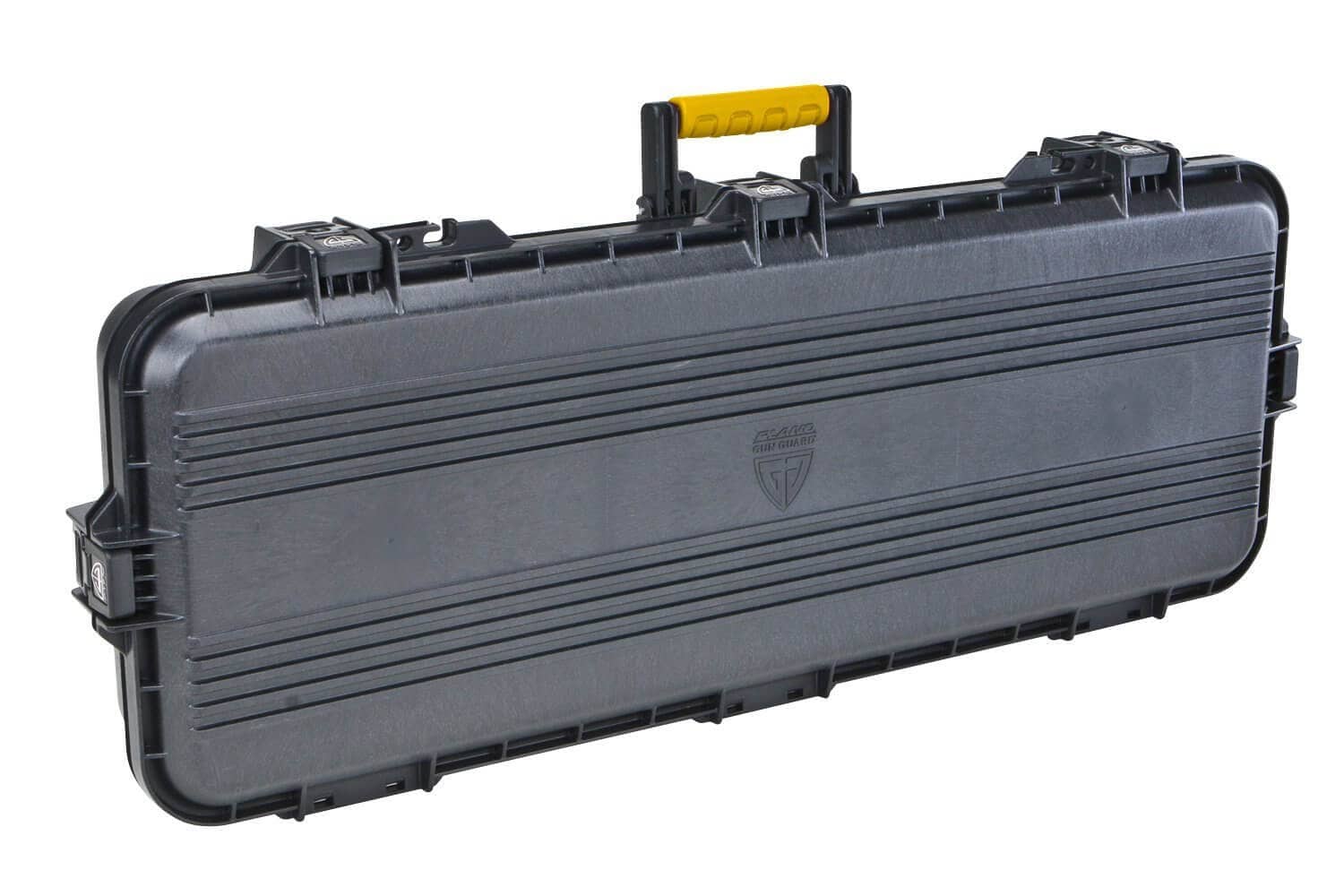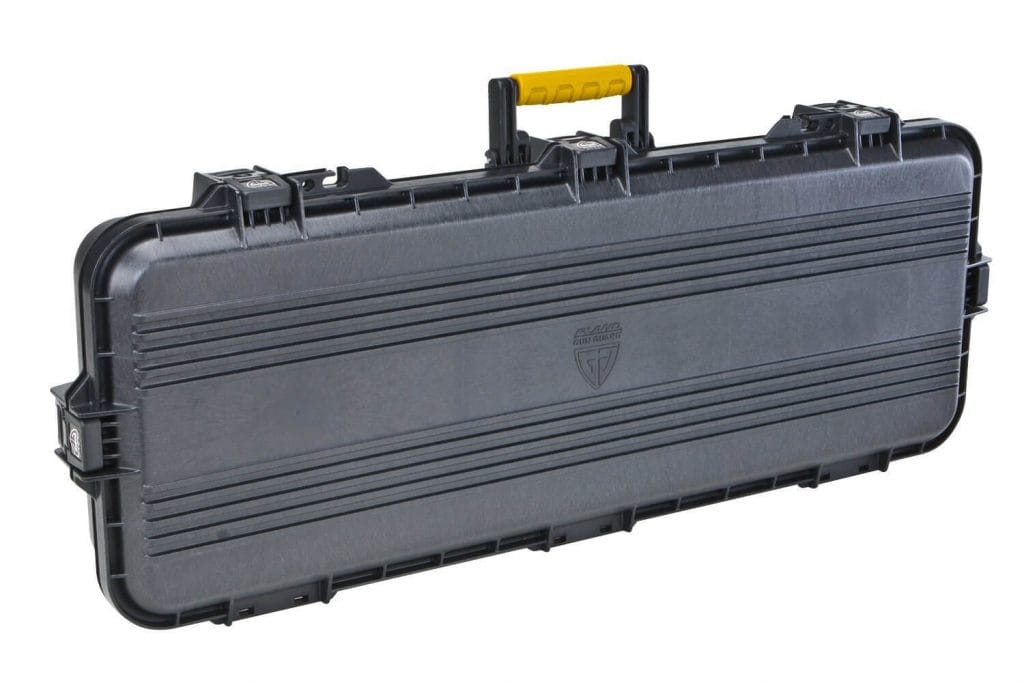 The Plano Gun Guard is made to resist the elements of nature, especially water. This gun case uses a Dri-Loc seal to keep water out. This makes it a completely waterproof case.
The inside of the Plano Gun Guard is padded with foam that can be cut away to make any extra room. That's not to say that this case isn't big enough to accommodate a long rifle. It comes in lengths of 36 and 42 inches, which is more than enough space for a powerful hunting rifle.
This case meets the FAA guidelines with regards to travelling with a rifle. It has the ability to be locked, making it a safe option for travelling. In total, this gun case has five latches on it.
We'd say that the Plano Gun Guard is a great choice for secure storage and for air transportation.
Plano Double Scoped Rifle Case w/ Wheels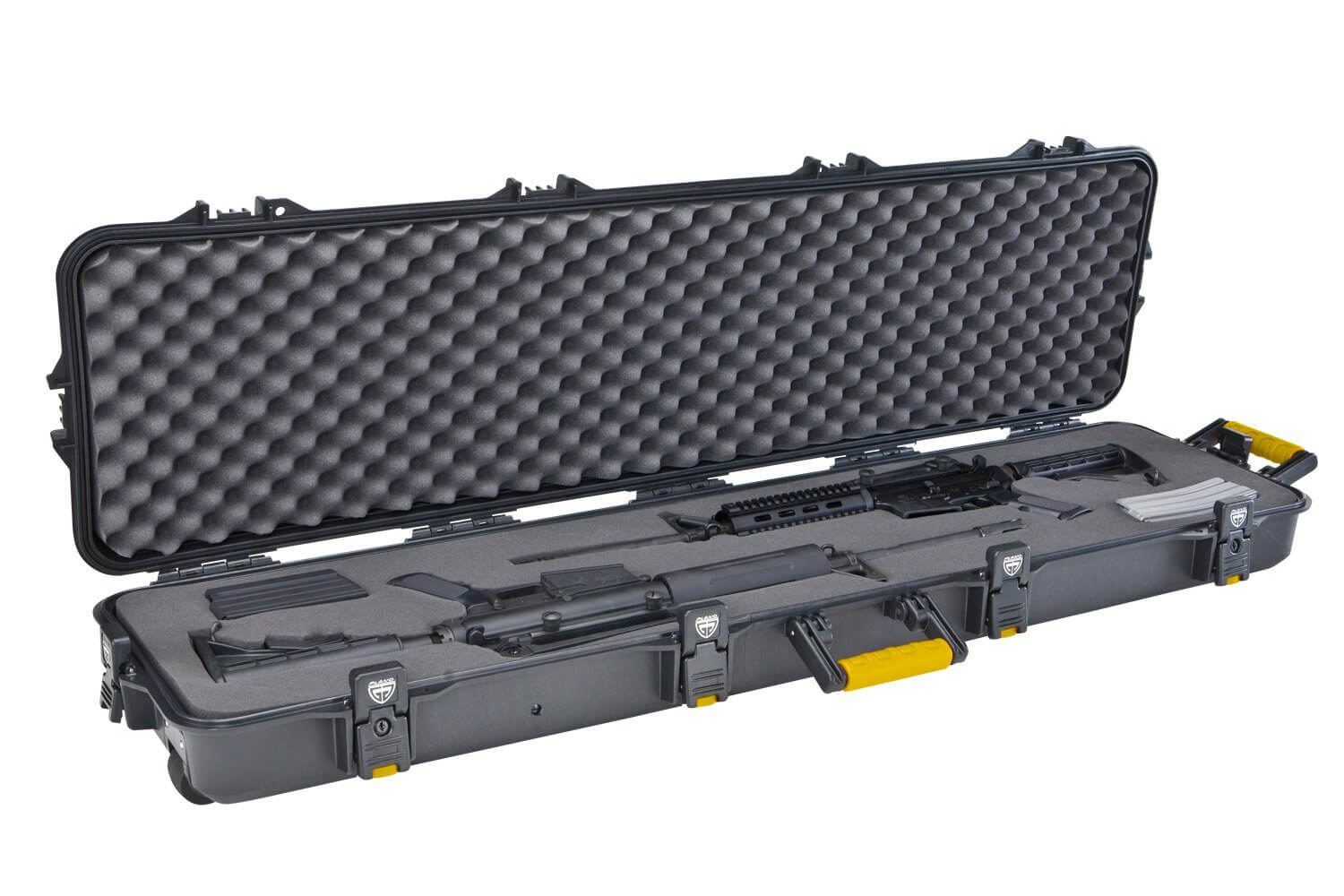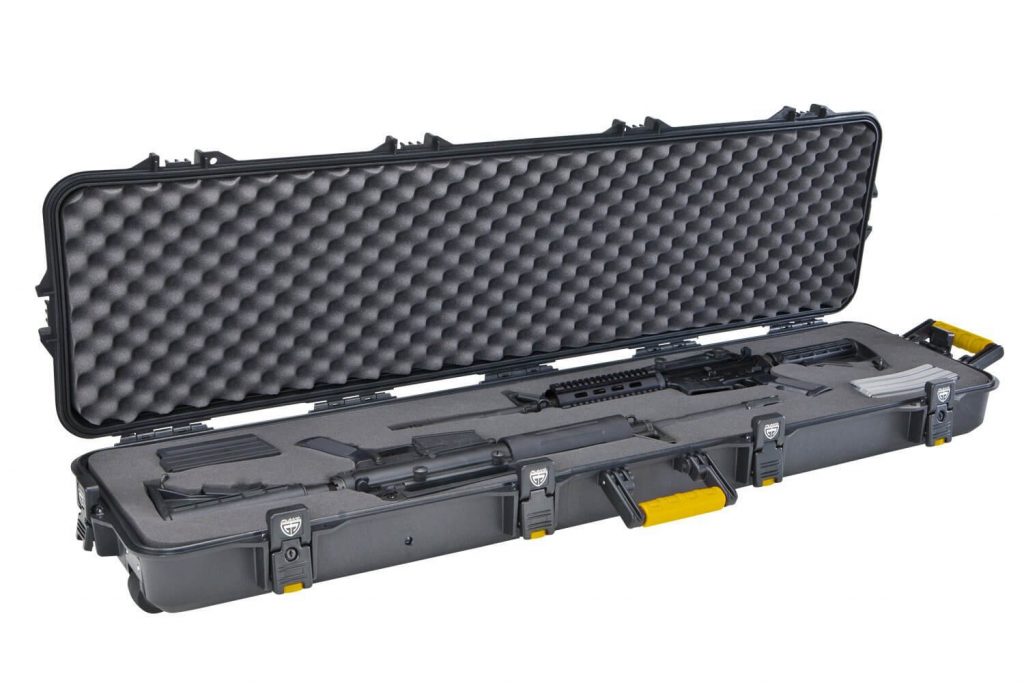 Plano's Double Scoped Rifle case is designed with wheels, a hard shelled case, and enough storage space for two tactical rifles.
The interior is lined with a thick foam padding. This padding can also be cut away if you need a little extra space for your guns. But be warned, this padding isn't replaceable. So whatever you decide to cut out, that's what you're going to be left with.
The storage space is large enough to accommodate two scoped rifles with relative ease. This could either be two AR-15's or two hunting rifles, or even a combination of both. There is enough storage space to also add something like ammunition, magazines, etc.
The addition of wheels on this case makes it a great travelling case to have. Unlike the more common gun cases, having wheels allows for easier mobility and transport, especially in an airport. However, carrying this bad boy through the woods is not suggested.
Condor Double Rifle Case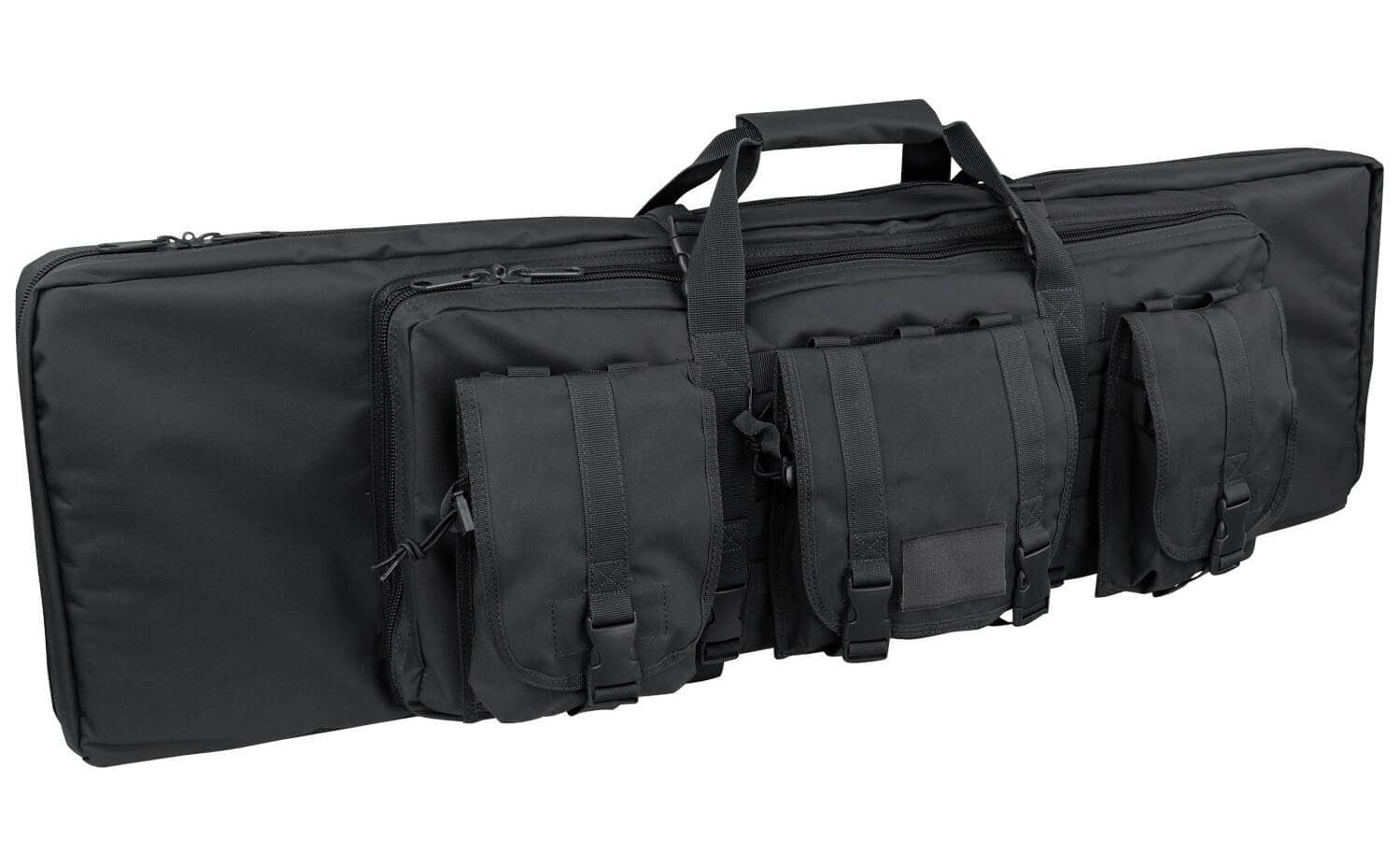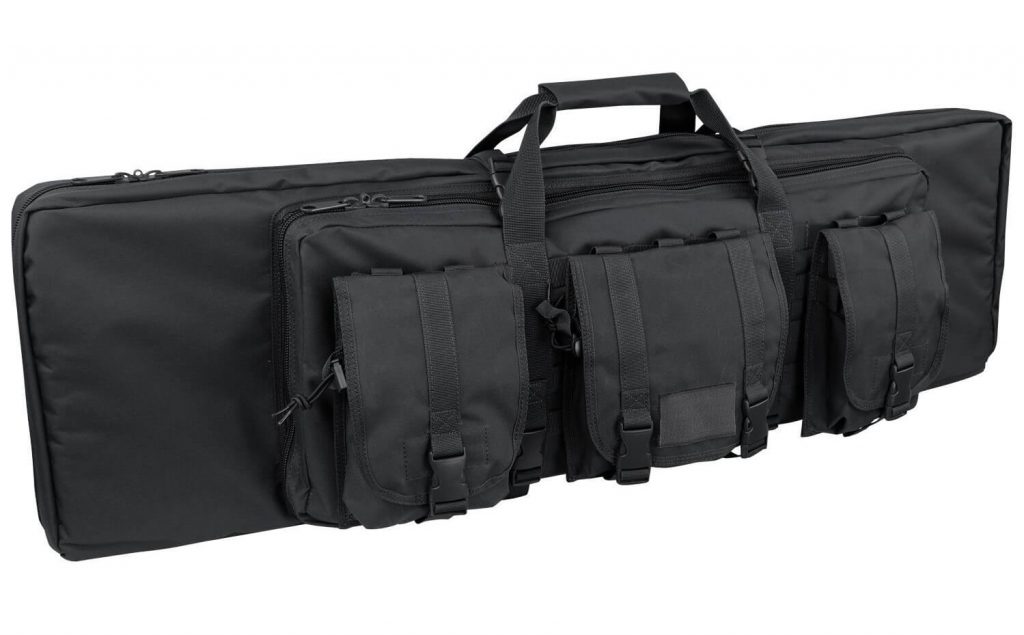 The Condor Double Rifle Case is a great option if storage space is what you're after. It offers a big amount of storage space for all those extra things you might want to take with to the range or hunting trip.
With size options of 36 and 42 inches, this rifle case will meet whatever needs you may have. It also allows for some flexibility when it comes to storage options. If you have a hunting rifle with a long barrel and an assault rifle with a short barrel, this rifle case will accommodate both firearms at the same time.
Like the Voodoo gun case, this Condor model also has a divider to keep the two guns separate from one another. Due to all its storage space, the Condor Double Rifle case can also store an additional handgun.
Along with the handgun, there is more than enough space for ammo and cleaning equipment for when you need it.
This case is fitted with a normal suitcase-type handle as well as straps that will allow it to be carried like a backpack. This is a neat feature to have on rifle cases, especially when you're having to walk on uneven terrain for extended distances.
We rate the Condor Double Rifle case to be ideally suited for all types of firearms.
Case Club Pre-Made AR15 Case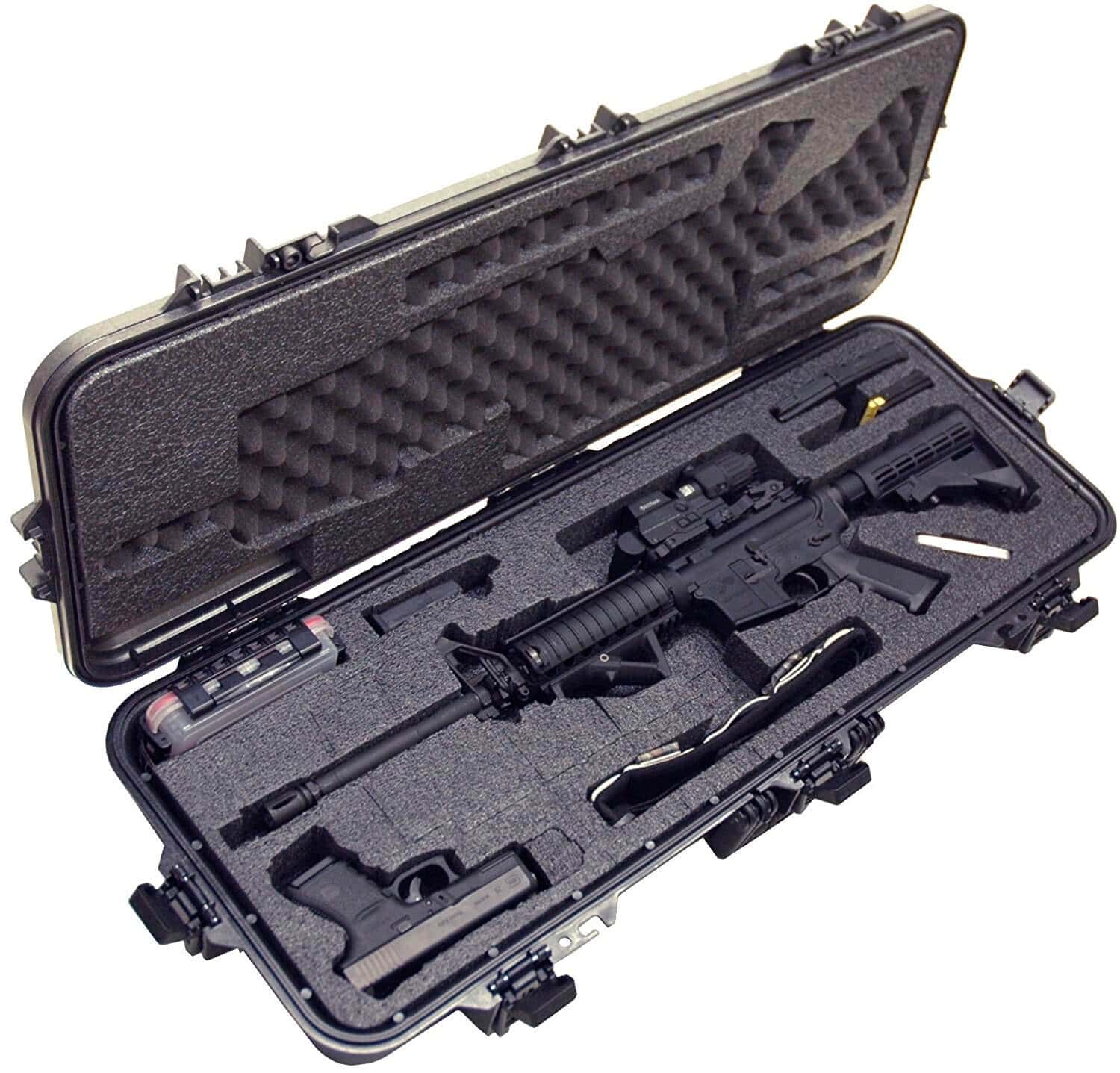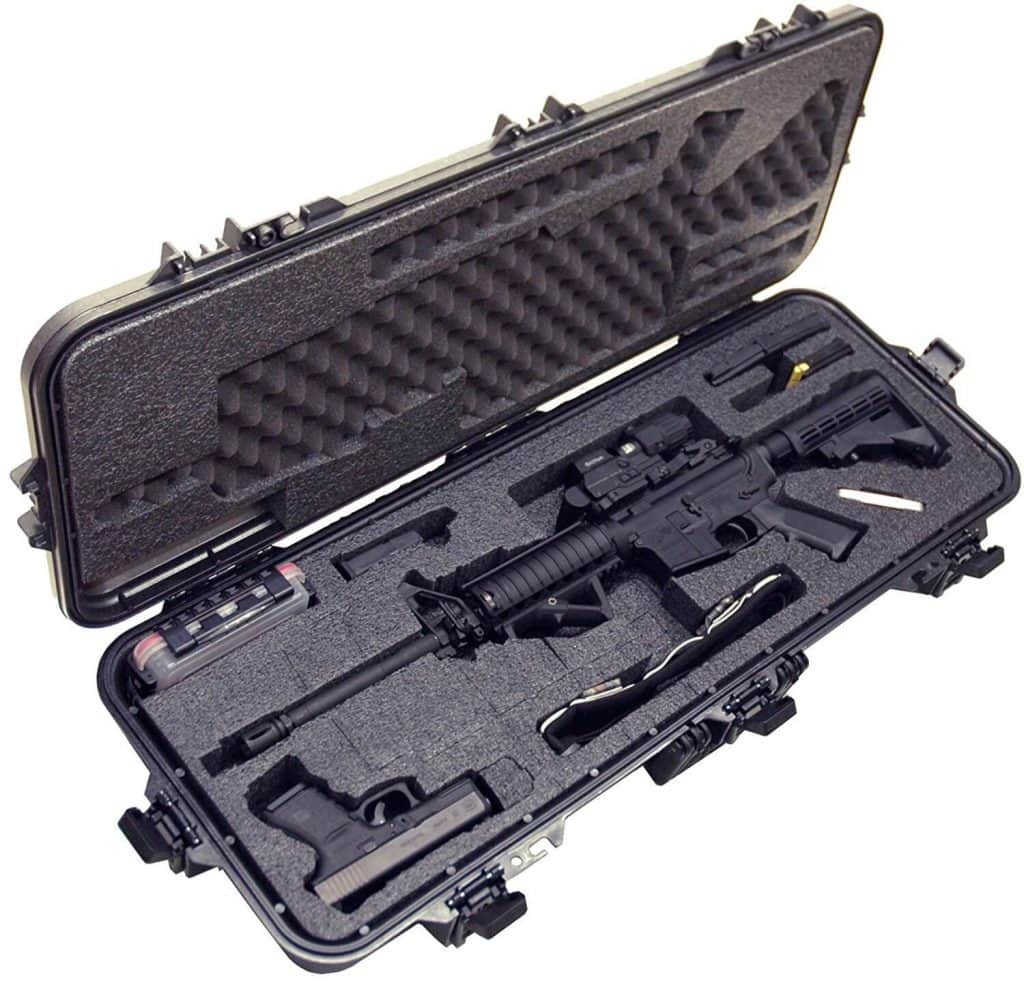 As its name indicates, Case Club's Pre-Made AR15 case is made specifically for AR-15s.
Despite not being able to hold long-barreled rifles, this case is still a great choice for the tactical shooter.
Inside of the case you'll find that it has foam pads that can be moved around to fit your gun along with any attachments that it might have. It also has a dedicated compartment for a handgun as well as extra storage room for any additional magazines.
This rifle case is made to carry only one AR. Nevertheless, it still has enough storage space for all the other essentials such as ammo, gun attachments, cleaning equipment, etc.
Just like the two Plano rifle cases mentioned in this article, this one is also approved by the FAA making it a viable option for when you want to travel on a plane. To make things better, this case is also water- and dustproof, keeping your rifle and other stuff safe from the effects of the outside.
For safekeeping, this case has locking holes for which you can use your own locks to keep it sealed during airline transport.
Unlike the other long gun cases in this article, the Pre-Made AR15 case is for the enthusiast, but that's not to say that the average AR-15 owner wouldn't benefit from having a case such as this one.
Final Words
A rifle case is a must-have if you transport your firearms on a frequent basis. Housing your rifle safely in a case is a wise thing to do.
Consider your options and make a decision based off of what your needs are and what will best suit you both the short and long-term.